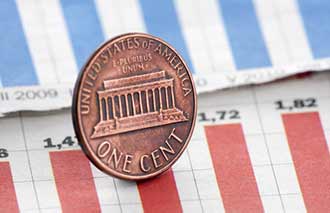 November was a record-breaking month for the Dow. In fact, between Nov. 15 and Nov. 27, the Dow rose to over 28,000 points for the first time.
This is great news for our top penny stock to watch in December 2019.
You see, the slightest moves in the market can send penny stocks soaring. When major indexes rise to new heights, they bring the market up with them. Sure, this isn't a concept unique to penny stocks alone. But while traditional stocks move by dollars every day, a $0.50 move in a penny stock could double your money.
And with this major index shattering nearly a dozen records in 2019, it's the perfect time to invest in penny stocks.
That's because the market is far from reaching its peak. In fact, we think it'll continue to set records, which will benefit the best penny stocks out there.
But because penny stocks are speculative plays, it can be hard to know which ones will be the winners of our soaring market and which ones will be the losers.
Fortunately, we're here to help. We've uncovered one penny stock to watch that has market-beating potential. And you won't want to miss it…
What You Need to Know to Profit from Penny Stocks
While penny stocks have money-doubling potential, it's important to understand the risks. Penny stocks aren't the same kind of investments as blue-chip companies.
You don't buy them and watch them steadily grow. Rather, you buy them in the hundreds – if not thousands – to profit from a great positive swing in the share price.
Think You're a Penny Stocks Pro? Do you know how to find penny stocks with the most profit potential – and how to avoid the scams? Test your know-how by checking out 5 Steps to Penny Stock Trading Success – it's free!
Because of this, though, penny stocks are volatile by nature. This volatility can also offer an incredible upside. If a $1 stock sees a $1 gain, that's a 100% upside. Compare that to a $1 gain on a $75 blue-chip stock, and you can see why penny stocks are so exciting in the first place…
However, you shouldn't put everything you have into penny stocks, either. Minimizing your risk is essential when making speculative plays. That's exactly why we recommend targeting penny stocks on major exchanges like the Nasdaq and New York Stock Exchange (NYSE). That's because these two exchanges have greater requirements for a stock to list in comparison to the risky OTC market.
But these aren't the only things you should know before profiting from penny stocks…
In general, avoid any unsolicited pitches you may receive about a penny stock. If someone approaches you and promises that it's the next big thing, be very cautious.
You don't want to invest on hype alone. You'll want to be sure to look for penny stocks with a lot of information available from your brokerage.
Researching penny stocks can be incredibly exciting, but if you're not sure where to start, it can feel a bit daunting.
Fortunately, we can help…
In fact, we've identified one penny stock that could jump 50% in the next year alone. And it's only trading for $4 right now…
Here is our pick for the best penny stock to buy now.
The Top Penny Stock to Watch in December 2019