Thirty-two states (and Washington, D.C.) have legalized marijuana in one way or another. And 10 more states legalizing marijuana could legalize recreational cannabis by 2020.
This is yet another buy signal for the best marijuana stocks out there. Grandview Research says the legal marijuana market will soar 380% from $13.8 billion to $66.3 billion by 2025.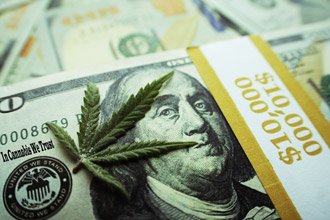 But with so many marijuana stocks popping up, you may be wondering how to invest in marijuana stocks safely and profitably.
That's why we've created five tips on how to invest in marijuana stocks successfully.
Check out our guide below on how to buy cannabis stocks and cash in on this rapidly growing, multibillion-dollar industry...
How to Invest in Marijuana Stocks Successfully, Tip No. 1: Go with Big Names on Big Exchanges
If you're a beginning marijuana investor, your best bet is to buy cannabis stocks on major exchanges like the Nasdaq and the New York Stock Exchange (NYSE), according to Money Morning Director of Cannabis Investing Research Greg Miller.
The reason behind this is fairly straightforward. Other exchanges like the over-the-counter markets (OTCs) aren't nearly as strict on the requirements a company needs to list. OTCs often lack reliable information on companies, and the stocks themselves are often from firms with low valuations and are traded at lower volumes. While companies listing on the Nasdaq and NYSE require thorough audits, they have at least 1.1 million shares and have a minimum valuation of $40 million.
The companies listed on the Nasdaq and NYSE also are the largest cannabis companies around. As a beginner, seeking out the safest and most reliable marijuana stocks is a great way to get your feet wet for marijuana investing.
This means you'll be looking at North American firms like Constellation Brands Inc. (NYSE: STZ). With a $35 billion market cap, STZ is in charge of over 100 brands of beer, wine, and spirits like Corona and Svedka. More recently, it's become heavily invested in marijuana.
STZ invested over $4 billion into cannabis company Canopy Growth Corp. (NYSE: CGC). Plus, STZ's chief financial officer, David Klein, is taking over CGC in January 2020 as its new CEO.
So, buying a North American marijuana stock like STZ is a good place to start, especially since it has diverse offerings, it's stable, and it even pays out a modest 1.65% dividend yield.
How to Invest in Marijuana Stocks Successfully, Tip No. 2: Diversify
While Constellation Brands is diverse within itself, you'll still want a variety of cannabis stocks to balance out your portfolio. This means investing in companies that grow, cultivate, and produce recreational and medicinal marijuana products like Canopy Growth. CGC is a massive marijuana producer with a market cap of $7.2 billion.
Of course, most cannabis stocks are still prone to volatility with how new the industry is - which makes them riskier. That's why you want to diversify your holdings. By spreading your money across a few different companies, you're more likely to hold a stock that soars instead of one stuck in neutral.
And to help diversify, we suggest thinking outside the box too. That way you're capturing all of the cannabis industry instead of just one slice of it.
An example of this would be Innovative Industrial Properties Inc. (NYSE: IIPR).
IIPR is a real estate investment trust (REIT) with an $860 million market cap. It leases out spaces to medical marijuana facilities all across the United States. This venture has proven quite profitable for the firm, with $31 million in revenue over the last 12 months and its ability to reward investors with a 5.5% dividend yield.
Greg Miller first recommended this marijuana stock when it traded for $40 per share. Now, it's grown 84% to $73.65 per share. Over the next 12 months, analysts say it could soar to $151 per share.
While these are just two examples of cannabis stocks to buy to diversify your portfolio, the point still stands that diversification is key for marijuana investing.
How to Invest in Marijuana Stocks Successfully, Tip No. 3: Don't Let Short-Term Volatility Dissuade You
If you've been following the news, you've probably heard about the volatility cannabis stocks have seen this year. Firms like Cronos Group Inc. (NASDAQ: CRON) and Canopy Growth are both down 66.6% and 57.4%, respectively, from their previous highs.
But volatility is a good thing for marijuana stocks. We want to see their share prices moving, because we expect them to surge higher.
That's because the best cannabis stocks (like some of the ones we listed above) are ones built for the long term, regardless of fluctuating valuations. And with Grandview Research reporting 380% growth for legal marijuana over the next five years, it's safe to say marijuana will be just fine.
Just look at some of the most successful stocks on the market, like Amazon.com Inc. (NASDAQ: AMZN). Amazon has a long history of being extremely volatile. It opened at $1.51 per share in 1997, went as high as $104 in the two years after, tumbled back down to around $8, and slowly crawled its way back up. Now, it's trading at $1,760 per share.
So, if you invest in cannabis stocks for the long term, don't worry about the short-term ups and downs. These are just growing pains for one of the most explosive industries.
Of course, no matter what, you'll want to monitor the changing industry dynamics closely as legalization and new regulations continue to roll out.
How to Invest in Marijuana Stocks Successfully, Tip No. 4: Limit Orders
While you can buy a marijuana stock like STZ similarly to other blue-chip stocks, you'll want to use limit orders for most others.
When you buy a stock, you have the option to use a market order or a limit order. If you choose a market order, your brokerage will buy the stock at whatever price it's selling for at the moment it executes the trade. That could mean you pay more for a stock than you're expecting. And since cannabis stock prices are volatile, that could hit your wallet especially hard.
The better option is to use a limit order. Limit orders let you set a specific price you'll pay for the stock. That could mean your order doesn't execute immediately, but you'll protect yourself from volatility.
So, limit orders can help prevent price slippage (the expected price vs. the executed price) on your marijuana investment.
How to Invest in Marijuana Stocks Successfully, Tip No. 5: Understand Marijuana Products and Growth Opportunities
[mmpazkzone name="in-story" network="9794" site="307044" id="137008" type="4"]
While we've talked about how the cannabis sector is expected to grow to $66.3 billion by 2025, the diversity inside the sector means it's even more lucrative.
But the marijuana market can be broken down into submarkets like cannabidiol (CBD), edibles, legal vaping products, medicinal strains, and pharmaceutical drugs.
For example, consumers wanting to avoid the documented health effects of inhaling burning plant matter are turning to vaporized oils and edibles, according to Greg Miller.
There are even benefits to choosing these options over traditional cannabis flowers.
Greg Miller says THC, CBD, and CBN oils and edibles that you digest are significantly more potent when absorbed through the gastrointestinal tract. For those looking for greater psychoactive and medicinal effects, oils and edibles offer the most bang for the consumers' buck.
And knowing about these subsectors could make you a pile of money.
CBD alone will be worth $22 billion by 2022, according to Grandview Research. Meanwhile, the edibles and legal vaping markets will grow to $4.1 billion and $29.39 billion in the same period, as reported by PR Newswire and the TBRC.
So, there are billions in profits still ahead for those considering investing in marijuana stocks now. And you won't want to miss out...
Illinois Becomes the 11th State to Legalize Cannabis (Making More People Rich)
Cannabis laws are being reformed en masse: Illinois has not only become the 11th - and second-largest - state to legalize marijuana, but the first to do so by way of state legislation.
That means the medical, personal, and economic benefits of "America's Green Gold Rush" are appealing to Republicans and Democrats alike.
One cannabis research executive is hailing Illinois the "Marijuana Mecca of the Midwest," a hallmark of the rising uncapped profit potential ahead.
Once the feds end cannabis prohibition nationwide, all bets will be off - demand will boost share prices through the roof. But you can still get in on the ground floor, just in time for what could be the windfall of the century.
Illinois is already housing some of our top picks in the industry, so a few of our favorite stocks could get yet another boost.
Just click here to see how you can get them - and to potentially profit from this "unstoppable economic revolution"...
Follow Money Morning on Facebook and Twitter.
About the Author
Daniel Smoot is a Baltimore-based editor who helps everyday investors with stock recommendations and analysis. He regularly writes about initial public offerings, technology, and more. He earned a Bachelor's degree from Towson University.