If you want to get started investing in marijuana stocks, we have the perfect company for you today. Innovative Industrial Properties Inc. (NYSE: IIPR) is an ideal cannabis stock for newcomers. It's traded on a major exchange, is profitable, and pays investors a solid dividend.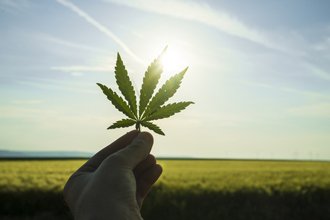 Some investors will understandably have questions about the recent downturn in this sector as well as Innovative's unique business model. But the ups and downs of a new growth sector are to be expected. And with 39 states still prohibiting marijuana, the sector could surge even higher once full legalization is here.
Today, we'll give you a rundown of why this is an excellent cannabis stock as well as why its unique sales-leaseback model is so effective.
Having an Experienced Marijuana Landlord on the Team
There are tons of real estate investment trusts (REITs) across all sectors. Some own residential properties, some own hotels, and still others own retail and commercial properties.
That's even true of the cannabis sector.
You see, because marijuana is still illegal at the federal level, most banks aren't willing to risk working with cannabis companies, even in states where it's legal. That means startup cannabis firms don't have access to banking services, including business loans and commercial mortgages.
Innovative Industrial Properties is solving this problem by leasing property to cannabis firms.
And its business model is working out well. In Q3 2019, Innovative Industrial acquired 10 new properties, giving them 41 properties in 13 states. That's also helped push their revenue up 200% to $11.2 million.
Plus, because it's a REIT, profits have to be distributed to shareholders. That means you'll get a $0.78 dividend - up 30% form a quarter ago - just for owning the stock.
But this company isn't just a one-trick pony, it's very well run...
How Innovative Differs from Its Peers
Running a successful marijuana operation takes a lot of cash. Companies need to have the right equipment on hand as well as qualified and well-trained employees to do the job right.
Cash flow for startup and operations is critical, but this is an industry in its infancy. The companies that have the best chance of surviving are also funding expansion from the start.
Knowing these factors for success, Innovative Industrial offers its clients a unique sales-leaseback program that allows them to create liquidity and expansion opportunities. When a cannabis firm owns property, this ties it down financially.
Innovative Industrial buys the property from cannabis companies and then leases it right back to them at an affordable price. This frees up equity that these firms can use for growth.
One example of this in practice is Cresco Labs Inc. (OTCMKTS: CRLBF), which sold two processing and cultivation facilities to Innovative Industrial for $46.3 million. Cresco still occupies and operates in those same facilities through a lease, and can use that cash from the sale to prepare for the upcoming full legalization in Illinois in 2020.
Innovative's lease terms range from 10 to 20 years. This allows the company to generate consistent revenue over a long period, which will certainly benefit shareholders. As of Oct. 30, it is reporting a 13.8% yield on invested capital. The company has also beat earnings estimates over the past two quarters.
That means Innovative offers immediate income for shareholders through its dividend, but it has major upside potential, too.
Here's how much shares could be worth in just a year...
Why This Cannabis Stock Is About to Surge
[mmpazkzone name="in-story" network="9794" site="307044" id="137008" type="4"]
Understandably, some investors might be concerned about how full marijuana legalization in the United States will impact an investment like Innovative Industrial Properties.
However, the sales-leaseback model applies to much more than just the cannabis space. This is a model used by some of the largest companies worldwide for the very same reasons that marijuana firms use them - owning property isn't necessarily the best use of an organization's capital.
For instance, Verizon Communications Inc. (NYSE: VZ) sold and leased back its operations center in New Jersey in 2015 for $650 million. This gave the company an incredible infusion of capital.
Whether Verizon put that money to good use or not is another matter, but the idea is that these programs allow companies to access funds they can use for expansion and growth.
The long-term leases the agreements generate will deliver revenue to the company and its shareholders for decades. Even if Innovative makes changes to its business structure that don't necessarily work, it will have this guaranteed income coming in that will give it time to make adjustments.
Finally, the CEO and founder of Innovative has sold a REIT that specializes in biotech. This gave him a unique background which provides insight into lending to startups pursuing fast growth, but may not yet be generating profits. He can transfer this same knowledge to the cannabis sector and create a sustainable and profitable business.
Innovative Industrial Properties shares are currently trading at $77.50 per share. It has a high price target of $151 per share, which would give today's investor a potential upside of 94%. The stock also pays a 4% dividend yield, which is additional income for new cannabis investors.
No More Guessing with Your Money: The cannabis sector is full of untapped gains... and potential nosedives. Our cannabis IPO experts have taken the guesswork out of the equation - giving only their "best in breed" stock picks. Just click here to see them...