Are we starting to see some "green shoots" from the global economy?
You would swear it by the number of mentions that I've heard over the last two weeks. The transportation stocks are starting to see some life as a result of this chatter, and one stock in particular is looking like it's ready to take off. And I just had to share this bonus trade idea with you.
American Airlines Group Inc. (NASDAQ: AAL) has been in a steady decline – with a few short-term trading ranges in between – since March 2018, when a critical shift happened in the stock's technicals.
The 50-day moving average of AAL shares quickly shifted from a bullish trajectory to bearish within mere days. Since then, the stock has been a perennial laggard against the S&P 500 and the transportation stocks. The trend became so strong that it was a slam dunk short for the bears!
Now, shares of AAL are beginning to show signs that the stock is ready to climb with some acceleration.
You see, on Oct. 24, one of my technical analysis quant models shot an alert that AAL was one of 15 companies transitioning into a bullish trading pattern. This signal was the first for AAL shares in more than a year.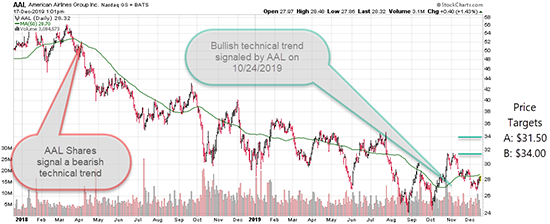 Shares of American Airlines shot 10% higher in the subsequent week before profit takers rushed into the market to sell the stock lower. Despite the selling pressure, the stock remains on a bullish trajectory, just waiting to trigger its next rally.
That trigger is a breakout above the key 50-day moving average currently sitting at $28.75, about $0.40 above today's price.
The break above $28.75 should quickly attract technical buyers with an initial price target of $31.50. We'll see some selling pressure there, but a break above $32 will target another rally to its stretch return of $34 – an 18% move!
Bottom line here is that American Airlines shares are prepped for a technical takeoff that's worth a look for your portfolio. With a target return of 10% to 20%, the stock should be a standout over the next few months and a valuable addition to anyone's portfolio.
This Historic 20-Trade Winning Streak Is Unstoppable
With his brand-new Infrared Index, Chris Johnson is able to identify specific trigger points that tell him where a stock is anticipated to be headed over the next 24 hours.
The result? A winning streak others could only dream of… We're talking 20 consecutive winning trades, totaling 950% in gains!
Now, he has a new trade recommendation coming out tonight – so if you want in, you better strike now.
Follow Money Morning on Facebook and Twitter.
Join the conversation. Click here to jump to comments…
About the Author
Chris Johnson is a highly regarded equity and options analyst who has spent much of his nearly 30-year market career designing and interpreting complex models to help investment firms transform millions of data points into impressive gains for clients.
At heart Chris is a quant - like the "rocket scientists" of investing - with a specialty in applying advanced mathematics like stochastic calculus, linear algebra, differential equations, and statistics to Wall Street's data-rich environment.
He began building his proprietary models in 1998, analyzing about 2,000 records per day. Today, that database, which Chris designed and coded from scratch, analyzes a staggering 700,000 records per day. It's the secret behind his track record.
Chris holds degrees in finance, statistics, and accounting. He worked as a licensed broker for 11 years before taking on the role of Director of Quantitative Analysis at a big-name equity and options research firm for eight years. He recently served as Director of Research of a Cleveland-based investment firm responsible for hundreds of millions in AUM. He is also the Founder/CIO of ETF Advisory Research Partners since 2007, noted for its groundbreaking work in Behavioral Valuation systems. Their research is widely read by leaders in the RIA business.
Chris is ranked in the top 99.3% of financial bloggers and top 98.6% of overall experts by TipRanks, the track record registry of financial analysts dating back to January 2009.
He is a frequent commentator on financial markets for CNBC, Fox, Bloomberg TV, and CBS Radio and has been featured in Barron's, USA Today, Newsweek, and The Wall Street Journal, and numerous books.
Today, Chris is the editor of Night Trader and Strikepoint Trader and contributes to Money Morning as the Quant Analysis Specialist.