Are we starting to see some "green shoots" from the global economy?
You would swear it by the number of mentions that I've heard over the last two weeks. The transportation stocks are starting to see some life as a result of this chatter, and one stock in particular is looking like it's ready to take off. And I just had to share this bonus trade idea with you.
American Airlines Group Inc. (NASDAQ: AAL) has been in a steady decline – with a few short-term trading ranges in between – since March 2018, when a critical shift happened in the stock's technicals.
The 50-day moving average of AAL shares quickly shifted from a bullish trajectory to bearish within mere days. Since then, the stock has been a perennial laggard against the S&P 500 and the transportation stocks. The trend became so strong that it was a slam dunk short for the bears!
Now, shares of AAL are beginning to show signs that the stock is ready to climb with some acceleration.
You see, on Oct. 24, one of my technical analysis quant models shot an alert that AAL was one of 15 companies transitioning into a bullish trading pattern. This signal was the first for AAL shares in more than a year.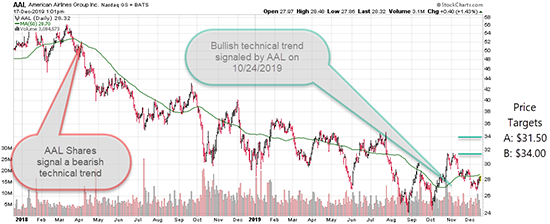 Shares of American Airlines shot 10% higher in the subsequent week before profit takers rushed into the market to sell the stock lower. Despite the selling pressure, the stock remains on a bullish trajectory, just waiting to trigger its next rally.
That trigger is a breakout above the key 50-day moving average currently sitting at $28.75, about $0.40 above today's price.
The break above $28.75 should quickly attract technical buyers with an initial price target of $31.50. We'll see some selling pressure there, but a break above $32 will target another rally to its stretch return of $34 – an 18% move!
Bottom line here is that American Airlines shares are prepped for a technical takeoff that's worth a look for your portfolio. With a target return of 10% to 20%, the stock should be a standout over the next few months and a valuable addition to anyone's portfolio.
This Historic 20-Trade Winning Streak Is Unstoppable
With his brand-new Infrared Index, Chris Johnson is able to identify specific trigger points that tell him where a stock is anticipated to be headed over the next 24 hours.
The result? A winning streak others could only dream of… We're talking 20 consecutive winning trades, totaling 950% in gains!
Now, he has a new trade recommendation coming out tonight – so if you want in, you better strike now.
Follow Money Morning on Facebook and Twitter.
Join the conversation. Click here to jump to comments…
About the Author
Chris Johnson is a quant - he's obsessed with building and perfecting mathematical models that allow him to predict, with startling accuracy, the direction of the markets, entire sectors, and individual securities. For the last year, he's been researching and building a new system that lets him move swiftly in and out of the hottest stocks in the market for life-changing gains - entirely on his own terms. The results of his newly-minted Night Trader system are nothing short of amazing.
Chris also contributes to Money Morning as the Quant Analysis Specialist.