You don't often hear about the video game industry from Wall Street, but it's on the fast track to becoming bigger than both the film and music industries combined.
The global video game industry is worth a whopping $152 billion right now, while the music and movie industries are worth $19.1 billion and $136 billion, respectively.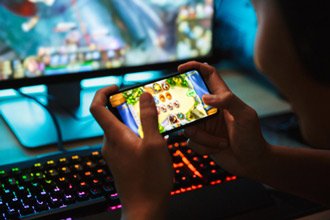 Over the next five years, some of the best video game stocks to buy will help push the video game market to even greater heights. Between now and 2021, Statista reports it'll grow 20% to $180.1 billion. By 2025, Global Data says the video game market could rocket up to $300 billion.
That's close to half the size of the global sports industry, too.
These numbers alone might shock some of you, but video games are truly taking over entertainment as we know it.
Just last week, on Dec. 12, 2019, The Game Awards aired in Los Angeles. The Hollywood Reporter says that more than 45 million people tuned in to watch. To put that into perspective, 19.9 million watched the Grammys and 29.6 million watched the Oscars, according to the same source.
We're practically living in a gaming golden age, where a single, minute-long announcement like Microsoft Corp.'s (NASDAQ: MSFT) reveal of its next-generation video game console can get over 8 million viewers.
But it's a massive and growing industry that has somehow managed to fly under most investors' radars.
That's not necessarily a bad thing, either. It presents an opportunity for savvy folks to buy video game stocks before the industry soars another 100% higher over the next five years.
Unfortunately, with so many blue-chip companies, publishers, and developers in the mix, it can be hard to figure out which video game stocks are worth an investment. This is especially true if you don't regularly follow industry news.
That's what Money Morning is here to help with. Our Money Morning Stock VQScore™ system has pegged these three video game stocks as buys right now.
Check out our top gaming stocks to buy below...
Best Gaming Stock, No. 3: Electronic Arts
With roughly $5 billion in annual revenue and over $1 billion in net income, Electronic Arts Inc. (NASDAQ: EA) is the second biggest gaming company in the United States. That's on top of its consistent share price growth since its 1989 IPO.
EA is commonly known for its video game sports franchises like "FIFA" and "Madden." But it's also the publisher behind the critically acclaimed and Games Award-nominated franchise "Apex Legends" - which hit 50 million players in a little under one month after release.
While EA stock fell nearly 48% in 2018 over controversial "loot boxes" (in-game purchasable items that give you randomized rewards), it has worked hard to reverse its mistakes.
Over the course of 2019, it has gained over 40%. This is thanks to the massive success of "Apex Legends" and its latest critically acclaimed game, "Star Wars Jedi: Fallen Order."
This new "Star Wars" series comes from the same minds that gave "Fortnite" a run for its money earlier this year with the release of the free-to-play game "Apex Legends."
With EA's renewed focus on narrative-driven video games, while also leaning into the free-to-play market, the company continues to prove why it's one of the biggest video game stocks out there.
The narrative stories appeal to the hardcore audience, while its free-to-play titles cash in on the extremely lucrative business model that has popped up in recent years. While these games are free to download, there is often an "in-game" store that lets players buy upgrades to improve their playing experience.
According to TechCrunch, free-to-play games have contributed $88 million to the total gaming market...
So, as EA continues to rake in billions, grow its share price, and guide the industry as one of the biggest companies around, you won't want to miss out on this top video game stock. And this is especially true now that our VQScore has rated it just outside the "Buy Zone."
Right now, EA stock trades for $105.75 per share. Over the next 12 months, analysts think it could grow 23% to $130 per share.
But the next two video game stocks have received perfect VQScores, and they develop billion-dollar games. In fact, our top video game stock could grow as much as 84%...
You do not want to miss out...
Best Gaming Stock, No. 2: Take-Two Interactive
[mmpazkzone name="in-story" network="9794" site="307044" id="137008" type="4"]
Take-Two Interactive Software Inc. (NASDAQ: TTWO) is a great video game stock to buy right now.
TTWO is known for some of the most popular, award-winning, and critically acclaimed video games in the world, like "Grand Theft Auto" and "Red Dead Redemption."
In the first three days of its release in 2018, TTWO's "Red Dead Redemption 2" made over $725 million. And it wouldn't be a stretch to suggest it could have easily broken the $1 billion mark by now with its 25 million copies sold, constant updates, in-game store, and recent release on PC.
But even this game isn't TTWO's biggest moneymaker. In fact, "Grand Theft Auto V," the latest entry for its flagship series, has sold over 110 million copies since its release in 2014. That's a bare minimum of $6 billion in revenue. And it doesn't even take into account all of the paid add-ons, in-game purchases, and more since its release.
TTWO's developer, Rockstar Games, has also managed to maintain one of the best reputations in the gaming industry for roughly 20 years. Whether it's "Red Dead Redemption" or "Grand Theft Auto," its games are known for darker, cinematic story-telling that tackles real-world topics in serious and satirical ways.
And TTWO is using its expertise with storytelling and top-tier gameplay and turning it into a multibillion-dollar business thanks to its focus on the games-as-a-service model.
Games traditionally sell for $60 once they launch. While a lot of people buy them, once the game is "over," most move on to the next. With the games-as-a-service model, TTWO is releasing expansions and content that range from $5 to $40 for its video game titles.
TTWO also takes it even further by releasing free updates, regularly, to build up good faith with its players. And it's been doing this for "Grand Theft Auto 5" for the last five years...
It's essentially crafted an entire virtual world that is continuously evolving - offering activities like racing, heists, buying cars, buying apartments, and even "jobs" to earn money.
This, too, incentivizes players to then spend small amounts of money on add-ons during their playtime.
As a result, the game has grown to a concurrent player base of roughly 200,000, according to Statista. That's hundreds of thousands of people who have upwards of 500 hours, or more, in the game, according to Steam (an online "store" where you can access your "game library" saved to the cloud).
And with around $6 billion in revenue from continued support on "Grand Theft Auto 5," the game has become one of the highest-earning pieces of media entertainment ever.
So, TTWO's player base gets to enjoy sixty-some hours of cinematic storytelling at their own pace. But there is also enough content consistently released to keep old players engaged while drawing in new players as well.
Recently, there have been a few rumors about another entry in the "Grand Theft Auto" series, which has made nearly $10 billion in revenue as a whole. But it's more likely that the firm will continue releasing paid add-ons, free content, and more for its cash cow - while also creating a version of "Grand Theft Auto 5" for the new consoles expected for holiday 2020.
This is a good thing, too. A single video game earning $6 billion over five years is incredible. If they support the game for years to come, that revenue will continue to grow as well.
TTWO stock currently trades for $122 per share. But analysts forecast it'll grow to $151 per share over the next 12 months. That's a solid 24% growth. But with a VQScore of 4.4, we think it could grow even higher.
Our top video game stock pick has even greater potential. It could grow as much as 84% over the next year.
Best Gaming Stock, No. 1: Activision Blizzard
Another video game stock is Activision Blizzard Inc. (NASDAQ: ATVI).
This is the biggest U.S. video game company, with a market cap of $45 billion.
Back in the day, it was known for the original "Doom" video game series. Now, it's known for its 2019 award-winning series like "Sekiro: Shadows Die Twice," "Crash Team Racing Nitro-Fueled," and "Call of Duty: Modern Warfare" (its annual, billion-dollar cash cow).
It's also behind massive titles like "StarCraft," "World of Warcraft," and one of the biggest e-sports games in the world, "Overwatch."
While Activision focuses on narrative experiences, a large part of its focus has shifted toward producing games for the e-sports realm.
In 2018 alone, "Overwatch" had over 40 million players from around the world. Those that play these games professionally - competing in million-dollar tournaments - are earning hundreds of thousands, if not millions, per year through sponsorships, streaming, and more.
So, ATVI has practically minted a generation of video game rock stars through the mass appeal of its games.
ATVI has remained the top U.S. video game publisher primarily because of its consistent game quality and regularly released titles. Every year, there is a new "Call of Duty" that receives both free and paid content updates.
But there's also its nearly 16-year-old franchise, "World of Warcraft," that has sold over 21.2 million copies with a $15-per-month subscription fee. For an average concurrent player base of 5.5 million (according to Statista) that's at least close to $16 billion in revenue. And even that doesn't take into account the regularly released $50 expansions or player and subscription fluctuations.
To put it simply, Activision Blizzard continues to show the world why gaming is bigger than the movie and music industries combined. It proves that quick content releases, new annual games, and a focus on e-sports can keep players coming back for years.
And with its latest announcement of an "Overwatch 2," it's poised to continue growing.
Right now, ATVI stock trades for $58.04 per share. And with a nearly perfect VQScore of 4.8, now is a great time to buy ATVI stock. That's because its current price/earnings (P/E) ratio is 27.71. That emphasizes that this stock is extremely undervalued compared to its five-year average P/E ratio of 50.94.
We expect ATVI's valuation to return to normal with the release of its next big title as the video game industry prepares for the next console generation. If it were to grow enough to hit its average again, its share price could gain 84% to $107 per share.
But if you're interested in even greater upside, we've got you covered, too. All you need is as little as $50, and you could become an angel investor...
Find out how below.
Robert Herjavec: Indisputable Proof That Anybody Can Get Rich Through Angel Investing
When Neil Patel launched the Angels & Entrepreneurs Summit, he had only planned to invite a small group of guests to join him and guest "Shark" Robert Herjavec... but then Neil revealed something truly shocking.
During this clip (about halfway through the event), he reveals indisputable proof that anybody can transform their life through angel investing.
We knew we had to show this event to everyone - the information is just too valuable to keep under wraps.
You owe it to yourself to watch this right now.
Follow Money Morning on Facebook and Twitter.
About the Author
Daniel Smoot is a Baltimore-based editor who helps everyday investors with stock recommendations and analysis. He regularly writes about initial public offerings, technology, and more. He earned a Bachelor's degree from Towson University.