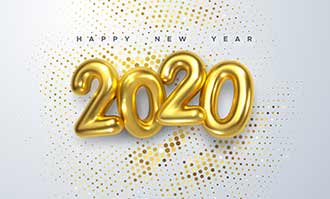 This time of year, every "analyst" unveils their predictions and stock picks for the coming year.
Typically, most "experts" focus on finding hidden gems promising massive returns.
The only number they focus on is potential gains. Of course, that makes sense. The name of the game is making money.
But on occasion, not losing money needs to be part of the focus too.
In 2020, taking a chance on a risky, high-flying stock could result in losses.
Some might wonder, "How can you be worried about loss in a market like this?" Everything seems perfect on the surface.
Not so fast.
Of course, 2019 was a home run for investors. The major indexes approached 30% in total annual returns.
That may not be the case in 2020.
We'll have to be much more selective in 2020, especially as markets trade near record highs.
For today's pick, I had to consider a number of factors, including reducing the risk of loss should something go wrong next year.
Not that I believe something will go horribly wrong, but I think the emphasis will return to expert stock selection.
No more simply throwing darts, like many did in 2019.
For an investor to win in 2020, you're going to have to find a stock that will attract buyers while also maintaining current ownership no matter what the future holds.
For my top stock of 2020, I considered multiple factors that put this selection far above the competition.
I believe strongly the rest of the market will agree with me before all is said and done.
That means this selection will be attracting buyers throughout the year. More importantly, it is unlikely you will find very many sellers.
Here's one of the best stocks to buy in 2020...
Buy This Stock Now Before the Rest of the Crowd Catches On
[mmpazkzone name="in-story" network="9794" site="307044" id="137008" type="4"]
"Alpha" is a fancy term for describing how a particular stock outperforms the broader market.
My one stock to own in 2020, Eli Lilly and Co. (NYSE: LLY), will be an alpha generator in 2020.
As we close out 2019, Lilly owns one of the highest rankings in the Money Morning Stock VQScore™ system, registering an impressive 4.9.
That means the fundamentals for Lilly are strong. But as I said, in 2020 there has to be more to the story.
With a beta of just 0.17, investors in Lilly today are not taking outsized risks to generate returns going forward.
As a pharmaceutical company with steady and quantifiable cash flows, there is little to fear about the future when owning a stock like Lilly.
The biggest risk in owning Lilly today is mostly ephemeral. Investors must be rightly concerned about government intervention with respect to drug prices. But 2019 put many of those fears to rest.
Legislators on both sides of the aisle have little appetite to mess with the current system ahead of the election in 2020.
With that risk put aside, the premium to own Lilly will likely increase.
Analysts expect the company to grow profits by a healthy 17% in 2020. At the moment, the premium to own Lilly sits at just 23 times current-year earnings.
The company pays a solid dividend of 2.25% with the remainder of its cash flow used to fuel research for future drugs and stock buybacks.
If we assume the market is going to generate 6% to 8% returns, my assumption for Lilly is a 12% to 15% gain.
Add in the dividend, and an investor in Lilly will likely double the return of the market next year.
Should that happen, the premium for the stock will actually go down with shares trading for only 21 times 2020 estimates at a price of $145.
If the market assigns a higher premium than the current 23 times earnings, investors could be looking at 20% gains on Lilly next year.
With a very reasonable assumption to get such a powerful gain, the key for investors in Lilly is doing so without taking an inordinate amount of risk.
Put all these factors together, and Lilly is the one stock to own in 2020.
You Can Collect Four Separate Paydays in Under a Minute with This Options Trading Secret
Live on camera, America's No. 1 Pattern Trader, Tom Gentile, is showing you the secret behind some of his biggest trades to date.
Watch as he uses this special tool to collect four separate paydays in under a minute - all from enormous companies like Netflix, Apple, Facebook, even Amazon.
While it may have taken Tom years to invent this moneymaking "machine," it's super easy to understand and utilize.
All it takes is a few simple mouse clicks, and you could be hundreds, even thousands, richer.
This is an opportunity you won't want to miss out on.
Click here to get started today.