There is one common thread running through the industrial metals sector right now: the trade war.
Yes, it's true that the United States and China have recently announced an inspiring phase one trade deal.
That will reduce certain U.S. tariffs on Chinese goods, while increasing Chinese buying of American farm products, manufactured items, and even energy.
It's an encouraging start.
But until the trade issue is more fully resolved, it's likely to remain a cloud overhanging the economy.
Still, I think the outlook for industrial metals is bright in 2020. Here's why...
U.S. President Donald Trump is up for reelection.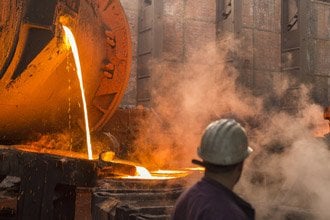 Yes, there's the whole impeachment issue, but the market has been shrugging that off so far.
You see, Trump obviously wants to be reelected. And he's probably going to settle the trade issue early enough to benefit from the massive economic boost it will provide.
At that point, the lift to industrial metals will be huge.
These Factors Will Lead Industrial Metals Higher in 2020
Global infrastructure spending on an annual basis is already over $3 trillion. And that's only going to grow over the next two decades.
Much of our infrastructure is due for replacement or badly in need of repairs. In some cases, as towns and cities grow, brand-new infrastructure is required.
Governments know infrastructure projects are popular since so many benefit from them. That's exactly why they're used to stimulate economies.
China's "Belt and Road Initiative" is the largest infrastructure project on the planet. It involves over 150 countries across five continents.
And all of this is going to take a lot of base metals that are integral to fixing and building roads, bridges, transportation facilities, and buildings.
So let's look at some of the most needed industrial metals to get this all done.
These Industrial Metals Should See Price Spikes in 2020
Copper is the third most consumed metal in the world. It's found in plumbing, wiring, telecommunications, motors, and radiators. And we're going to need a whole lot more of it. Electric vehicles require some 80% more than traditional vehicles.
McKinsey believes copper demand could soar by 40% between now and 2035, thanks to a global shift toward a low-carbon future.
That's how crucial this metal is.
The global supply of known copper available for future production is at its lowest in 20 years.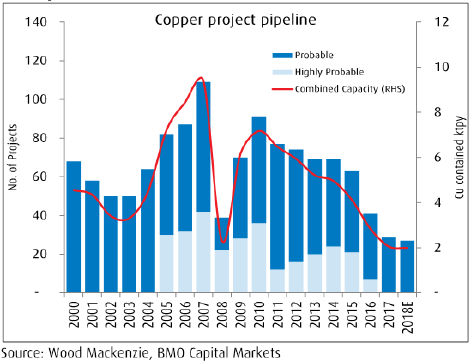 And demand is set to keep climbing steadily.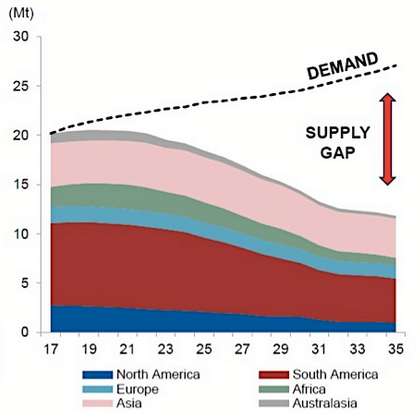 So although copper has been mired in mostly sideways price movement for the past few years, I believe it's going run higher in 2020, likely reaching at least $3 per pound.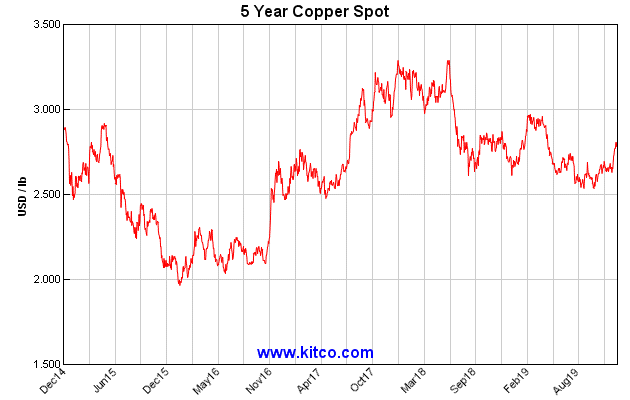 Famous asset manager Stanley Druckenmiller especially likes copper, thanks to fiscal stimulus, money printing, and easing trade concerns.
But copper isn't the only metal to be bullish on...
Multiple Industrial Metals Have Bullish Outlooks for 2020
[mmpazkzone name="in-story" network="9794" site="307044" id="137008" type="4"]
Zinc is right behind copper, being the fourth most consumed metal. It's very widely used as an anticorrosion coating, with no obvious substitute, accounting for half is use.
Right now, known warehouse inventories are about five days of worldwide consumption. And anything below 10 days of supply is viewed as critical.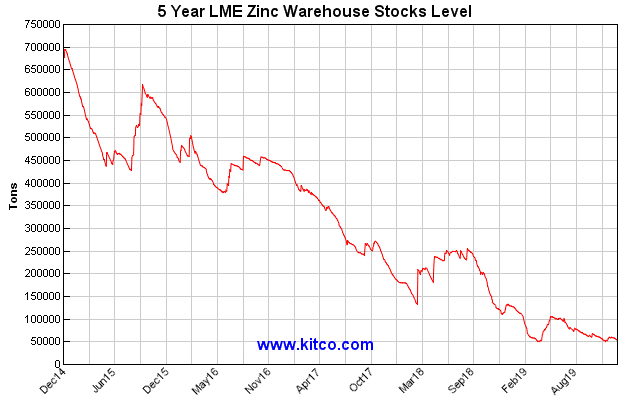 The pipeline of projects is challenged. North America alone is expected to see upwards of six zinc mines close by 2024. And yet there's somewhat of a disconnect, as zinc prices have floundered lately.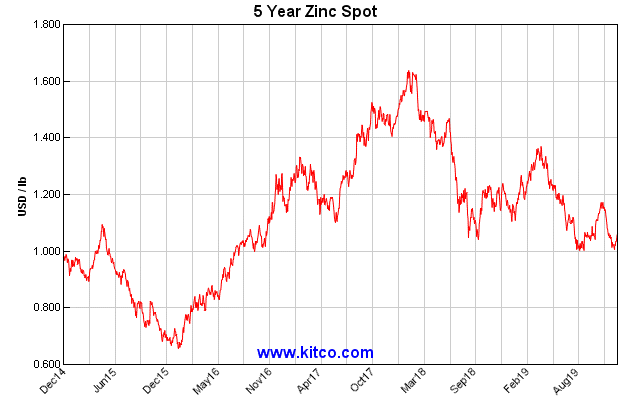 After peaking early last year, then falling back, zinc prices have mostly moved sideways as the market awaits more clarity. I think in the early part of 2020 the realization will come that supply will struggle to meet surging demand.
I expect zinc prices will easily push above $1.20 per pound. They could make a run at $1.40 per pound by the end of the year.
Next up is nickel.
What's Next for Nickel Prices in 2020
A twist came to the nickel markets in October as Indonesia, the top nickel producer, immediately banned ore exports. It had originally promised to end exports in early 2020.
That's what prompted the small pop we see in nickel prices lately.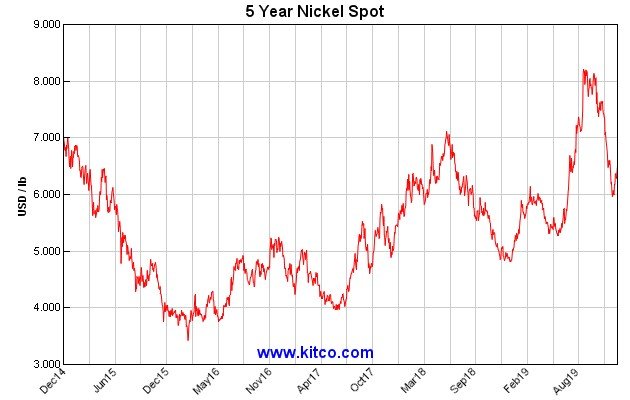 Ongoing strong demand is expected to come from China, with the production of stainless steel surging. Globally, stainless steel production, responsible for over 60% nickel consumption, is expected to grow by a healthy 16% over the next five years.
Wood Mackenzie forecasts non-stainless demand to rise 5% annually by 2025. The biggest driver here will be the ongoing proliferation of Li-ion batteries for EVs and energy storage. By 2040, Wood Mackenzie estimates nickel demand for these two applications will surge from 4% of overall nickel demand in 2018 to 31% in 2040.
I expect nickel prices will bounce back in 2020 and surpass last year's high of $7 per pound.
My Platinum Price Outlook
Rather than a base metal, platinum is considered a precious metal with multiple industrial applications.
Right now, platinum markets are relatively balanced on a supply/demand basis. Suki Cooper of Standard Chartered expects 2019's overall deficit to come in at 226,000 ounces and next year's to drop to some 63,000 ounces for 2020.
A wage agreement in South Africa helped alleviate supply concerns, but risks remain. The national electrical utility, Eskom, continues to be cash-strapped and plagued with output issues. It regularly asks users to use power sparingly. Electricity shortages dent mining operations, which sometimes boosts metals prices.
Demand has been dampened as Chinese jewelry buying has softened and diesel-powered vehicle sales have weakened.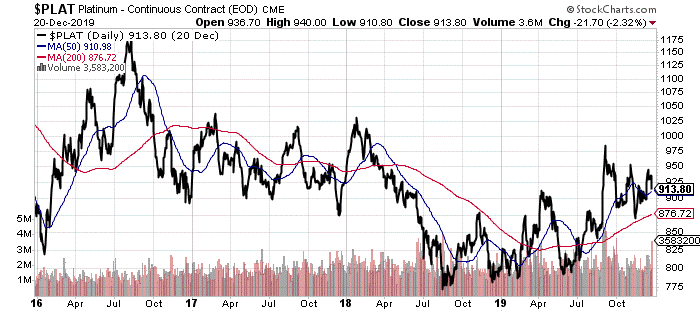 The platinum-to-palladium ratio is at a historical low for the past 30 years.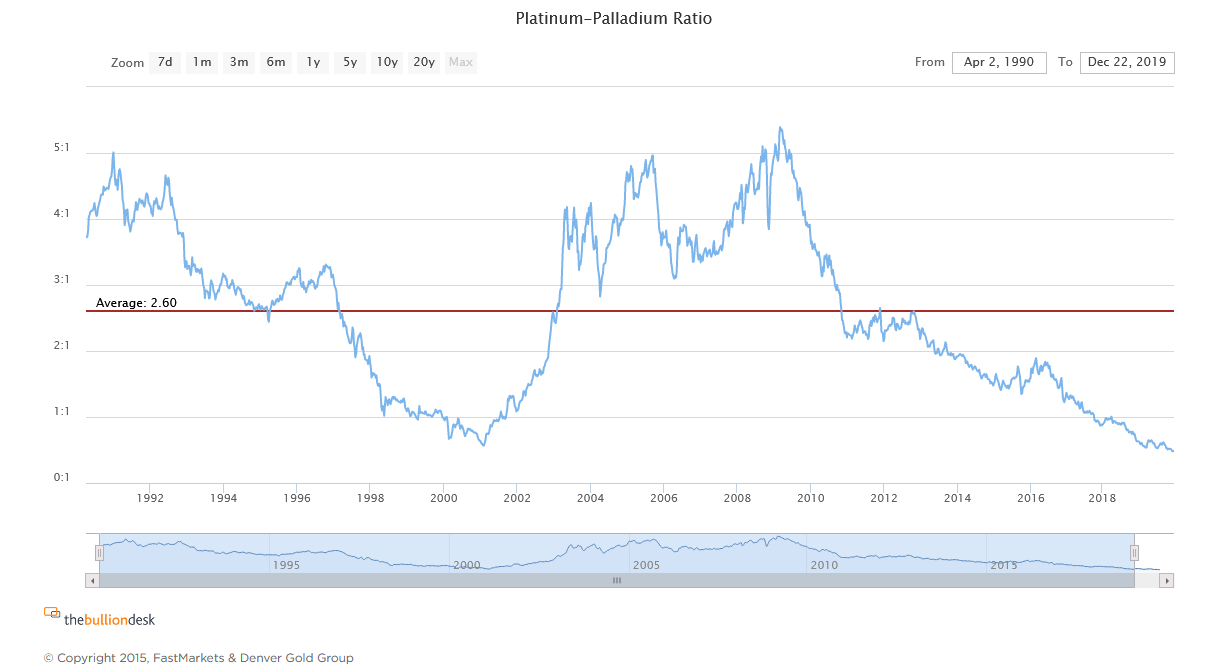 With platinum this cheap relative to palladium, we could see substitution start to become a driver for higher prices in 2020. I think we'll see platinum overtake this year's high of $980 and possibly cross over $1,000 per ounce.
Finally, here's my outlook for palladium
Why Palladium Prices Are Due for a Rise in 2020
Palladium has been the star of 2019. Despite some sizeable pullbacks, it's been on an absolute tear.
The metal is up a blistering 52.8% in the past year. Thanks to increasingly stringent environmental regulations, especially in developing nations like China and India, palladium requirements are up 50% per automobile in 2019 - and likely slightly more in 2020.
TD Securities sees global demand for palladium 4% higher, with only a 0.6% supply increase for 2020, according to Bart Melek, head of commodity strategy. TD expects a 2020 deficit of 760,000 ounces on the heels of 2019's 300,000 shortfall.
After recently peaking near $1,960, palladium has retreated to the $1,800 level and could still have more downside given its huge gains of 2019. In my view, the combination of strong demand along with difficult supply growth will push palladium past $2,000 in 2020.
So as you can see, for most base and industrial metals, a favorable economic outlook is key. I think the trade dispute will be resolved in the near term, and that will help remove a lot of uncertainty.
At that point, these metals are all likely to rise as demand is unleashed and starts to dramatically outpace supply.
America's Favorite Angel Investor Shows How Easy It Is for Anyone to Invest in Ground-Floor Startups
You've probably seen stories about this person or that person making an absolute fortune from some unknown startup suddenly becoming a household name... like Uber, Airbnb, SpaceX, or Bird.
Now, it's your turn.
Shark Tank's Robert Herjavec is showing how easy it is for anyone to turn as little as $50 into what can be life-changing windfalls... all from investing in startups.