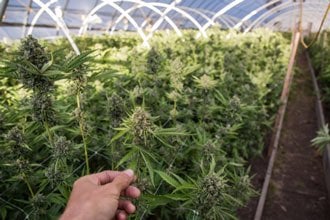 In 2020, cannabis investors could experience a huge wave of profits as legalization sweeps across the country.
After Illinois became the 11th state to legalize recreational marijuana and experienced a bump in tax revenue, leaders in New York, New Mexico, Vermont, and more lined up to toss their support behind initiatives to legalize marijuana.
In total, at least 18 more states are moving to deregulate or legalize cannabis.
Ballot initiatives for recreational marijuana will likely appear in Arizona, Arkansas, Missouri, Montana, New Jersey, North Dakota, Oklahoma, and South Dakota. Virginia is looking to decriminalize cannabis. And Idaho, Mississippi, Nebraska, and South Dakota could take on medicinal cannabis as well.
And we haven't even mentioned that the federal government is considering multiple bills that could decriminalize or downright legalize cannabis too.
This year is setting up to be a big one for investors. So, how do you tap into this "green wave" at the start of the year?
We recommend one of the safer investment plays that taps into the increasing real estate required to grow and manage cannabis...
This rock-solid REIT to buy pays a 4.9% dividend and has potential upside of 50% in 2020 alone.
Tap into Green Real Estate
At Money Morning, one of our favorite investments in the low--interest rate environment is in real estate.
We recommend REITs because they have favorable tax benefits, pay higher-than-average dividends, and they have outperformed almost every asset class over the last decade.
And when you combine the power of high-yielding REITs with the upside of the cannabis industry, you have a rare opportunity that can make you a fortune...[mmpazkzone name="in-story" network="9794" site="307044" id="137008" type="4"]
Innovative Industrial Properties Inc. (NYSE: IIPR) is a real estate trust that owns industrial facilities where farmers grow medical marijuana.
With a market capitalization of $1.1 billion, IIPR represents one of the best pure play investments with a business model that lends itself to juicy returns combined with less volatility.
After its IPO in 2016, shares took off like a rocket. However, they have pulled back about 45% from their peak alongside the broader cannabis industry.
Currently trading at about $83.50 per share, investors would be smart to buy shares at this level as they may never have another opportunity at this price again.
The cannabis industry remains in its infancy, but new Wall Street figures project that the cannabis sector could eventually hit $166 billion per year.
IIPR buys properties from medical marijuana growers and leases them back through long-term contracts.
As cannabis sales increase, the demand for more production space increases as well. This creates a cash-churning machine that allows the firm to hike dividends and return profits to shareholders at a higher-than-average rate.
A Lean, Green Cash Machine
The firm has a very low-risk business model. Contracts typically dictate that the growers are responsible for operating costs at the growing centers. The firm basically exploits the gap between its ongoing cost of capital and the rent prices that it charges to growers.
Currently, banking companies are still questioning the laws about financing in the cannabis space. That has allowed firms like IIPR to take the lead in providing alternatives for growers.
The firm is also able to charge higher levels of interest than banks can. This has helped juice revenue and growth across the board.
Since their IPOs, the top pot stocks on the market have seen windfalls upwards of 1,700%, 3,800%, even 5,800%. Everywhere you look, people are making a fortune off this agribusiness boom. And you can, too... Just click here to see how...
Between 2018 and 2019, IIPR's revenue grew 179%. By the end of this year, IIPR's revenue is projected to jump another 136%.
By the time that cannabis is completely legal in the United States - a legislative achievement that could come as soon as 2020 but likely by 2022 - IIPR would own one of the largest real estate operations dedicated to marijuana production.
A shift toward recreational production would only turbocharge the firm's balance sheet and send shares higher.
We project that the company will continue to raise its dividend multiple times in 2020.
In addition, as the frenzy about legalized cannabis and ballot initiatives increases, the upside on IIPR is a conservative $150 per share.
That figure represents a potential upside of roughly 80%.
America's 1% Are Converging on the Next "Gold Rush"
The Fortune 500, big investment firms, and the Wall Street elite are all pouring billions into a new agribusiness market.
It's an investment strategy that's already worked for them before - for example...
Vanguard, Credit Suisse, and RBC were behind an IPO in this industry that shot up 659% in under one year...
Deutsche Bank and UBS were behind the scenes of a 641% windfall...
And Goldman Sachs, Black Rock, and Morgan Stanley lined their pockets with a whopping 3,813% profit...
But the biggest gains are yet to come. As medical research in this area trucks on, this could become a $1 trillion global industry. Individual investors could become millionaires practically overnight.
I know the numbers are big, but the research backs it up.
What's more, we've picked three stocks in this industry with the biggest upside potential.
Just click here to see for yourself...