I am overjoyed. Deliriously happy. Straight-up giddy.
Because once again, those monolithic institutions that I tolerate with contempt have handed me and my readers profits on a silver platter.
It's almost too easy, really. That's because the Big Four institutions - the news media, Wall Street heavyweights, Madison Avenue, and the Big Government - are vying to be "Masters of the Universe" and keep on creating what I call "Reality Gaps." They do it all day, every day, as they conduct "business as usual."
Reality Gaps are the huge chasm between what's being written, or shown, or talked about... and where the true realities lie.
A Reality Gap is the "space" between a story that glosses over or disguises a deeper meaning... and the moneymaking opportunity that is contained in that deeper, more important story.
And in my 35 years of experience, the more the Reality Gap obscures the underlying truth, the more moneymaking potential there is.
Let me give you a recent real-life example that illustrates the point beautifully.
The Democratic Party held its final debate before the Iowa caucuses last week. Every story that covered the debate had as the lead point some variation of USA Today's first subhead: "Democrats Debate Medicare for All, Affordable Care Act in Iowa."
That made me very happy - and not because I'm passionate about any of the many sides of the healthcare debate. No, I'm elated because I'm currently passionate about healthcare stocks.
And because the ongoing healthcare argument narrative in general - and last Tuesday's debate, in particular - keeps massive amounts of money flowing into this stock sector. In fact, it fueled a 107% winner and 105% winner - both in the healthcare sector -two days after the debate.
And so the media-created Reality Gap sends money flowing into particular stocks... and we cash in again and again.
See, I've been working a new project for more than half a year: honing and perfecting the process by which I identify Reality Gaps and, even better, exploit them for big, fast gains. About 50 of my most loyal readers have had the chance to beta test it, and they had the chance to bank five 100%-plus wins in one trading week on these Reality Gaps.
Let's take a look at how it's all done in my new service, Straight-Up Profits, and how you can make the same winning gains...[mmpazkzone name="in-story" network="9794" site="307044" id="137008" type="4"]
Straight-Up Profits: Trading the REAL Story for Big, Fast Money
We're all being bombarded by information that is distracting, misleading, or just plain wrong.
The gulf between that information - the noise - and the moneymaking truth buried beneath is what I call the Reality Gap.
For the better part of four decades, I've been honing my skills to identify these opportunities. And by discerning what's junk and learning where the hidden nuggets lie, I've found how to follow the cash flow created by these reality gaps to where some tasty profits lie.
Here's my operating philosophy for Straight-Up Profits.
Demystify "The Big Four": The news media, Wall Street heavyweights, Madison Avenue, and Big Government don't care about you, your money, or your wellbeing. All they want is your vote, your voice, and your money. Oh yeah, and they sure don't want regular hardworking folks like you and me to have a seat at the table. The Big Four are driven by pure self-interest. They work both separately and together to create storylines that distract and mislead you - all so they can hang onto power, prestige, and a lion's share of the profits.
Editor's Note: D.R.'s using his 30-plus years of market experience for good to wade through the swamp of distracting headlines to find the stories that really matter - and show you how to profit from them. Just click here for the seven biggest smokescreens currently being used to blind you to the real money to be made on Wall Street - and D.R.'s recommendations for what to do with your money instead...
Find the real story: If you know the real game that's being played, you can see through the Big Four's misdirection... and find the underlying ways to make money that, like the majority of an iceberg, lies beneath the surface. My mission at Straight-Up Profits is to cut through the hype and show you that hidden story - the one that leads to big, fast gains.
Use pro trading techniques made simple: Once you know the real story, you need the right arsenal of trading techniques to profit. I've opened up my technical trading toolbox for you to show you how to leverage these powerful stories for the biggest, fastest money you'll ever make.
Make big, fast money: Since 2003, I've been helping my readers trade the real story and generate triple-digit gains over and over again. Money flows where it's being treated best. It gushes into the strongest sectors and pours out of the weakest sectors. By tuning into that money flow, we find the sectors and stocks that are ready for big moves now.
The Big Four Pour Fuel on the Fire
Healthcare stocks have been on a tear. And that's fueled by all the discussion on the healthcare topic that is part and parcel of a presidential election year.
So with money already flowing into the sector, the fact that last week's Democratic debate in Iowa centered around healthcare brought additional new attention and, more importantly, new money into the sector.
The reality gap was this: The news media was focused on the nature of the debate asking whether to keep Obamacare and upgrade it or switch to a Medicare-for-all system.
The truth is the markets know any publicity is good publicity. It doesn't really matter where candidates land on this. The fact that they're all talking about healthcare - ad infinitum - put eyeballs on the healthcare system. And the money flowed in. Price on the sector continued to pop, putting our trade in the Health Care Sector SPDR (NYSEArca: XLV) over the top: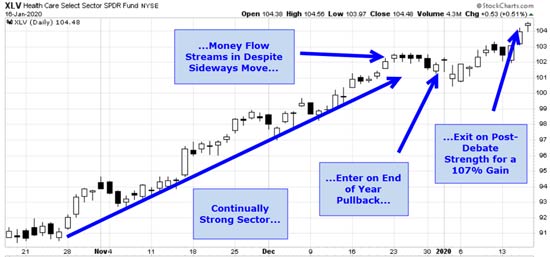 The Friday before the debate we entered Big Pharma stock Merck & Co. Inc. (NYSE: MRK) with even faster results, raking in 105% in just three and a half trading days: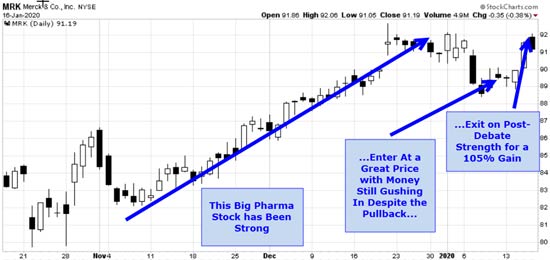 Reality Gaps show up in many places, not just the news media. Wall Street wants us to believe its "buy and hold" mantra. Madison Avenue will say just about anything to get us to buy the latest shiny object or watch the newest streaming service. And Big Government just wants your vote (and to hold onto power).
You can follow along as I find and exploit these Reality Gaps to help you trade the real story for big, fast money.
My readers and I will be exploring and trading these Reality Gaps every week in Straight-Up Profits. You can click right here to join us at no charge whatsoever.
Follow Money Morning on Facebook and Twitter.
About the Author
D.R. Barton, Jr., Technical Trading Specialist for Money Map Press, is a world-renowned authority on technical trading with 25 years of experience. He spent the first part of his career as a chemical engineer with DuPont. During this time, he researched and developed the trading secrets that led to his first successful research service. Thanks to the wealth he was able to create for himself and his followers, D.R. retired early to pursue his passion for investing and showing fellow investors how to build toward financial freedom.