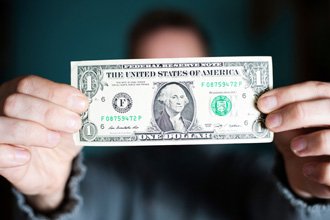 Never has a dollar been more important. These days, a greenback doesn't go very far, except maybe at the dollar store.
For one REIT though, that dollar is everything.
Pay a $1 dividend this year, and owners of this REIT will be laughing all the way to the bank.
It sounds crazy, but that $1 will be a 30% yield for buyers today. With that kind of return, you can build real wealth... as long as that dollar gets paid.
Therein is the rub. If the dividend is suspended, the value of the REIT could evaporate quickly.
Normally, we wouldn't touch a REIT with such an insanely high yield. Typically, a high yield like that is a major warning sign.
The stakes have never been higher in this all-or-nothing yield play. But the timing is perfect.
If you didn't notice, the yield curve has inverted again, and it's not because short-term rates are skyrocketing.
Our NEW Premium Stock Pick could double in the next 12 months. But the window is closing fast to get in on the BIGGEST gains. With a major catalyst just days away, the time to move is now. Click here to get the pick.
It's because long-term rates are falling.
This time, we can thank the new coronavirus. This potentially global pandemic has investors freaked.
They are selling stocks as the death toll in China mounts. With available capital, investors are buying longer-term bonds.
All that buying is putting pressure on yields on the long end of the curve, hence the inversion.
But if that REIT pays its dollar dividend, we'll be rich.
So are they going to pay or not?
This REIT Has an Insane Yield, but Can It Pay?
[mmpazkzone name="in-story" network="9794" site="307044" id="137008" type="4"]
Only management at Washington Prime Group Inc. (NYSE: WPG) knows for sure.
In 2019, the smart money was against the company making good on the dividend. And yet, the dividend was paid.
There wasn't one indication that the company wouldn't pay.
Still, the stock sank.
While the major market indexes were all headed to 30% gains, Washington Prime went the other direction.
It would appear that paying that dollar didn't matter, but it does.
With every payment, $0.25 per quarter, total returns skyrocket.
Washington Prime is a mall-based REIT, and shopping malls are in bad shape. Retailer after retailer is going belly-up.
That's not good for business, but there are good things happening in the mall space.
Redevelopment and change to mixed-use entertainment complexes is breathing new life into properties that were languishing.
The key is the consumer and whether or not spending can keep that dividend flowing at Washington Prime.
The most recent GDP report is not encouraging.
Growth came in at 2.1%. While that's better than expected, consumer spending fell to 1.8%, below expectations. In the prior quarter, spending was running at an unsustainable clip of 3.2%.
Well, I'll take that 3.2% any day, no matter how unsustainable.
The trade dispute with China is having a negative impact on spending.
Even though trade negotiations appear to be going in the right direction, economists warn about the negative impact of the coronavirus on growth.
All of the uncertainty puts the dividend at Washington Power up in the air.
If we were certain, investors would not be looking at 30% yields on the stock today.
Owning Washington Prime is an all-or-nothing proposition.
We will know soon enough where things stand when earnings for the fourth quarter are released.
Losses in 2019 didn't result in nonpayment of dividend.
The same is likely to happen in 2020.
What if there is a positive surprise in the earnings report?
Shares of Washington Prime would likely soar.
The total return then has the potential of reaching 100% or more.
In most speculations, investors must be compensated for the risk taken. Unlike many stocks in the market today, the 100%-plus return potential and 30% yield more than compensate for the risk.
This Fast Money Move Could Make You $4,238
America's No.1 Pattern Trader is going live on camera to show readers how they can make hundreds, even thousands, of dollars in extra income.
You see, he's found a way to predict the future buying patterns of nearly every stock on the market. And with this trick, he's lining up major payday appointments left and right.
We're talking about cashing in on some of the biggest stocks on the market: Netflix, Apple, Facebook, even Amazon.
The best part is this options trading strategy is super easy to understand and even easier to put into action.
All it takes is three simple steps and a few clicks of your mouse, and you're on your way to what could be life-changing wealth...
Click here to see how he does it.