The fast-moving rally that swept stocks higher last week took the S&P 500 and the other benchmarks right back to their respective highs.
Well, all the indexes except one important one: the Russell 2000 Index.
The Russell 2000 fell about 3% short of reclaiming its highs last week. That shows some implications about the real risk appetite of investors as the market rebounds from the coronavirus sell-off of two weeks ago.
One of my Ten Commandments of Trading is "Stocks are driven higher by speculation, not fundamentals."
Historically, the small-cap index is a great barometer for this. It's perfect for determining whether a rally is driven by an increase in risk appetite (speculation), or rebound buying as the crowd reacts to a trading situation or event.
Last week's rally was not led by the small caps. It was led by the large-cap tech stock names that have become almost "safety trades" due to their popularity.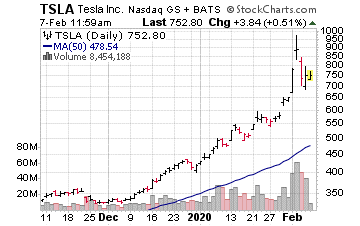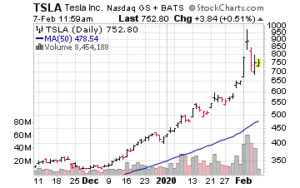 Of course, we also saw the Nasdaq driven to new highs on one "mania trade" as Tesla Inc. (NASDAQ: TSLA) shares took another shot to the moon. Believe me, this trade was nothing close to speculative. It was driven by short covering and the type of mania-driven sentiment that often marks a tradable top in a stock or the market. For my money, the smart traders are taking profits here and waiting to buy the stock at $600.
Getting back to my point, this all means the market is not likely to surge back into new high territory. Instead, I expect a fall into a trading range environment.
So far, the indication is that February will continue seeing a range-driven market. Of course, we can make a lot of money in a range!
This Week's Earnings Reports and the Coronavirus Headlines
Believe it or not, we're still going to have a steady flow of earnings reports this week. Last week's results maintained the positive trend that we've seen through the quarter. However, the reaction to results has started to become more muted.
By that I mean the earnings reactions have not been as dramatic after positive results.
This is due to investors becoming more cautious about jumping into a stock (or the market) after the routing we saw stocks take a few weeks ago. This is the same phenomenon causing small-cap stocks to see less buying interest. All in all, these two trends tell us it's time to up our defensive game because the next month or so may test the will of bullish traders.
Headline risks surrounding the novel coronavirus felt like they became benign last week. That was partly due to Chinese markets reopening. And the first thing their central bank did was announce massive rounds of liquidity injections into their financial systems.
One thing markets love is the high of quantitative easing. That feeling that the central bank won't let the market fail is a strong aphrodisiac that gets investors in the buying mood.
In the case of the coronavirus, we may be looking at a "tip of the iceberg" situation. That means the headline risk is likely to become increasingly strong.
My Bottom Line This Week and How to Trade the News
Join the conversation. Click here to jump to comments…
About the Author
Chris Johnson is a highly regarded equity and options analyst who has spent much of his nearly 30-year market career designing and interpreting complex models to help investment firms transform millions of data points into impressive gains for clients.
At heart Chris is a quant - like the "rocket scientists" of investing - with a specialty in applying advanced mathematics like stochastic calculus, linear algebra, differential equations, and statistics to Wall Street's data-rich environment.
He began building his proprietary models in 1998, analyzing about 2,000 records per day. Today, that database, which Chris designed and coded from scratch, analyzes a staggering 700,000 records per day. It's the secret behind his track record.
Chris holds degrees in finance, statistics, and accounting. He worked as a licensed broker for 11 years before taking on the role of Director of Quantitative Analysis at a big-name equity and options research firm for eight years. He recently served as Director of Research of a Cleveland-based investment firm responsible for hundreds of millions in AUM. He is also the Founder/CIO of ETF Advisory Research Partners since 2007, noted for its groundbreaking work in Behavioral Valuation systems. Their research is widely read by leaders in the RIA business.
Chris is ranked in the top 99.3% of financial bloggers and top 98.6% of overall experts by TipRanks, the track record registry of financial analysts dating back to January 2009.
He is a frequent commentator on financial markets for CNBC, Fox, Bloomberg TV, and CBS Radio and has been featured in Barron's, USA Today, Newsweek, and The Wall Street Journal, and numerous books.
Today, Chris is the editor of Night Trader and Straight-Up Profits. He also contributes to Money Morning as the Quant Analysis Specialist.