The stock market is officially in correction territory, but for three stocks in particular, the bleeding is going to get much worse.
You don't want these companies anywhere near your portfolio right now.
While the Dow is down 11% from its 2020 high in February, stocks like Carnival Corp. (NYSE: CCL) have lost nearly half their value on the year.
Now, we're not advocating you sell your entire portfolio and sit on cash. That could end up costing you even more money.
But there are some stocks that can poison your portfolio.
We're going to show you three you can't afford to own right now. These are companies the coronavirus is going to hurt the most, just like Carnival.
Boarding a tightly packed international cruise ship is the absolute last thing consumers are going to spend their money on right now. And once news broke that the coronavirus had spread through cruise passengers, the company's stock tanked.
Dizzying Market Moves: It feels like the stock market changes course every time you blink, but you can limit risk and even line up profits. Find out just what to do (and not do). Click here now...
The companies we're about to show you are facing similar threats. And the losses will get even worse as coronavirus cases rise in the United States.
We haven't seen the end of the damage yet.
One of these stocks in particular should be nowhere near your portfolio. It's also one of the most highly traded stocks on the market.
This blue-chip company hasn't made the coronavirus headlines, but it's deeply tied to China and the pandemic in ways that aren't so obvious. But it will be obvious soon enough.
We'll reveal that stock in a second, but first, make sure you aren't holding these stocks right now...
Stocks You Don't Want to Own Right Now
These stocks aren't on our list just because they've dropped. A correction can be a great buying opportunity. You could buy some of the best companies in the world for a 10% discount right now.
That's not the case with these three stocks.
These stocks have fallen, and they have much further to drop. And their recovery might take even longer than the rest of the market. Depending on the scope of the pandemic, some of these stocks might not bounce back for months, if not years.
First up is Wynn Resorts Ltd. (NASDAQ: WYNN). The stock is down 30% on the year, and it could get even worse.
Two of Wynn's biggest properties are in Macao, a city in southern China. With China being the epicenter of the coronavirus outbreak, travel within the country has been limited as the government tries to get the pandemic under control.
Macao closed all its casinos for two weeks in February, but business is unlikely to spring back to life quickly, even though they're able to open again.
China's response has included quarantining cities of millions of people and shutting down travel routes on airlines and trains. That, combined with the economic effects of the virus, puts a damper on leisure travel to China's premiere casino resorts. Plus, international travelers are less likely to choose China as a destination with the outbreak still alive.
It could be months before the pandemic is eradicated and China's reputation recovers. That's a long time to see earnings take a hit.
Wynn's Las Vegas casino resorts won't be a backstop for the company's revenue either. Americans are also less likely to congregate in confined spaces like casinos or the airlines they need to get there. And Las Vegas relies heavily on international tourists, including those from China. About 4% of Las Vegas' international visitors are from China.
Wynn's latest report explained, "A significant portion of our U.S. business relies on the willingness and ability of premium international customers to travel to the U.S., including from mainland China."
Until the outbreak is completely under control and we see signs of travel and tourism growing again, Wynn isn't worth the risk of owning it.
American Airlines Group Inc. (NASDAQ: AAL) is next on our list. Travel bans, fears of a pandemic spreading across borders, and travelers preferring to stay home than risk travel are all obvious reasons shares of American Airlines stock are down nearly 45% on the year.
But the coronavirus is hitting the airlines especially hard due to the company's business model.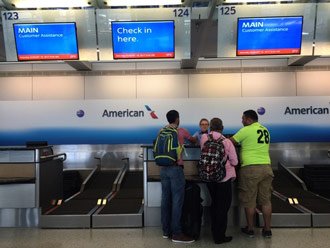 Warren Buffett once said, "The worst sort of business is one that grows rapidly, requires significant capital to engender the growth, and then earns little or no money."
He was talking about airlines.
And with American Airlines' razor-thin margins of just 3%, well below the industry average of 9%, it's no wonder Buffett said investors would've been done a favor if Orville Wright never made it off the ground.
Thanks to the high competition from low-cost carriers, huge capital costs, and susceptibility to shocks like the coronavirus, airlines have been notoriously hard to make money on.
Even worse, American Airlines was rated the worst airline for long-haul travel last year. That already meant American Airlines was battling for coveted long distance passengers. Now even fewer people are willing to book air travel until the pandemic is over.
With the virus continuing to spread in the United States, American Airlines may not have seen the worst yet. We'd stay away until it can show consumers are coming back to air travel, and even then, rivals like Delta Air Lines Inc. (NYSE: DAL) or Southwest Airlines Co. (NYSE: LUV) might be better plays.
But you know exactly why resorts and airlines are hurting the most from this outbreak.
Our next stock to avoid might surprise you.
In fact, it was one of the most popular stocks of the last year...
The Surprise Stock You Don't Want to Own Right Now
[mmpazkzone name="in-story" network="9794" site="307044" id="137008" type="4"]
Walt Disney Co. (NYSE: DIS) was one of the breakout stars of 2019. The stock soared by nearly 40% in 2019 after the unveiling of the Disney streaming service as new competitor with Netflix Inc. (NASDAQ: NFLX).
But Disney is giving those gains back in the wake of the coronavirus.
It might not seem like it, but Disney is exposed to the pandemic on two fronts. That makes this stock a tough one to hold onto right now.
Disney gets about a quarter of its revenue from its parks, experiences, and products segment. That includes traveling shows like "Disney on Ice" and destinations like the Walt Disney World Resort in Orlando, Fla., and Disneyland in Anaheim, Calif. Plus, Disney operates its own cruise line.
As we mentioned above, customers aren't flocking to these big-ticket destinations as long as the coronavirus is still spreading. The same catalyst tanking Carnival and Wynn right now is lopping off a huge section of Disney's revenue too.
And Disney's studio segment is taking a hit too. The company makes 45% of its revenue from its media and studio products. Disney owns film studios like Pixar, Disney Animation, Marvel Studios, Lucasfilm, Fox Searchlight, and 20th Century Fox.
Movie studios are facing grim prospects as customers are avoiding theaters. Even worse, China and the international box office are now the biggest source of revenue for studios, which means a movie flopping in China is as bad as it flopping in the United States. With the coronavirus weakening the Chinese economy and making both Chinese and American consumers less likely to head to crowded, public spaces like theaters, moviemakers will see their profits take a hit.
The latest James Bond movie - "No Time to Die" - just had its release date pushed all the way back to November. The film was initially supposed to debut in April. The studio is afraid fears about the virus will hurt revenue. You can expect to see more studios follow suit, including studios Disney owns.
It will take months for Disney's revenue and earnings to recover, and we don't know if we've seen the worst of it. It the virus continues to spread in the United States, we might not see companies with exposure to it recover until a vaccine is widely available and the public feels comfortable again. That won't be until next year.
This is one to avoid right now.
Action to Take: Sell or avoid buying Wynn Resorts, American Airlines, or Walt Disney until the coronavirus is contained and affected industries start to grow again.
You Can Collect Four Separate Paydays in Under a Minute with This Options Trading Secret
Live on camera, America's No. 1 Pattern Trader is showing you the secret behind some of his biggest trades to date.
Watch as he uses this special tool to collect four separate paydays in under a minute - all from enormous companies like Netflix, Apple, Facebook, even Amazon.
While it may have taken Tom years to invent this moneymaking "machine," it's super easy to understand and utilize.
All it takes is a few simple mouse clicks, and you could be hundreds, even thousands, richer.
This is an opportunity you won't want to miss out on.
Click here to get started today.