The market crashing isn't exactly welcome news, but options traders have found plenty of opportunity to make some killer gains. We've recommended trades to our readers that have made 500% returns, even 1,000% returns.
But if you're out hunting for the next big winner, you can't just trade options on any old stock and expect these kinds of returns. Today, we'll show you the 10 best stocks for options trading that will lower your up-front costs, plus two more strategies to lower your costs while maximizing upside.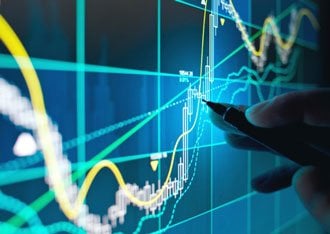 These are indeed extraordinary times, so ordinary strategies probably won't work. The most important point an options trader needs to consider is that volatility is extremely high. And that means options prices are also high.
After all, options are priced based on the likelihood that their underlying stocks will make big moves. All we had to do was watch this past week, as the market itself would move as much as 10 times its normal range in just one day.
Just Released: "Three Ways to 'Immunize' Your Portfolio Against Coronavirus Market Chaos." Get this special report now, for free. Click here…
That means options are paying off right now, but they're also pricey to get into. You don't want to "be right" on the direction the stock is moving but not make any money because you overpaid on the option's premium.
That's why we've put together a list of strategies you can use to lower your costs and maximize upside.
And our last strategy includes the 10 best stocks to use for options trading. Options on these stocks are more affordable to get into than some of the popular names, but the upside is still there…
Options Strategies, No. 1: Covered Calls
A better strategy is to be on the other side of all that. In other words, instead of buying options, you can sell them.
When you sell the option, you collect the premium. And as long as the option expires out of the money, you keep all of it. With premiums so high right now, this could be a lucrative strategy.
The only catch is you can't keep the money until you either buy the option back or it expires.
To be sure, selling options carries risk.
This is called a naked option because it is not hedged with either the underlying stock or another option. Let's say you sell a call option, giving the buyer the right to buy the underlying stock for a specified price by a specified date. If that stock soars, you stand to lose money, and the potential losses are limitless. The higher the stock goes, the more you lose.
However, if you already own the underlying stock, your risk drops considerably. If the price soars and the option buyer wants to buy the stock, all you have to do is sell it to them at the specified price. All you really lose is the potential for gains.
In these volatile times, you want to sell a call option well above the current stock price so that if the price does move significantly higher, you will at least bank some profit on the stock you own. The money you collect for the option will be less, but you either make a profit on the option if the stock does not rally, or on the stock if it does.
But there is another way to reduce your risk when selling options.
Options Strategies, No. 2: an Option Spread
Another way to deal with high options prices is with an option spread. This is a hybrid strategy in that you buy and sell options on the underlying stock but at different strike prices. Here you have the choice of getting paid now or getting paid later if you're correct in your market assessment.
Let's assume you think that the overall stock market is cheap right now. As long as you understand that nobody really knows when the bottom will form, you can justify taking the risk of a bullish bet.
A bull call spread, also known as a debit call spread, is a strategy where you buy a call option with a strike price above the stock's current trading price while selling a call option with an even higher strike price with the same expiration date. The money you collect from the higher-strike call you sell partially pays for the lower-strike call you buy.
It costs you some money up front, but it will be less then just buying a call outright. The only catch is that you limit your upside potential, so choose the short call to give you a little room. Say your stock trades at $60, you can buy the $55 call and sell the $70 call.
The way to get paid up front is to use puts instead of calls. A short put spread, also known as a credit put spread, accomplishes the same thing. You buy the lower-strike put and sell the higher-strike put. The difference is that the put you sell costs more, so you start out with money in your account. If the stock rises, you will keep the money.
Of course, these strategies aren't the only way to reduce the cost of options right now.
Some stocks simply aren't as popular as some of the bigger names. And that means options on these stocks aren't quite as expensive.
By finding the best stocks for options trading, like the ones we're about to show you, you can reduce your costs while maintaining your upside potential.
Here are 10 tradable stocks to keep an eye on…
Options Strategies, No. 3: Find Cheaper Options