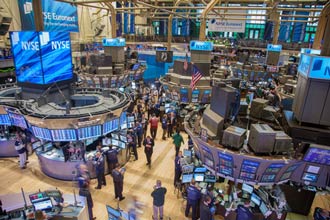 The rapid spread of the coronavirus has quickly halted economies, sending shock waves throughout financial markets around the world.
The S&P 500 is already down 30% from its all-time highs made just five weeks ago.
In comparison, it took about a year to drop 30% the midst of the 2000 tech bubble and the Global Financial Crisis of 2008.
Many are wondering if we're in the early stages of another recession… or worse, a depression.
So, does that mean the stock market will close?
Normally, the market stays open even during periods of extreme financial crisis.
It never closed during the Great Recession from 2007 to 2009. And it never even closed during the Great Depression from 1929 to 1933.
But when we look to history, it's clear that other "black swan" events have caused trading to temporarily stop for days or weeks at a time.
Some examples include: World War I in 1914 (10 days), the Sept. 11 attacks of 2001 (four days), and most recently Hurricane Sandy in 2012 (two days).
In today's heavily computerized market, circuit breakers temporarily halt trading if stocks fall too far, too fast. And we might even see the stock market close altogether as the crisis worsens. It would be a temporary "cooling off" period to stop the sell-off from spiraling down even more.
As the number of confirmed cases swells, the coronavirus is looking more and more like another black swan event that could cause the stock market to shut down.
But because we're still in the early stages of learning about the virus, we simply don't know yet.
The market could shut down for days, weeks, or even months.
Regardless, you need to be prepared. Instead of panicking, you should have a plan.
Market Chaos Action Plan: Coronavirus panic has the market unhinged. Get three strategies for beating volatility, including the most powerful wealth-building tool for buying low. Click here now…
Today, we'll show you exactly what to do to protect your money from the stock market crash…
What to Do Before the Stock Market Closes