The stock market hasn't hit bottom, but it's going to.
If you knew when that was going to happen, and you had money to invest in stocks, you'd make a terrific amount on the initial bounce and easily double, triple, quadruple, or quintuple your money in the next bull market.

The truth is you don't have to know exactly when the bottom's in to make a fortune (but I will tell you when it is). You just need to know that you don't want to miss that first bounce up, and I can help.
Here's why this is setting up to be a generational buying opportunity, how to buy stocks on the way down so you get into them near the bottom, and when we'll see the bottom...
Making Sure You Have Cash to Use
First things first.
In order to take advantage of what's setting up to be a historic fall for stocks and a generational buying opportunity, you must have money to invest.
Now's the time to use savings you won't immediately need (over the next year or two), time to sell assets like that old car you don't use, or artwork - anything and everything you're tired of that you can sell to raise money; it's time to raise whatever cash you can.
If you're not already in the market and have cash to buy in soon, you're in great shape. The more money you have to invest now, the more you're going to make.
If you're about to retire or nearing retirement and can still work, don't quit now. Keep working to add to the capital pile you're going to use for a retirement you probably never dreamed of.
If you were in the market and went to cash before the heavy selling started, you're a genius and about to make more money than you ever made before.
If you sold some stocks, funds, or positions and are still sitting on losses in other positions, think about what else you can sell that you have a profit in, or what you have small losses on, and sell those positions to raise more cash.
If you're still fully invested and haven't sold anything and have to liquidate positions to raise cash, first sell positions you still have a profit in, then sell positions where you have the smallest losses, and lastly, sell some of the losers you don't think will be quick bouncers.
Sell enough to make your new pile of cash meaningful.
With cash ready at hand, start making your buy list. You probably have stocks or funds - preferably ETFs and not mutual funds - that you believe are great companies and funds to invest in at bargain prices, because everything's on sale now.
If you don't have a list and don't know how to put one together, don't worry; not only do you have time, but I'm going to put a big list together, and you can pull from mine.
The reason you need cash, and selling positions at a loss even now to raise cash is important, is that by getting in as the market falls, because it's not done falling, you're going to catch the bounce back and then ride the next bull market up with stocks you buy on the cheap.
Think about it this way.
If you bought a stock for $50 and it went to $100, you'd be up 100%. Then the market collapses, and the stock falls to $75. You're still up 50%, and wished you'd sold there. If the stock drops to $50, you gave up a huge gain but aren't in bad shape because you can sell your stock now and use that cash to buy into new positions at lower levels.
If you wait and sell the stock when it's at $25, you'd be down 50% on your initial investment - that's not pretty. Now, the stock has to go up 100% just for you to break even.
Most people panic here and don't sell, because they "hope" the stock won't go lower and the market will bring their stock back when it rises again, whenever that is.
Then imagine the stock falling to $20, or $15, or lower. You'd be sick.
But if you sold, even at a 50% loss, when the stock was $25, you'd have cash to buy into new positions.
If that company is a great company that just got caught up in the massive market meltdown and you know it's coming back, imagine what kind of position you'd be in, imagine how you'd feel if you bought in again at $15, or $20.
Let's say you miss the bottom at $15, but you buy back in at $20.
If the stock goes up $2, you'll be up 10%.
If it goes up $5 to $25, back to where you sold it for an ugly 50% loss, you'd be up very healthy 25%.
Imagine in a year the stock's back to $50, where you originally got in - you'd now be up a whopping 250%.
Now, think big, think about three to five years from now, if it takes that long, and your stock gets back to $100. You'll be up 400%. That's how you get rich.
Now imagine you buy into a bunch of stocks on the way down and end up buying some shares of all of them near or at the bottom. Imagine how you'll make out in five years.
You'll really be rich, or at least able to retire with a lot more money than you had before this meltdown.
The bottom is coming, and buying into this falling market is a generational opportunity precisely because we're not going to see these cheap prices again for a long time to come, maybe ever.
I'll tell you how to buy in on the way down to the bottom in a minute.
Looking for the Bottom
Here Are 10 "One-Click" Ways to Earn 10% or Better on Your Money Every Quarter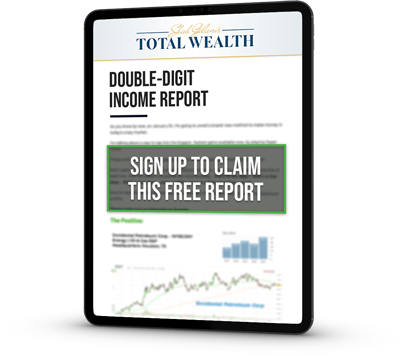 Appreciation is great, but it's possible to get even more out of the shares you own. A lot more: you can easily beat inflation and collect regular income to spare. There are no complicated trades to put on, no high-level options clearances necessary. In fact, you can do this with a couple of mouse clicks – passive income redefined. Click here for the report…
About the Author
Shah Gilani boasts a financial pedigree unlike any other. He ran his first hedge fund in 1982 from his seat on the floor of the Chicago Board of Options Exchange. When options on the Standard & Poor's 100 began trading on March 11, 1983, Shah worked in "the pit" as a market maker.
The work he did laid the foundation for what would later become the VIX - to this day one of the most widely used indicators worldwide. After leaving Chicago to run the futures and options division of the British banking giant Lloyd's TSB, Shah moved up to Roosevelt & Cross Inc., an old-line New York boutique firm. There he originated and ran a packaged fixed-income trading desk, and established that company's "listed" and OTC trading desks.
Shah founded a second hedge fund in 1999, which he ran until 2003.
Shah's vast network of contacts includes the biggest players on Wall Street and in international finance. These contacts give him the real story - when others only get what the investment banks want them to see.
Today, as editor of Hyperdrive Portfolio, Shah presents his legion of subscribers with massive profit opportunities that result from paradigm shifts in the way we work, play, and live.
Shah is a frequent guest on CNBC, Forbes, and MarketWatch, and you can catch him every week on Fox Business's Varney & Co.