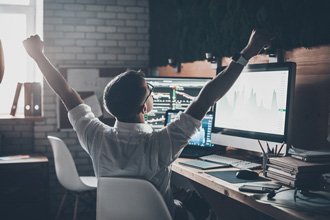 Markets fell another 2% yesterday as COVID-19 continues to halt economies around the world. Stocks are down nearly 40% since February, but that doesn't mean you have to lose money. Today, we'll show you how to make money when stocks go down.
Late Sunday night, the Senate announced it was not able to agree on a $2 trillion stimulus package for American businesses and citizens.
Futures were down 7%, and trading was halted again in on U.S. stocks. Wild volatility and market halts seem to be the new normal on Wall Street these days…
On the news of the Fed launching "QE Infinity" Monday morning, the Dow initially rallied 1,000 points… only to give back all of those gains and more by the end of the trading day. The Dow closed down another 600 points.
As more states enact "stay in home" policies, many nonessential businesses are seeing their revenue abruptly fall to zero overnight.
If you believe that the current stock market crash has further room to fall and you want to protect your downside, then you have to learn how to make money when the stock market goes down.
Take Action: Market volatility has everyone on edge, but we have three steps you can take to protect your money and even set yourself up to profit. Click here…
Fortunately, it's not that complicated. And we'll show you exactly how it's done…
Here Are the 2 Best Ways to Make Money When Stocks Go Down