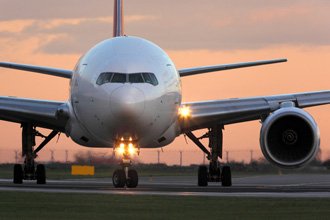 The coronavirus pandemic has caused the largest sell-off in airline stocks since 9/11. Shares of airline trading on the public market have plunged as travelers avoid the skies.
Health authorities have encouraged citizens around the globe to halt all nonessential travel. This trend has decimated the balance sheet of airline companies and fueled a wave of cancelations and uncertainty ahead.
The state of the U.S. airline industry is so dire that Airlines for America, a trade group, has sought a $50 billion bailout package from the government.
This has fueled outrage and shock, given the airlines' history of failing to build "rainy day funds" in the event of a crisis. Rather than save cash, airline companies have notoriously used the money on hand to buy back stock and artificially inflate their share prices. That has fueled opposition to taxpayer support.
That said, the recent downturn in the sector has many people wondering, "Should I buy airline stocks right now?"
Market Chaos Action Plan: Coronavirus panic has the market unhinged. Get three strategies for beating volatility, including the most powerful wealth-building tool for buying low. Click here now…
The answer depends heavily on your willingness to take risks with your money with broader, structural problems impacting the economy.
That said, there are two airline stocks to consider in the months ahead.
Looking Ahead for the Airline Industry
Even if social distancing succeeds in flattening the curve, a collapse in air travel appears to be inevitable for some time.
The so-called "all clear" from the government could open up the skies at any point. However, there remains the risk that the psychology of the airline consumer may be bruised for an extended period.
The idea of packing oneself into a flying metal tube among strangers in the wake of a pandemic might cause some to hyperventilate.
Airlines have aggressively slashed flights, with some sending large airplanes into storage for the foreseeable future. Last week, American Airlines Group Inc. (NASDAQ: AAL) cut its domestic flight schedule by 30% in April. It cut international flights by 75% in April.
The numbers in May look similar. Even in the face of a dramatic downturn in infections, American Airlines could see a significant decline in flights for the rest of the year. The demand side of this equation for airlines is incredibly difficult to measure without a clear indication of forward-looking sentiment from the consumer.
For that reason, it's very difficult to recommend buying airline stocks without outlining the apparent threats to the industry in a post-COVID-19 world.
The risk will be high, but the reward could be higher if conditions improve and companies see a boost to their cash flow in the coming months thanks to a semi-solid return to normal.
That being said, these are the only two airline stocks to consider buying and holding right now.
Again, this is only for investors with high risk tolerance…
Two Airline Stocks to Consider for the Long Haul