Desperate times require desperate measures - that sums up what the Fed's been doing and why.
But markets haven't fully priced in their rescue and recovery programs for what they really are: an admission that "this time is different," and it's too late to stop what's going to happen next.
Here's what the Fed's doing, in layman's terms, what it says about where things are, and what's next.
How the Fed Got Us Here
The Federal Reserve System is America's private central bank. Yes, it's private; no, it's not a branch of government, and it doesn't have any magic powers, unless printing unlimited sums of money to throw at any and every economic and market problem it can is a magic power.
Sometimes it is. This time is different.
There's no need today for a long history lesson about how the Fed came into being. All that's important is why Congress passed the Federal Reserve Act of 1913.
They bought into the whole magic beans fairy tale...
---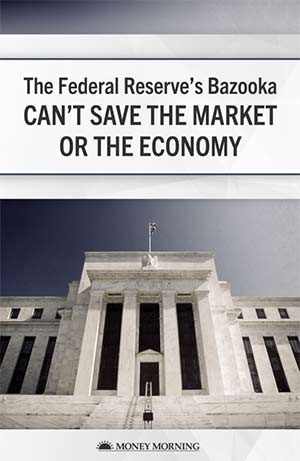 Trillions of dollars of Fed "stimulus" can't stop COVID-19 from devastating markets and economies – but it can sure make things worse. Find out how:
By submitting your email address you will receive a free subscription to Money Morning, as well as occasional special offers from Money Map Press and our affiliates. You can unsubscribe at any time and we encourage you to read more about our privacy policy.
Trillions of dollars of Fed "stimulus" can't stop COVID-19 from devastating markets and economies – but it can sure make things worse. Find out how: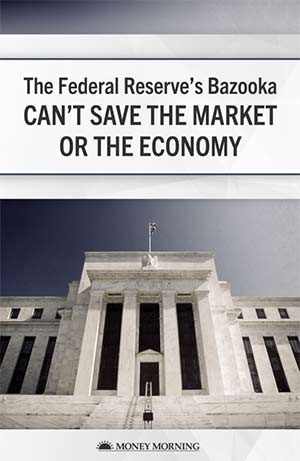 By submitting your email address you will receive a free subscription to Money Morning, as well as occasional special offers from Money Map Press and our affiliates. You can unsubscribe at any time and we encourage you to read more about our privacy policy.
---
After the Panic of 1908, when the nation's largest banks almost imploded from over-leveraging themselves in pursuit of profits, and J.P. Morgan had to singlehandedly bail them out, the banks decided they needed to create a central bank with the power to print their own money to hand out to themselves next time they faced insolvency.
Congress bought into the Act for one single reason. If they were to give ownership of the nation's money supply to a private central bank, which they did (the Fed owns our money - read that on top of any bill in your wallet; it says "Federal Reserve Note"), then the Fed could print as much money as Congress needed them to, to buy Treasury-issued debt. That way Congress could run deficits, issue debt to pay for all their spending to win votes, and feather their beds.
With a complicit central bank, they wouldn't have to tax to spend; their issuance of Treasury debt to pay for their spending could be bought by the new central bank with their own money, as much of it as needed. A Faustian bargain for sure, but the bargain was struck, nonetheless.
Now, again, we find the country's banks in need of rescuing, the country's capital markets in need of rescuing, the government in need of rescuing, and the whole economy in need of rescuing.
The Fed to the rescue.
Join the conversation. Click here to jump to comments…
About the Author
Shah Gilani boasts a financial pedigree unlike any other. He ran his first hedge fund in 1982 from his seat on the floor of the Chicago Board of Options Exchange. When options on the Standard & Poor's 100 began trading on March 11, 1983, Shah worked in "the pit" as a market maker.
The work he did laid the foundation for what would later become the VIX - to this day one of the most widely used indicators worldwide. After leaving Chicago to run the futures and options division of the British banking giant Lloyd's TSB, Shah moved up to Roosevelt & Cross Inc., an old-line New York boutique firm. There he originated and ran a packaged fixed-income trading desk, and established that company's "listed" and OTC trading desks.
Shah founded a second hedge fund in 1999, which he ran until 2003.
Shah's vast network of contacts includes the biggest players on Wall Street and in international finance. These contacts give him the real story - when others only get what the investment banks want them to see.
Today, as editor of Hyperdrive Portfolio, Shah presents his legion of subscribers with massive profit opportunities that result from paradigm shifts in the way we work, play, and live.
Shah is a frequent guest on CNBC, Forbes, and MarketWatch, and you can catch him every week on Fox Business's Varney & Co.