Bear market rallies happen; it's part of the process.
That's the message that you should hold onto through the past two days' rip higher in the market.
I remember the first set of rips and dips in 2007, when the market turned mean. The first three months saw a series of rallies and sell-offs that were both good and bad.
Good, because these fits and starts gave the nimble traders the opportunity to operate in their natural environment. Increased volatility, short-term trends, and a market that is more in tune with the technicals. It's a haven for quick and recurring profits.
Bad, because the roller coaster ride of a market kept the longer-term investors guessing as to whether they should put some money to work or not. That question got harder to answer with each trip higher that ended the next move lower.
Investor behavior in a bear market hasn't changed in decades. Most are trained to try to nail the bottom and then hold on as the rally takes them for a long bull market ride. This isn't normally the case, as they will often buy "a" bottom and try to hold only to find out that the bottom they bought was wrong and they're losing more money.
In between those tops and bottoms, we all tend to decide that we want to buy or sell a stock. Inevitably, the mean market volatility leads to the following fun situation.
The market opens... you're thinking about selling shares of a stock at... let's say $50. You wait a few minutes, and suddenly, the stock goes from $49.50 to $47. You take a few more minutes to check the headlines for why the stock is down and bam, shares are now at $46.
"Forget about $50, I just want to get out," you exclaim as you hit the "sell" button. Of course, when you check the price of the stock the next day, it's trading at $51. If only you hadn't been swept into the throws of the mean market, you would have gotten your $50, saving you 8% of your profits.
Investors, here's the one simple strategy you can use to improve your portfolio in this bear market: Pick your price and use Good-Til-Canceled limit orders only. That's it - then you walk away knowing that you beat the market...
Allow the Volatility to Find Your Price
Beating mean market swings means having the ability to name your price and stick to it. In most cases, the market's whipsaw volatility will deliver your price, but you must be patient. Thirty years of trading experience has taught me to "set it and forget it."
In the example I just laid out, we were trying to sell shares for $50, and because we didn't have a simple plan, it cost us money. Here's your alternative...
The night before, or just ahead of the market open, I would have entered an order to sell the stock using a LIMIT PRICE of $50, Good-Til-Canceled. At that point, you simply walk away. Let the market bounce around like a beach ball in a tornado knowing that the volatility will likely find your price.
If your trade isn't executed within a day or so - you set how long you'll wait - you'll then reassess and change your order. Just don't get sucked into the vortex of chasing a volatile market to save a few pennies; it'll cost you a lot more.
Similarly, you can use this strategy to set targeted buy prices for purchases.
Just the other day, I used this strategy as part of my Fast Profits trade of the week.
In this case, I am interested in adding shares of Zoom Video Communications Inc. (NASDAQ: ZM), but not at the current price above $145. Instead, I'm willing to wait and see if this overbought stock trades back to support around $120 as traders move to sell into the current strength..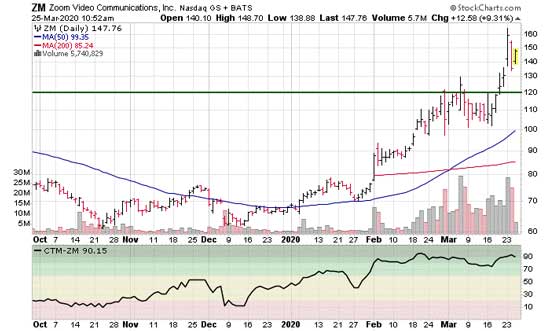 The simple trade is this: Buy Zoom Communications using a limit price of $120, Good-Til-Canceled.
If my trade gets filled, I get the stock for 18% less than what investors are paying for it today, and I avoid getting lured into the volatile daily moves, thus slowing the market down to my speed.
The downside to this approach is that I may miss out on grabbing a stock that continues to run higher. That's something I can live with when such a large percent of the market is on sale. And with other opportunities out there, I'll continue bringing you all the latest moves and strategies you make to come out on the right side of these volatile markets.
In the meantime, click here to check out my colleague Shah Gilani's coronavirus roadmap to learn how to navigate each of the potential pathways the virus could take markets down. You don't want to miss it...
Follow Money Morning on Facebook and Twitter.
Join the conversation. Click here to jump to comments…
About the Author
Chris Johnson is a highly regarded equity and options analyst who has spent much of his nearly 30-year market career designing and interpreting complex models to help investment firms transform millions of data points into impressive gains for clients.
At heart Chris is a quant - like the "rocket scientists" of investing - with a specialty in applying advanced mathematics like stochastic calculus, linear algebra, differential equations, and statistics to Wall Street's data-rich environment.
He began building his proprietary models in 1998, analyzing about 2,000 records per day. Today, that database, which Chris designed and coded from scratch, analyzes a staggering 700,000 records per day. It's the secret behind his track record.
Chris holds degrees in finance, statistics, and accounting. He worked as a licensed broker for 11 years before taking on the role of Director of Quantitative Analysis at a big-name equity and options research firm for eight years. He recently served as Director of Research of a Cleveland-based investment firm responsible for hundreds of millions in AUM. He is also the Founder/CIO of ETF Advisory Research Partners since 2007, noted for its groundbreaking work in Behavioral Valuation systems. Their research is widely read by leaders in the RIA business.
Chris is ranked in the top 99.3% of financial bloggers and top 98.6% of overall experts by TipRanks, the track record registry of financial analysts dating back to January 2009.
He is a frequent commentator on financial markets for CNBC, Fox, Bloomberg TV, and CBS Radio and has been featured in Barron's, USA Today, Newsweek, and The Wall Street Journal, and numerous books.
Today, Chris is the editor of Night Trader and Penny Hawk. He also contributes to Money Morning as the Quant Analysis Specialist.