The stock market has been an absolute roller coaster over the last few months. The Dow Jones Industrial Average has fallen more than 30% from all-time-highs, and we haven't even reached the bottom yet. Is it time to sell?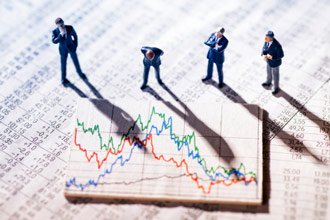 Nope. And here's why.
Even if you don't know how much further the market can slide, this could still be the greatest buying opportunity you'll see in your lifetime. That's why we're sharing with you the two best value stocks to buy today.
Something to consider, though: "Cheap" does not mean "value." And thanks to the coronavirus crisis, two of the most explosive and exciting companies are now in value territory.
Here's what I mean...
How to Spot a Value Stock
A stock being "cheap" doesn't necessarily make it a value play. Some stocks might be trading for half of what they were earlier this year, but you could still be overpaying for them.
That's because value is more than just the price. It's what you're getting for your money. Are they profitable? Do they have enough cash on hand to sustain themselves in a downturn? Are they in a growth industry?
Take Action: Market volatility has everyone on edge, but we have three steps you can take to protect your money and even set yourself up to profit. Click here...
The price/earnings ratio is one easy way to see whether a stock is a value buy or not. When a stock's P/E ratio is lower than its industry peers or its historical average, the market might be undervaluing the stock.
But a low P/E ratio is only one part of the equation for finding value stocks.
"Many P/E ratios have fallen to low single digits because they're not going to have any earnings," says Shah. That's why it's important to look at the company itself as well.
Today, we're going to look at two companies that fit the bill.
Typically, you might think of value stocks as boring. Established players like Johnson & Johnson (NYSE: JNJ) or Caterpillar Inc. (NYSE: CAT) have predictable businesses, steady dividends, and seem to always be trading at value prices. But the recent dip is giving us much more interesting value stocks to work with.
These two exciting stocks both have a promising future and trade at a hefty discount in the current bear market. If you already own them, you might even consider buying more while they're down...
Best Value Stocks to Buy, No. 2: Microsoft Corp.
Microsoft Corp. (NASDAQ: MSFT) has been hit hard by the market sell-down. But Shah says it should "continue to grow" when it's all over.
Shares are down 22% since the end of February. At its low, it was down 38%.
But again, we don't know where the bottom is at this point. The recovery could very well have been a temporary response to the coronavirus relief package Congress is expected to vote on soon.
Right now, this stock is trading a little above $150, when its recent all-time-highs were closer to $190.
The price has slid enough that it's affected the P/E ratio. It's trading for 26 times earnings, against a five-year average of 33.
This could be the best discount you ever get on Microsoft if you act now. If you're already holding, you might want to buy more.
If you want even more of a discount on a high-value stock, just look at this next one.
Best Value Stocks to Buy, No. 1
Join the conversation. Click here to jump to comments…
About the Author
Mike Stenger, Associate Editor for Money Morning at Money Map Press, graduated from the Perdue School of Business at Salisbury University. He has combined his degree in Economics with an interest in emerging technologies by finding where tech and finance overlap. Today, he studies the cybersecurity sector, AI, streaming, and the Cloud.