The CBOE Volatility Index has gone as high as 70 over the last few months in response to the coronavirus outbreak. It's declined to below 60 today. And this is still an outrageously high level of uncertainty in the markets (compared to the 2019 average of 15.39).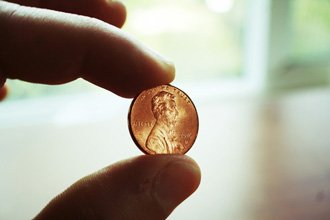 But that's good for penny stocks.
You see, penny stocks trade for under $5 a share by the U.S. Securities and Exchange Commission's definition. That means they can see huge price movements in a short span of time. This can be from a broader market move, like the Dow Jones' 4,000-point jump from Monday's low, or from a breakthrough within the company.
For instance, shares of Inovio Pharmaceuticals Inc. (NASDAQ: INO) popped more than 300% in early March, after the company announced it was closing in on human trials for a coronavirus vaccine.
We had recommended the stock when it hovered around $4. Readers had a chance to grab it and then sell it at $17 in just a couple weeks.
Warning: Trillions of dollars of Fed "stimulus" can't stop COVID-19 from devastating markets and economies - but it can sure make things worse. Find out what's next in this just-released report...
Of course, the jump in price was a quick reaction to the moment - common for penny stocks.
We've since learned more about the coronavirus and how long it could take to get a vaccine. So the price of INO has drifted back down to under $7.
That doesn't take away from the notion that someone out there ran away with 300% gains on the market's whim.
If that sounds good to you, we're going to share another stock poised for breakout within the next year.
Today's best penny stock to buy is not a coronavirus vaccine maker or any other kind of pharmaceutical - though the mainstream media would have you think medicine is the only thing worth buying right now.
There are still resilient parts of the economy poised for growth when this blows over - and even while it gets worse.
The 5G industry is one of these. It's going to roll out no matter what happens. In fact, some cellular tower construction companies are considered "essential" in this lockdown. For example, Crown Castle International (NYSE: CCI) has been tasked with building out entire networks to helps public schools function remotely.
At the same time, nothing is going to stop these companies from rolling out 5G networks around the country. Grand View Research gives this market an estimated CAGR of 32.1% from 2021 to 2025. And that's enormous. The average S&P 500 CAGR is around 7.
There's a 5G penny stock that's going to profit greatly from this growth. And it just received something in the way of a big catalyst yesterday.
Here's the top penny stock to buy today...
The Best Penny Stock Right Now
Join the conversation. Click here to jump to comments…
About the Author
Mike Stenger, Associate Editor for Money Morning at Money Map Press, graduated from the Perdue School of Business at Salisbury University. He has combined his degree in Economics with an interest in emerging technologies by finding where tech and finance overlap. Today, he studies the cybersecurity sector, AI, streaming, and the Cloud.