While no one knows how long the coronavirus crisis will last, there are industries that continue to operate during the lockdown. That means there's plenty of opportunity to make money in this market.
Maryland Governor Larry Hogan issued a "stay at home" order the night of March 30 (Monday) in response to the coronavirus outbreak. Other states have taken similar measures.
But as many as 20 states are considering medical marijuana products "essential" during this time. That means visiting a dispensary could be a valid reason to leave your home, even if your state goes into full lockdown.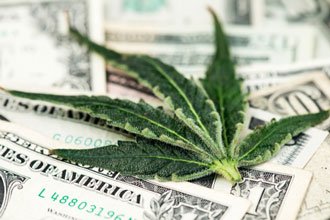 That includes the CBD industry too. In fact, two of our best CBD penny stocks to buy right now could pop more than 200% by the end of the year. It's possible the CBD industry is still on pace to reach $22 billion over three years, and these stocks are riding that trend all the way there.
Music to investor ears.
Here's our first CBD penny stock. Its products are popping up in grocery stores like Kroger Co. (NYSE: KR) and Harris Teeter, which are both open for business through the outbreak...
CBD Penny Stocks to Buy, No. 3: Medicine Man Technologies
One of the best cannabis stocks to buy right now is Medicine Man Technologies Inc. (OTCMKTS: MDCL).
Sign up for SMS so you never miss special events, exclusive offers, and weekly bonus trades.
This is a Denver-based marijuana consulting and business planning firm. It provides a full range of cultivation solutions to help new marijuana companies get off the ground.
Back in September 2019, the company announced it would acquire a dispensary called Roots RX. This would allow Medicine Man to supply its clients with high-quality marijuana.
Warning: Trillions of dollars of Fed "stimulus" can't stop COVID-19 from devastating markets and economies - but it can sure make things worse. Find out what's next in this just-released report...
Around the same time, Medicine Man bought another Colorado-based firm, Strawberry Fields. That's brought its operations to 20 states across the U.S. as well as seven countries.
Now, with a market cap of $117 million, Medicine Man is one of the most successful seed-to-sale marijuana companies in the world.
You can buy this stock for just $1.40 today. But some analysts say it could reach $4.40 by 2025. That's 214% profit.
But this next CBD stock could jump even higher, in even less time...
CBD Penny Stocks to Buy, No. 2: CV Sciences
CV Sciences Inc. (OTCMKTS: CVSI) sells a product called PlusCBD Oil that's currently in more than 3,000 stores across the United States.
This San Diego cannabis company has been growing significantly before the 2019 product release. Its revenue doubled from $20 million to $48 million between 2017 and 2018 as the Farm Bill was passed. The Farm Bill would allow transportation of hemp across state lines, which would enable CV Sciences to distribute through thousands of locations.
In fall of last year, it released a new line of CBD products that would sell through Kroger and Harris Teeter. And now, it's in position to grow even more.
The special thing about this stock is you don't even have to go to a dispensary to buy it. The stores won't shut down, so the revenue will keep flowing. And having the entire population cooped up inside might even raise demand.
You can buy CV Sciences today for just $0.58. But analysts give it a 12-month target of $2. That's 238% profit potential.
This next one is a highly speculative play right now - mostly because the U.S. Food and Drug Administration is dragging its feet on approving its products. But once they're approved, this stock could soar more than 1,000%...
CBD Penny Stocks to Buy, No. 1
Join the conversation. Click here to jump to comments…
About the Author
Mike Stenger, Associate Editor for Money Morning at Money Map Press, graduated from the Perdue School of Business at Salisbury University. He has combined his degree in Economics with an interest in emerging technologies by finding where tech and finance overlap. Today, he studies the cybersecurity sector, AI, streaming, and the Cloud.