Cannabis SPACs will be one of the biggest, and most profitable, marijuana investing trends of 2020.
SPACs, also known as "blank check" companies, are special investments that let entrepreneurs and successful investors raise money through a public offering and use the proceeds to acquire another company.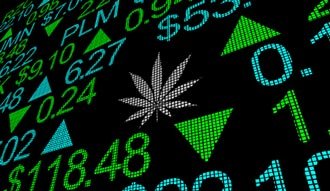 The idea is that the management team can find a business that has great assets or a great business model but may have been run poorly, buy it, turn things around, and give shareholders a healthy return.
And what could be one of the biggest cannabis SPAC launches of 2020 is coming from a familiar name...
Bruce Linton Launches $150 Million Cannabis SPAC
Under former Canopy Growth Corp. (NYSE: CGC) CEO Bruce Linton, the Collective Growth Corp. is expected to launch any day now.
Linton and the team behind Collective Growth Corp. can't talk about the exact acquisition they might make, as it would slow down the process to raise money. It would require additional disclosures in Collective's SEC forms.
But we do know this - Linton's cannabis SPAC will not buy any company involved in the production, distribution, or sale of cannabis.
Instead, it will target businesses "operating in the federally permissible cannabinoid industry which are compliant with all applicable laws and regulations within the jurisdictions in which they are located or operate," according to its filing. That means this cannabis SPAC could target hemp, industrial hemp, or CBD opportunities.
Now, National Institute for Cannabis Investors Executive Director Don Yocham is watching this opportunity very closely.
In fact, he and his team at the Institute have a full guide on cannabis SPACs; walking you through the ins and outs of how they operate, how to evaluate them, and much more.
You can access that free guide right here.
Follow Money Morning on Facebook and Twitter.
About the Author
Millions of Americans are hungry for information on cannabis investing. And for good reason…
Cannabis is the fastest-growing investment opportunity of all time. It represents a turning point for investors.
That's what inspired the launch of The National Institute for Cannabis Investors – The Institute, or NICI, for short.
The Institute brings together the brightest minds in cannabis investing and research, all to give investors the information and guidance needed to make a fortune.
NICI is the most powerful cannabis-investing tool available to investors who want to achieve their dreams of financial freedom. You can learn more about how to get free access to their cannabis profit research here.