Three thousand.
That's the number every trader needs to keep an eye on right now.
We've been trading in a bear market since March 11, when stocks reached their 20% drop from all-time highs in February.
That's created plenty of downside opportunities for traders who know where to look. We've banked over 1,000% gains on Carnival Corp. (NYSE: CCL) plunge and over 500% gains on Marathon Oil Corp. (NYSE: MRO) tanking.
But now that the initial plunge is over, the bear market has mostly meant fast and violent market movements.
Just last week, we saw the biggest rally in the Dow since 1933 bookended by two down days. This week, the Dow jumped nearly 500 points on Monday before losing nearly 1,000 on Tuesday.
This sawtooth pattern is going to be the new normal until a new bull market emerges.
That's why you're going to be hearing a lot about bull markets in the media. The Wall Street Journal was quick to label last week's 21% gain the start of a new bull market. But as much as Wall Street wants to see a new one start, there won't be a bull market until we hit this key number...
How to Tell When the Next Bull Market Starts
A bull market isn't just a couple of up days strung together, even if they bounce 20% higher off of recent lows. That short-term bounce is actually a trait of bear markets.
Bull markets start with that 20% gain, but the upswing is sustained for months. It's not just a sign of temporary optimism or reaction to good news. It's a buy-in from traders and investors alike that the economy and company financials are improving.
Those sustained gains come after capitulation selling that marks the end of the bear market. This is the point when investors are so frustrated with the markets they simply sell and walk away. Volume levels drop, and stocks float near their lows.
We simply aren't there right now.
And it's usually tough to pinpoint when capitulation is over and we see a true bull market emerge without the benefit of hindsight.
But Money Morning Technical Trading Specialist D.R. Barton, Jr., is using his technical trading tools to spot when we'll officially be back in bull mode.
It's when stocks rise above the 3,000-point level on the S&P 500.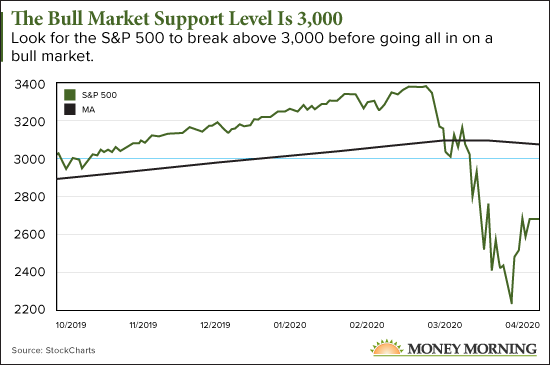 That 3,000 level is a hike from here. The S&P 500 hasn't seen those highs since early March. But if stocks rally to that point, we'll be confident we aren't seeing a dead-cat bounce or another short-lived rally so common during bear markets. It will only happen with sustained buying and growing investor optimism.
The big drop this week after last week's rally is a sign we'll see more violent market moves before we get the rally we need to break through the 3,000 level.
What that means for you is this: Now isn't the time to dump your money back into the stock market. Everyone is looking for buying opportunities right now since stocks are down, but going all in could be risky. It makes more sense to build positions slowly. Start buying stocks you like with a plan to buy more later on, especially if prices fall more.
And when we hit 3,000 points and a bull market is back on, that's when you can move in aggressively and ride the wave higher.
That's just one part of a broader plan you need to put in place right now to protect your money and grow your wealth. You can read the rest of our plan right here...
The Complete Guide: The coronavirus has erased trillions of dollars from global markets, yet this can be one of the most important wealth-building moments in your life - if handled correctly. Here's what to do...
Follow Money Morning on Facebook and Twitter.