The 5G industry is projected to be worth $5.5 billion by the end of this year. By 2026, it could grow to $667 billion, an astonishing 12,000% gain.
Coronavirus or not, this is an incredible investing opportunity.
If you want a piece of this enormous growth market, we're going to show you the best 5G stocks to buy today.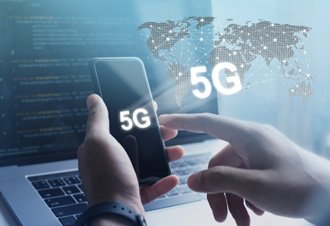 This kind of growth isn't so farfetched when you consider how the industry is set to consume the globe over the next decade.
5G networks are the next evolution of wireless connection. This isn't just an upgrade; it's revolutionary. The speed of 5G is expected to be around 100 times faster than 4G.
In fact, one of our top 5G stocks just got a catalyst in that direction.
Verizon was among the first U.S. companies to roll out its 5G network in the United States. But the coronavirus crash knocked the price down a few notches along with the broader market.
That hasn't stopped analysts from seeing the 5G rollout giving Verizon a push.
Goldman Sachs Group Inc. (NYSE: GS) recently upgraded Verizon Communications Inc. (NYSE: VZ) stock to a "conviction buy" despite the ongoing coronavirus crisis.
That's a great sign for the whole 5G sector. Despite the brief downturn, these companies are going to be in major demand.
While Verizon is a nice buy and hold with its 4.6% dividend yield, we have three even more explosive 5G stocks for you...
Best 5G Stocks to Buy, No. 3: Shaw Communications
Shaw Communications Inc. (NYSE: SJR) is a Canadian communications company. It targets more than 18 million Canadians in its network.
With only about a 4% share in the Canadian wireless market, this stock is still an underdog. But the 5G rollout over the next year is a huge boon for this company.
It's been making swift progress on its 5G network. Just 18 months ago, Shaw completed its first 5G technical trials.
Shaw's financials are strong. This company delivered more than $600 million to investors in dividends last year. It also reported more than $500 million in free cash flow, which was 41% growth over the year before. The 2020 projection for free cash flow is $700.
Get Your Buy List Ready: COVID-19 has crushed markets, but stocks will bounce higher. This is a once-in-a-lifetime chance to get into great companies at historically low prices, so put these stocks on your buy list now...
The company is putting its money to good use all over Canada. It recently purchased frequency in British Columbia and Southern Ontario. This means it's poised for first mover advantage on 5G in Canada.
In fact, IDC Canada Communications Research Vice President Lawrence Surtees predicts it could beat Canadian telecom rivals Bell, Rogers, and Telus - which together control 90% of the Canadian telecom market - in delivering "unlimited" data through 5G.
You can buy shares today for $16.49. But analysts give it a target of $26.76. That's 62% profit potential.
Not quite as much as our next stock, however. Here's an 88% growth stock.
Best 5G Stocks to Buy, No. 2: Nokia
Nokia Corp. (NYSE: NOK) was poised to be one of the most exciting growth stocks in the 5G rollout last year.
Unfortunately, the 5G rollout was slower than planned, and the coronavirus market crash brought Nokia stock down to a low of $2.42, a loss of 60% year to date. But it's climbed to $3.24 now, and it's expected to go higher as 5G continues to expand.
We already know that telecom buildout is essential even in the coronavirus lockdown. That means there's little stopping the expansion of 5G, even in a pandemic.
What's more, there's been a lot more smart money behind Nokia in the last year.
Hedge fund holdings of Nokia soared by over 21 million shares in the last quarter of 2019 - $28.57 million in shares went to Capital Growth Management, and $12.06 million to Southeastern Asset Management.
Nokia continues to make phones and offer 5G services. In fact, it's among the world's biggest vendors competing for patents on 5G technology. It boasts to have registered for more than 3,000 patents and invested nearly $5 billion in 5G research and development last year.
The company is currently working with Sprint Corp. (NYSE: S) to boost network capacity. Sprint has actually delivered a software upgrade through Nokia's AirScale Radio Access solution.
The solution boosts 5G networks with intelligent analytics and automation. It's the first of its kind, and we're still yet to see how far it can take Nokia stock.
Analysts give Nokia a price target of $6, which is 88% profit potential from today's $3.19.
But this next 5G stock could more than double your money...
Best 5G Stocks to Buy, No. 1
[mmpazkzone name="in-story" network="9794" site="307044" id="137008" type="4"]
NetApp Inc. (NASDAQ: NTAP) is a data storage company. And a 5G world is going to need what this company provides.
This company increased annual profits by 1,438% from 2018 to 2019. But this is likely just the beginning for a company that deals in the fast-growing Big Data and artificial intelligence industries.
Improved wireless and fiber frequencies will bring higher-quality audio, video, and communications. And that will require bigger files. Instead of a couple hundred kilobytes, a short video might require a few gigabytes for transfer. That's more than 100 times the file size.
That's where NetApp comes in. It provides cloud-based storage solutions for 5G and artificial intelligence firms.
Storage is only half the equation, however. Another important factor in 5G data storage is the ability to access data quickly. NetApp's cloud-based flash devices also allow for faster access to data. This helps data centers keep autonomous cars and AI-powered technologies operating effectively around the clock.
As the need for more storage is realized with 5G, NetApp will thrive.
This stock trades for $40 right now. But analysts give it a target of $85. That's a 112% target for today's investor.
The Complete Guide: The coronavirus has erased trillions of dollars from global markets, yet this can be one of the most important wealth-building moments in your life - if handled correctly. Here's what to do...
Follow Money Morning on Facebook and Twitter.
About the Author
Mike Stenger, Associate Editor for Money Morning at Money Map Press, graduated from the Perdue School of Business at Salisbury University. He has combined his degree in Economics with an interest in emerging technologies by finding where tech and finance overlap. Today, he studies the cybersecurity sector, AI, streaming, and the Cloud.