The coronavirus crash has cost state governments millions. Oklahoma Rep. Scott Fetgatter said COVID-19 relief would cost his state $220 million this year.
But Mr. Fetgatter may be onto a fiscal solution. His thoughts on legalizing recreational marijuana might not only benefit his state. They are also a potential catalyst for cannabis stocks around the country.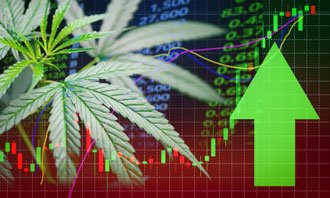 In fact, one of our top marijuana stocks could double this year. And that's just a start as the legal marijuana industry ascends a projected $73.6 billion peak over the next decade.
On April 1 (Wednesday), Fetgatter was reported suggesting "full access program adult use over 21" alongside Oklahoma's medical cannabis program. And it was no April Fool's joke.
Similar plans have already been enacted in other states. And with the coronavirus crisis draining budgets, even more states might consider speeding up legalization to boost tax revenue. It's all part of a cannabis legalization trend we've been anticipating in the last couple years.
Now that we're starting to see some tangible movement in that direction, it's a good time to start investing in marijuana stocks.
Here's why the Oklahoma congressman's statement is likely to materialize. We'll even discuss one of the best cannabis stocks, poised to gain 99% most from sweeping cannabis reform.
How States Profit from Marijuana Legalization
Medical and recreational marijuana sales in Colorado were $1.75 billion last year. Illinois, in just its first 12 days of recreational marijuana sales this year, sold $19.7 million from its dispensaries. Oregon sold $11 million worth in its first week.
There's no denying the benefits realized by these states.
Illinois' tax collections on legal marijuana are projected to go from $34 million in 2020 to more than $375 million in 2024.
Get Your Buy List Ready: COVID-19 has crushed markets, but stocks will bounce higher. This is a once-in-a-lifetime chance to get into great companies at historically low prices, so put these stocks on your buy list now...
It looks like COVID-19 crisis could be accelerating the state adoption of similar policies. States that have lagged behind in legalization now have all the reason to pursue it.
Oklahoma might take its turn, and a similar pattern is likely to play out in other states as well.
Rep. Fetgatter's plan, similar to Colorado's, would potentially lower taxes for medical marijuana patients while taxing recreational pot. He expects the state "legitimately could see $100 million a year increases" in revenue.
We've talked for a long time about how legal marijuana stocks are going to have a big year. But while the coronavirus crash has devastated most markets, it seems like no more than a speed bump for the cannabis industry.
Marijuana dispensaries have even been considered essential across the U.S. while states are locked down. To be completely frank, marijuana is one of those "stay at home" stocks you want to watch while everyone is quarantined amid the coronavirus outbreak.
The growing sentiment for legalization comes in a year where we expected cannabis stocks to soar. States are raking in the cash. Professional athletes like Golfer Bubba Watson and celebrities like Martha Stewart are bringing cannabis to the limelight.
We even wrote in February about how Girl Scouts have begun selling cookies in front of cannabis dispensaries.
These are all catalysts for the big pot stock boom we're going to see over the next couple years. And COVID-19, rather than slowing it down, could actually make it come sooner.
Now, here's the cannabis stock that could benefit the most when that happens. This is 99% profit potential in 2020...
The Best Cannabis Stock to Buy on Marijuana Legalization
Join the conversation. Click here to jump to comments…
About the Author
Mike Stenger, Associate Editor for Money Morning at Money Map Press, graduated from the Perdue School of Business at Salisbury University. He has combined his degree in Economics with an interest in emerging technologies by finding where tech and finance overlap. Today, he studies the cybersecurity sector, AI, streaming, and the Cloud.