The Dow Jones Industrial Average popped more than 9.5% in the first two weeks of April. But this was merely a correction for the 35% it lost from the initial coronavirus crash. Today, the Dow is off more than 300 points on coronavirus worries.
As that becomes more obvious, growth traders still need to realize there are buying opportunities out there. Take our top penny stock today, still with 93% profit potential.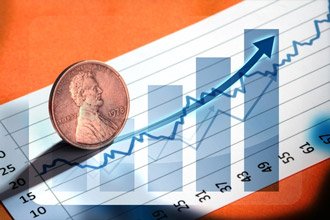 We've been saying we don't know where the bottom is. We don't know when a vaccine for COVID-19 will show up or when the economy will open. But we do know the long-term trajectory of markets is up. It's still the buying opportunity of a lifetime.
In fact, we had a penny stock pop 260% earlier this year after news that the company was heading to human trials on a coronavirus vaccine.
That was Inovio Pharmaceuticals Inc. (NASDAQ: INO). It gained all while the coronavirus media frenzy was brewing and other stocks plummeted.
Inovio has gone from $14 to $7 since then. But it's still up 138% for the year. Such is the nature of penny stocks. Readers who got in and out at the right time could have more than doubled their investment.
The great thing about top penny stocks is that they thrive on market volatility like today's...
What's Moving Penny Stocks Today
The CBOE Volatility Index (VIX) average so far is more than 30. The average for 2019 was around 15. Double volatility means bigger percentage changes in stock price.
Of course, that means bad penny stocks will lose just as much as the good ones gain. So you need to keep your eyes open and look for industries and stocks that could pop on broader market movement.
This week, Russia has agreed with the Organization of Petroleum Exporting Countries (OPEC) on a supply cut to stabilize oil prices.
Warning: Trillions of dollars of Fed "stimulus" can't stop COVID-19 from devastating markets and economies - but it can sure make things worse. Find out what's next in this just-released report...
Russia had disagreed with Saudi Arabia before, in the wake of the coronavirus market crash. Oil prices lost 65% as a result.
This week, they reached an agreement, and oil prices are up 4%. And it's likely to climb way higher.
In addition to the OPEC news, oil stocks around the country have been poised to increase revenue from their own cuts to production.
And this is one. Here's the top penny stock to buy today as oil prices stabilize. It's not your typical penny stock, but these aren't typical times...
The Best Penny Stock to Buy Right Now
Join the conversation. Click here to jump to comments…
About the Author
Mike Stenger, Associate Editor for Money Morning at Money Map Press, graduated from the Perdue School of Business at Salisbury University. He has combined his degree in Economics with an interest in emerging technologies by finding where tech and finance overlap. Today, he studies the cybersecurity sector, AI, streaming, and the Cloud.