The first earnings season since the pandemic shuttered the U.S. economy will show us the true extent of the economic damage caused by COVID-19.
It's not going to be pretty.
The bad news is going to come in waves, just as traders are starting to think the worst of the pandemic is behind us. That may or may not be the case, but we don't yet know the full extent of the economic destruction. This earnings season will pull back the curtain on that.
And some stocks are going to fall even lower.
Free Guide: Today's volatile market is perfect for making money with options, and you can learn from a pro with Tom Gentile's Options 101: The Easiest Options Guide You'll Ever Read. Click here to get it.
We know three you don't want to be anywhere near when the bottom falls out. Not only are they not worth holding – they are ripe for a bearish trade…
Why the "Bull Market" Is on Thin Ice
Part of the reason for the rally from March 23's low is the Fed's unprecedented action to inject cash into the economy. But that's just a sign of how bad the economic crisis is.
In fact, it is so severe that between the U.S. Federal Reserve and Congress, the government is pumping $7 trillion into the economy, which is about 1/3 of normal GDP. Think about that. One third of the economy is being replaced by the government, and that means trillions of dollars will not be earned by businesses, big and small. On top of that, 16.8 million Americans are now out of work.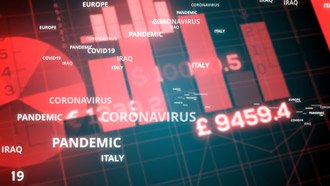 But the Fed has said it will do whatever it takes to support the economy. That sent stocks up with a record-breaking gain last week, making it the best week since 1974. That felt great, but traders may have gotten way ahead of themselves. With all the volatility still remaining in the market, stocks could easily head back down to challenge their March lows, especially if earnings reports show a direr situation than expected.
Being prepared for such a downside move could be just the insurance you need to get through that next bout of selling and ready to strike when the bottom is really made.
D.R. Barton, Jr., Money Morning's Technical Trading Specialist, sees plenty of reasons for such caution. For starters, the Fed is doing something it has never, ever done before. Along with guaranteeing loans made to states and municipalities and households, it is also going to be buying junk bonds directly.
It did not even do that during the 2008 financial crisis, so this is a really big – and bad – deal.
"Junk" bonds are fixed-income securities that rating agencies deem so risky they are not "investment grade." Pension funds and many other institutions are not even allowed to own junk bonds. In short, this part of the bond market is not for the faint of heart.
And because of this greater risk, they necessarily offer higher yields than are available on Treasury or safer investment-grade bonds.
That's all well and good when the economy is doing well and there is enough business for these marginal companies to share. But when times get tough, junk bond issuers are the first to fold.
As of last week's close, the S&P 500 gained back about half of what it lost during the decline from Feb. 19 to March 23. That means a lot of stocks rallied either out of technically oversold positions or reacted positively to the initial news of the Fed's "all in" policy.
Considering the economy has not budged yet, that is a lot of gains on hope and a prayer. And it sets up the weakest stocks for a fall.
Analysts don't really have a clue about what sort of numbers companies will show this earnings season. And keep in mind that these quarterly numbers, especially from big banks, will reflect only a part of the economic decline of the pandemic, which really only started to have a big effect when we were well into March.
If big bank earnings are as dire as D.R. believes, then another down leg in this bear market is highly likely. And where will the economic damage really settle? On retail. The stores are closed, people are shut inside their homes, and demand for general merchandise is way down. Nobody is dressing up, buying jewelry, or getting that summertime wardrobe going.
When the unemployment rate is likely over 14% and Americans are worried about their jobs, the last thing they're doing with their cash is spending it on luxuries.
D.R. is looking at three stocks that could bear the brunt of the selling. They have all been downgraded to junk status yet sport big rebounds from their March lows in the market's frenzy to bounce.
Three Stocks to Short Before Earnings Reveal More Trouble