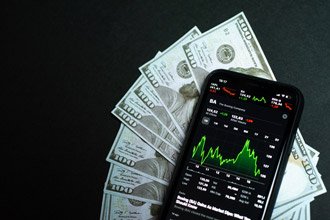 If you're new to investing, now is the time to trade stocks online.
The Dow Jones Industrial Average has fallen 17% for 2020. No one knows when the market will find its bottom, or if it already has. But whether the economy opens tomorrow or we're stuck inside all year, one thing is certain: The coronavirus crash is the buying opportunity of a lifetime.
That's why the stock market has seen such an influx of investors in the last few months. In fact, volume in March was up 107% from last year. That means twice as many stocks were on the move compared to the same month in 2019.
The Complete Guide: The coronavirus has erased trillions of dollars from global markets, yet this can be one of the most important wealth-building moments in your life - if handled correctly. Here's what to do...
It's likely many of those trades were from people who had never invested before. They see the opportunity on the horizon. Hopefully, you're here for the same reason.
Before we begin trading stocks online, it's important you know how to choose a broker that matches your investing style.
This might seem daunting, especially at such a scary time in history. But we're going to make it a little easier for you today.
There are only three steps you need to set up your account and start buying stocks. And they take as little as 30 minutes...
How to Choose a Broker for Online Stock Trading
You have a wide range of choices in choosing online stock brokers. But for new investors, you'll probably want to look for brokers with lower account minimums and commission fees.
Here are the top discount brokers you can use right now:
Those are our two favorites. Here are a two other common online "discount" brokers:
You could skip these and hire a "full-service broker" too. But that could potentially cost hundreds of dollars in commission. You might even be charged an annual percentage of your portfolio. The more you make, the more you pay.
But again, everyone is different. You should do what works best for you. Full-service brokers might be a necessity for some longtime investors with a lot of holdings. Maybe you want the most personalized investing experience possible. But most beginning investors may want to get their feet wet with the discount brokers at first.
Here's how you can set up an account with a discount broker.
How to Set Up a Brokerage Account Online
With most brokers, you can set up an account over the phone or on the web.
You'll start by filling out a form of contact info and other personal information, such as net worth and employment.
You will also be asked to choose an account type. You may see options like individual, joint, or IRA. They'll also ask how long you've been investing and how you plan on using the account.
As you gain trading experience, you might want to use your account for more complex trading strategies. Options trading, for example, can be extremely profitable if you know how to do it.
But we don't recommend you start with these. It can be riskier than trading stocks alone. That's why brokerages require you to get "approved" for trading options. This usually involves more questions about your trading experience, but requirements also may vary between brokerages. You can learn more about some of the best options trading strategies right here.
If you're just starting out, the most common starter account is an individual cash account. This is a standard equity account where you can buy and sell stocks.
Once you have this open, the only remaining step is to fund your account and begin trading.
Now, simply start looking for the best stocks to buy. These are the stocks poised to gain when markets rebound from the COVID-19 crisis. Here's how you can begin doing that...
Get Your Buy List Ready: COVID-19 has crushed markets, but stocks will bounce higher. This is a once-in-a-lifetime chance to get into great companies at historically low prices, so put these stocks on your buy list now...
Follow Money Morning on Facebook and Twitter.
Join the conversation. Click here to jump to comments…
About the Author
Mike Stenger, Associate Editor for Money Morning at Money Map Press, graduated from the Perdue School of Business at Salisbury University. He has combined his degree in Economics with an interest in emerging technologies by finding where tech and finance overlap. Today, he studies the cybersecurity sector, AI, streaming, and the Cloud.