The S&P 500 is down more than 14% in 2020. There's still no end in sight to the viral outbreak. What's the next move?
Regardless of what the market does from here, the best penny stock to buy today is a 366% opportunity.
Sure, the current dip is a chance at some of the best buy-and-hold socks at a discount. But low stock prices are encouraging other investors to pursue even greater profit potential over a shorter amount of time.
That is, a penny stock can double your money in just a few months or weeks.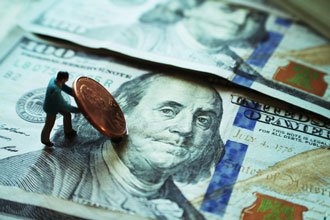 Because penny stocks trade for around $5 or less, they are incredibly sensitive to market movements. And volatility is high right now. The CBOE Volatility Index (VIX) is above 40, with a daily average around 30, more than double what it was last year.
When volatility is high like today, penny stocks will see dramatic percentage changes in a matter of days. It could be as simple as a shock to the broader market averages, which we've seen plenty since the coronavirus crash. Or it could be industry-specific events that send the penny stock price soaring.
Today's top penny stock is rising on the shoulders of an explosive industry: cannabis.
Why It's the Best Penny Stock
The cannabis industry is expected to rise to more than $73 billion by 2027, according to Grand View Research. It was measured at just $10.4 billion in 2018. That's a cool 630% growth for the cannabis market.
Some investors have shied away from the cannabis market now that the market has dropped. The ETFMG Alternative Harvest ETF (NYSEArca: MJ) is down 54% since January 2019.
But many don't realize this is perfectly normal for such a new industry. Along with the legal question, legal cannabis introduces an entirely new set of products, and new companies are still learning how to sell them.
Get Your Buy List Ready: COVID-19 has crushed markets, but stocks will bounce higher. This is a once-in-a-lifetime chance to get into great companies at historically low prices, so put these stocks on your buy list now…
People made mistakes. Cannabis companies lost money. It's totally normal for a growing industry.
In fact, 2019 was a year to weed out the losers in the cannabis industry. And 2020 is still the year this industry is set to take off.
There is still tremendous legalization potential, come election season in November. We recently talked about states like Oklahoma that are beginning to see the tax value of legalizing pot.
It even seems the state cost of coronavirus response has pushed legislators further in that direction.
Today, we have a penny stock that's beat down, but certainly not out. Here's a cannabis penny stock poised for 366% growth when the industry gets rolling.
This might not be your typical penny stock, but a wave of cannabis sell-offs last year, coupled with the coronavirus crash, puts it at an incredible discount…
The Best Penny Stock to Buy Today
Join the conversation. Click here to jump to comments…
About the Author
Mike Stenger, Associate Editor for Money Morning at Money Map Press, graduated from the Perdue School of Business at Salisbury University. He has combined his degree in Economics with an interest in emerging technologies by finding where tech and finance overlap. Today, he studies the cybersecurity sector, AI, streaming, and the Cloud.