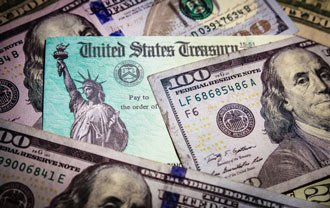 Last week, millions of Americans received a stimulus check due to the ongoing COVID-19 crisis. Every American under a certain income threshold received upwards of $1,200 plus another $500 for every dependent. For those fortunate enough to do so, investing the stimulus check can help build a bigger nest egg for the future.
After all, a $1,200 investment in Amazon.com Inc. (NASDAQ: AMZN) in December 2008 would be worth $42,530 today.
Today, we'll discuss several ways to get started if you're interested in investing your stimulus check.
These easy strategies will make it possible for you to maximize your stimulus check and put you on the road to a better financial future.
How to Invest Your Stimulus Check in 2020
Here's the fastest, easiest way to get started investing your stimulus check.
First, you need to pick a broker. In the past, investors had to pay commissions when buying stocks. But recently, large discount brokerages eliminated those fees. So, look at a company like TD Ameritrade or Merrill Lynch as an option. If you bank with a large U.S. institution like Bank of America or JPMorgan, they will have brokerage options with no fees attached.
Our Complete Guide to Protecting Your Portfolio from the coronavirus will help you navigate anything that comes next in this uncertain market. Click here to get this critical information right now, for free…
Second, we are not interested in buying very expensive stocks that would eat up your entire investment. Instead, you want to consider a few "cheaper" stocks as you build a portfolio.
Finally, we'll want to allocate our money in a smart way to reduce downside risk and help us generate income from that $1,200 (or more) investment.
It's a simple three-part strategy…
Our Three-Part Portfolio for Investing Your Stimulus Check
We'll want to put about half of our money into safe companies that provide steady dividends and sell services used by all people.
In this case, we're targeting a utility company in the electricity generation business – as these companies will remain in high demand in 2020 and beyond. In this case, we can purchase 13 shares of First Energy Corp. (NYSE: FE) for $45.52 per share. This represents an investment of about $592. The stock currently pays a very safe, reliable dividend of 3.43% and offers steady upside in the future.
Next, we'll want to invest about 40% of our money in companies that provide sharp appreciation upside and income as well.
In this case, let's target Walmart Inc. (NYSE: WMT). It might not seem like a great time to invest in retail, but Walmart is much more than a retailer…
Right now, Walmart is the single largest grocery operator in the United States, and demand for food in the last month has increased by 25% year over year. This is a staggering number, and Walmart is poised to grow its market share in the years ahead. This is a stock that in 18 to 24 months could jump as high as $200 per share due to its incredible economic moat. We can purchase four shares of Walmart for about $130 per share.
This leaves us with about 8% of our money left over. And for this, we're going to put this in a more speculative stock that has significant upside in the future.
This speculative position, however, should have some story behind it that allows us to get past the financial crisis.
That's exactly what this small-cap stock provides…