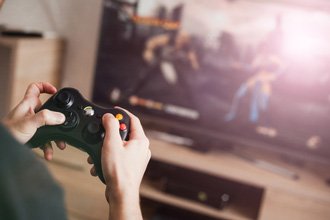 Almost 60 million students who typically attend elementary, middle, and high school are home right now – and might be until September. Add in college students, and that number grows to 80 million. That's a quarter of the entire U.S. population who previously had somewhere to go all day now doing… nothing.
And there's one obvious spot they'll turn to: gaming.
Video games are winning the screen-time war right now. Gaming has been growing its share of consumers' attention and income for years, bringing in $120 billion in 2019. That's more than 10 times all movies combined at the box office in the United States, even with blockbuster hits like Avengers, Star Wars, and Frozen.
It's easy to think of video games as just a kid's toy, but the industry has matured with its audience and solidified its place in the consumer market. It's been pushing the limits of cutting-edge hardware and graphics. It's helped semiconductor companies like Intel Corp. (NASDAQ: INTC) and Advanced Micro Devices Inc. (NASDAQ: AMD) improve their product lines.
Get Your Buy List Ready: This is a once-in-a-lifetime chance to get into great companies at historically low prices, so put these stocks on your buy list now…
Now more than ever, video games and interactive media are poised to explode. There's less competition and a captive audience stuck indoors nearly all day. This is a watershed for game makers, especially ones with the resources to capture this unprecedented increase in demand for entertainment.
An Industry with Staggering Growth
The chief technology officer for Verizon Communications Inc. (NYSE: VZ) said video game traffic was up a staggering 75% from March 8 to March 15. That's way more than the uptick video traffic saw at 12%. Nintendo Co. Ltd. (OTCMTKS: NTDOY), Microsoft Corp. (NASDAQ: MSFT), and Sony Corp. (NYSE: SNE) have all been struggling to keep up online gaming demand on their servers.
Video gaming is even being touted as a healthy activity. In a recent press release, the World Health Organization (WHO) went so far as to recommend playing video games, teaming up with representatives from the gaming industry to launch the #PlayApartTogether campaign.
Steam, a popular digital marketplace that offers a seemingly endless catalog of games for PCs, has shown concurrent usage breaking 20 million players. Cloudflare Inc. (NYSE: NET) a major content delivery network, has seen online gaming usage spike over 20% in parts of Italy and South Korea after their implementation of quarantine regulations.
And while there are dozens of big-name tech stocks in the space, this is the best one to buy today.
Just like video games outperformed the market during the financial crisis with the shift to digital sales and online gaming, this stock is set to weather the storm. In a matter of only a few months after the market crashed in 2009, it gained 50%, outperforming the S&P 500 by 40%.
This Is the Best Tech Stock to Buy in the Sector
Join the conversation. Click here to jump to comments…
About the Author
Alex Kagin is the Director of Technology Investing Research at Money Map Press. He has spent the last decade working in equity research, most recently with Energy Capital Research Group (ECRG), where he led technology stock research along with working as part of a team developing a customizable financial data platform for securities analysis.
Prior to joining ECRG, Alex spent 8 years at DeMatteo Research, a boutique primary research firm and broker-dealer servicing the institutional investment community. He managed the Tech, Media, and Telecom vertical where he spent time connecting with hundreds of tech executives and hedge funds to get the pulse of the market.
Alex has a B.S. in Economics from American University and previously held Series 7 and 63 security licenses.