If you're looking to get a snapshot of what industries expect to thrive or collapse in the post-COVID-19 world, look no further than the real estate market.
Following the social distancing guidelines across the United States, numerous real estate investment trusts (REITs) have completely collapsed. REITs that specialize in hotels, retail, and office space have plunged in value.
During March, lodging REITs lost 36.5% as a subsector. Office REITs shed 20.3% in March as well. And regional malls lost a staggering 53.9%.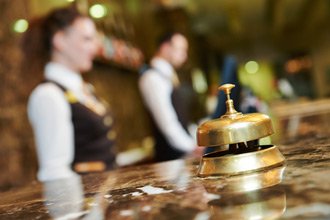 While some investors believe that we are looking at a potential rebound in the future, we urge caution.
Structural changes in the U.S. economy and longer waits until we reopen the economy could drive many of these REITs even lower in the months ahead.
Here are three REITs to absolutely avoid in April.
REITs to Avoid, No. 3: Apple Hospitality
First, we start in the hotel and hospitality sector. Apple Hospitality REIT Inc. (NYSE: APLE) is a REIT with extensive hotel holdings in urban, high-end suburban and developing markets. It owns 231 hotels in 34 states, with a total of 29,535 rooms. Brands include Hilton, Courtyard by Marriott, and Home2 Suites.
Now, it doesn't require an MBA or even a high school diploma to realize how ugly the market is right now for hospitality companies.
Get Your Buy List Ready: This is a once-in-a-lifetime chance to get into great companies at historically low prices, so put these stocks on your buy list now...
Naturally, it's tempting to look at Apple Hospitality's 14.6% dividend as appealing. Here's the problem. The COVID-19 crisis is likely to extend much longer than many people believe. And with millions of Americans out of work, there will be a prolonged impact on hospitality given that consumers won't be able to travel in abundance.
I don't expect that this 14.6% dividend will be sustainable. When the company reports earnings for Q1 or Q2, I fully anticipate that they will slash their dividend.
In addition, we will need to get a better understanding of how many of its tenants are struggling with cash flow.
REITs to Avoid, No. 2: Simon Property Group
Prior to the COVID-19 crisis, Simon Property Group Inc. (NYSE: SPG) was one of the hottest commercial real estate firms in the country. It owns about 204 properties in the United States and abroad. It has holdings in malls, outlet centers, and even a large French real estate firm called Kleppiere.
It made a huge splash with its February deal to buy Taubman Centers Inc. (NYSE: TCO) for $52.50 per share, a deal that included a massive amount of debt. The firm is likely to walk away from the deal if it can, but there will probably be a very lengthy lawsuit that could hurt the firm.
My expectation, however, is that they will likely negotiate a termination fee that will be costly and damaging to the bottom line.
Simon Property has $2.9 billion in debt that is due this year. So, it's going to need to pay off that debt. Obviously, that won't be easy. Simon also has about $8.3 billion in capital commitments this year, including the Taubman deal.
Here's the problem: It started the year with just $670 million in cash and had a revolving credit line around $6 billion in cash. While it might be able to tap into some other financing, this debt burden overshadows the long term for the company.
Even if we did reopen the economy, shopping centers will likely remain ghost towns. If Amazon.com Inc. (NASDAQ: AMZN) hadn't completely nailed the door shut on the brick-and-mortar shopping experience, COVID-19 will add even more force.
Simon Property Group also currently pays a dividend at 16.1%. Like our previous REIT to avoid, this is another firm that will likely need to cut its dividend in order to preserve cash for other pressing capital obligations.
The No. 1 REIT to Avoid Right Now
[mmpazkzone name="in-story" network="9794" site="307044" id="137008" type="4"]
Finally, we conclude with one of the best performing REITs in the market. Easterly Government Properties Inc. (NYSE: DEA) is one of the few office REITs that didn't take it in the teeth over the last month.
While shares did fall to a 52-week low in March at $17.47, they ripped back to all-time highs at the start of April. There's a reason for this.
Easterly Government Properties' ticker is DEA - as in the Drug Enforcement Agency. Easterly is the landlord for many government properties, DEA, FBI, Veteran's Association, and Social Security Administration locations. Naturally, people know that the government isn't going to run out of money. So, money pumped in by the Fed went to the safest real estate assets out there. The government isn't going to miss rent.
But in the process, the price has gotten a bit out of hand. Right now, shares are trading at a 50% premium to the net-asset value of the company and a mind-blowing price/earnings ratio of 266.9. Meanwhile, its traditionally large dividend has slumped to 3.8%.
The thesis for government properties makes sense, but with the company's valuation sitting at an all-time high and its premium to NAV so lofty, I don't see how this is sustainable.
You can sit this round out.
Why Startups Can Have an Edge During a Recession
Uber, Airbnb, Slack, Pinterest, and Venmo have something big in common - something other than their big names.
These startups were founded during the last recession.
And now, some of the most iconic companies of our time could launch into Fortune 500s during days like today.
Follow Money Morning on Facebook and Twitter.
About the Author
Garrett Baldwin is a globally recognized research economist, financial writer, consultant, and political risk analyst with decades of trading experience and degrees in economics, cybersecurity, and business from Johns Hopkins, Purdue, Indiana University, and Northwestern.