When I say Dave Zeiler is an "expert" on Apple Inc. (NASDAQ: AAPL), that's not hype.
Not at all.
Right now, Dave is a colleague of mine here at Money Map Press, where his expertise on cryptocurrencies and Apple is well known.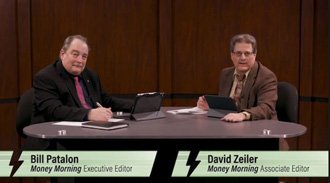 His insights into Apple were the result of consistent hard work - long before Wall Street understood what a wealth machine the company would become.
When Dave started following the company in earnest in the late 1990s, Apple was a rebound-tech candidate still struggling to find its identity - and the prototypical "cult stock," whose ardent followers drank the Apple Kool-Aid and denounced all naysayers.
Around that same time, Dave wrote a weekly column for The Baltimore Sun website called "The Mac Experience." In 2003 he managed an in-person sit-down interview with legendary Apple co-founder Steve Wozniak.
A few years later, Dave launched an Apple-focused news and analysis blog for The Sun.
He cut through all the emotion, the cultish hype, the gloom-and-doom prognostications - and instead focused all his analytical efforts on the facts and the trends.
And he ended up painting some highly predictive portraits of Apple's future.
Other than the sports blogs there, Dave's "Apple a Day" was one of the best-read blogs at The Sun.
It had a huge following - and among those followers was Apple itself. The "suits" at the company read what he was writing, connected with Dave personally, and listened to what he thought.
That's why I sat down with Dave earlier this week for an in-depth interview on what's going on with Apple.
We'll see why Dave believes the company will successfully navigate the COVID-19 pandemic. And he'll explain why he's so confident that Apple's stock will eventually eclipse the $400 level.
Here's an edited transcript of our talk...
Why Apple Stock Is Going to $400
WPIII: There's a lot of investor interest in Apple right now - for a lot of reasons. It's got tons of cash, and a bulletproof balance sheet. It was a pioneer of the technology "ecosystem." It's an innovator. And it's an "adaptor" - a distinction I want to make here.
Sign up for SMS so you never miss special events, exclusive offers, and weekly bonus trades.
In the long run, I know it's moving into new business realms where its technology can make a difference - and make a splash - while giving the firm a new "annuity stream."
In the near term, it's got a timely new product hitting the markets - a product I know you're quite bullish on.
In sports like Major League Baseball, you'll hear references to the "complete" player - a player who's able to do it all. Such players are a rarity.
The same is true of "complete" companies, of which Apple is one. That's why investors are so interested in the stock right now.
We've got a lot of ground to cover - hence the thorough introduction. I really wanted folks to understand why you're a guy to listen to when it comes to Apple.
Back in August 2018 - just after Apple crossed the $200 threshold - you predicted the stock would eclipse the $300-a-share plateau by 2020. You were right. The shares soared to nearly $328 before selling off.
Let's start with that stock price prediction - and Apple's share price journey. Tell us what happened. And why.
Then I want you to tell us where you think the stock goes from here ...
DGZ: I'd rather not shatter the illusion, Bill, but my Apple stock predictions are based on two things:
My understanding of what Apple has done - and what it continues to be capable of.
And what the numbers tell me. I look at the company's earnings, and how each of Apple's businesses are expected to grow. That particular prediction, like others I've made, was basic fundamental analysis.
For some reason with Apple, Wall Street always seems to lag behind. It's almost like the analysts can't believe what they're seeing, can't believe the company can keep succeeding. I think some of them just want to be the first to proclaim that "the party's over."
So the sell-siders publish much lower price targets. I will say this for them, though - they're consistent. Consistently wrong!
[Bill and Dave both laugh.]
As for where the stock goes from here, the coronavirus pandemic is obviously going to throw a monkey wrench into the company's earnings for a while. Goldman Sachs just downgraded Apple to a "Sell" based on much lower-than-expected iPhone shipments for the current quarter. I think that's very short-sighted and misleading advice for investors.
With Apple, you need to keep a long-term view.
Last year, I revised my target for Apple to $400 a share by mid-2021. That might get pushed back a bit because of the economic damage from the coronavirus. But the stock will get there. Mark my words.
WPIII: For a stock to move higher, catalysts are required. I prefer to refer to them as "triggers."
No matter what you call them, Apple has plenty.
But let's start with one that you recently tweeted about with some enthusiasm. I'm referring to the new iPhone SE.
Tell us about the phone, its features and its pricing - and explain the strategic benefits.
DGZ: This is actually the second incarnation of the iPhone SE, even though Apple has declined to acknowledge that with a name like "iPhone SE2." What the company has done here is to re-use technology and designs from previous models. That greatly reduces development costs and has allowed Apple to offer a budget iPhone that delivers an incredible value for the money.
WPIII: I like that kind of shrewd, cost-focused thinking - not for the company as a whole, but for a specific, targeted product like this.
DGZ: I do, as well, Bill. I do as well.
Here, for instance, the case design is based on the iPhone 8, which it essentially replaces. Like that model, the new iPhone SE has a 4.7-inch screen and a "Touch ID" button on the front. For those who like a smaller phone and dislike the Face ID features on the other iPhone models, that's a selling point right there. But on the inside, the SE packs a lot of the muscle of the iPhone 11 - which was only introduced last fall.
That means an A13 Bionic processor and support for all the latest wireless protocols - you know, Wi-Fi, LTE, Bluetooth 5.0. The 12-megapixel camera is only a single-lens offering. But it has many of the same features as the more advanced iPhones, including Smart HDR and the ability to shoot 4K video at 60 frames per second.
But the best feature of all is the price tag. This very capable phone starts at just $399 for the 64-gigabyte model, with the upgrade to 128 gigabytes just $449. That's quite a bit less than the $700 starting price for the iPhone 11.
The original iPhone SE helped Apple increase its sales because it expanded the potential market. In other words, people who wanted an iPhone but could not afford to pay $700 to $1,000 could manage an SE. It was particularly popular in price-sensitive markets outside the United States and Europe. I think the new SE could do even better - at least once the global economy gets back on its feet.
Why Apple Is Built for Long-Term Success
WPIII: But the iPhone is just one piece of the much bigger Apple puzzle. With this company, we're talking about the pioneer and perfector of the "ecosystem" strategy.
I think this is an important point for folks to understand, Dave.
Explain the "ecosystem" concept. What you mean by that, and then talk about some of the most alluring pieces of it. Perhaps newer pieces? Like Apple TV? Services?
Join the conversation. Click here to jump to comments…
About the Author
Before he moved into the investment-research business in 2005, William (Bill) Patalon III spent 22 years as an award-winning financial reporter, columnist, and editor. Today he is the Executive Editor and Senior Research Analyst for Money Morning at Money Map Press.