It may seem like the markets are unpredictable right now. But we've seen it all before.
While the media was busy calling the bottom or trying to figure out why stocks were rallying despite historically terrible unemployment numbers, we were giving our readers chances at making money.
Chris Johnson has a better than 83% win rate on closed trades he's recommended since March 27 with an average profit per trade of 41% in six days. That includes the losing trades.
And if you kept that up for just 12 more days, you could have turned $475 into more than $1,300. Up the ante - and a $2,500 grubstake could have transformed into $39,000 - or more.
Now Chris is making a bold prediction set to bring you even more of these moneymaking opportunities.
The Stock Market Prediction You Won't See on TV
It gets worse from here.
"The market is going to fall. It's going to fall hard. And it's going to keep falling until September," Chris warned.
It's exactly what happened during the last market crash and recovery. Stocks fell hard, recovered a bit, then fell even more dramatically.
See for yourself...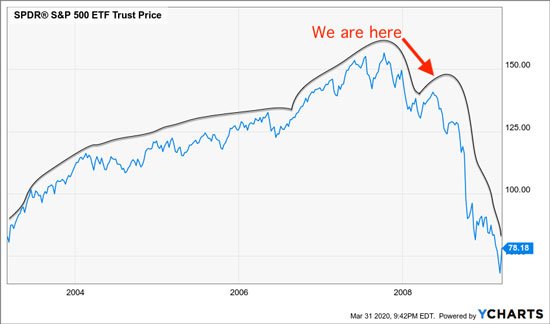 The market falls - hard. It keeps falling. Some people lose their shirts. Some people get very, very rich. The difference is simple - and it starts with following a strategy to profit in this exact market.
That's why you don't need to fear another downturn, especially with Chris by your side.
The last sell-off started on Feb. 20. One day later, a fuel cell trade could have made my followers more than 32%. Two days later - a quick 14% on Verizon and more than 80% on Carnival Cruise Line. The next week, 54% on Deutsche Bank and 51% on Patterson.
One reader tells us "Chris Johnson's last trade made me $40,000."
If that got your attention, what Chris Johnson is about to show you in this special webinar will absolutely stun you. Because while the markets have looked like absolute chaos, Chris' readers have already had a shot to make 62%, 100%, and even 200%. Ready for that kind of cash?
Chris just spotted another trade recommendation that easily has the potential to double your money in the next 10 days.
And he's about to show it to you right now, on camera.
No tricks or BS. He walks through it step by step so you can follow along and do it yourself.
If you want the chance to quickly double your money, I highly recommend you to click this link right now.
If you wait too long, the trade recommendation will be gone.
Follow Money Morning on Facebook and Twitter.