It's now likely the cannabis industry will not only survive the pandemic - it could thrive sooner than we thought.
According to the National Institute for Cannabis Investors, this industry is headed to $300 billion in value. That's 2,900% from $10.8 billion in 2019.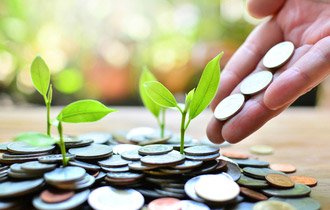 And our top penny stock to buy today could soar 137% as a result.
You see, penny stocks tend to explode on even the slightest market moves. The best penny stocks have a chance to could double or triple in a matter of months.
We've talked about how many cannabis dispensaries are still open after several states deemed cannabis essential. Of course, that's a boon for marijuana stocks like Innovative Industrial Properties Inc. (NYSE: IIPR), a company that collects rents from cannabis firms, specifically.
We're not telling you to forget about stocks like that (by all means, buy this industry while you can). But our top penny stock today has even more upside.
And that's because the tides are shifting dramatically. Here's why you should consider the cannabis industry this year, and our top penny stock in particular...
Why This Is the Best Penny Stock to Buy
We wrote a few weeks ago on how marijuana legalization could accelerate on the promise of state revenue. Governors are noticing the budget hit from COVID-19.
The state of Oklahoma lost $220 million in budget from the coronavirus. And it's causing them to realize the untapped potential in marijuana as a revenue stream.
This is partly from seeing the success other states have had since legalizing. A week after implementing new marijuana laws, Oregon has $11 million worth of sales. Illinois foresees raking in $375 million in cannabis revenue by 2024, which is 1,000% more than this year's projected $34 million.
How to Double Your Money with Options: Even if you've never traded before or only have a few hundred dollars to start with, you can get on the path to millions with Tom Gentile's Options 101. Get it now for free.
Changes in these individual states are catalysts on their own. But these are just drops in the bucket compared to what's going to take place later this year.
November is election season. As many as nine states are gearing up to vote on cannabis legalization in 2020, which could give cannabis stocks the pop they've been waiting on for years now.
Especially with the broader market down, our best cannabis stock today is available at a nice discount. This one could soar 137%...
The Best Penny Stock to Buy Today
Medicine Man Technologies Inc. (OTCMKTS: SHWZ) is a Denver marijuana consulting and business planning firm. It offers a bunch of different cultivation solutions to get marijuana companies started.
That means it needs places to cultivate products. So they've been investing in the cream of the crop. This has been called "one of Colorado's fastest-growing cannabis companies" in the Colorado area.
Just last week, Medicine Man rebranded itself as Schwazze, changing the ticker symbol to SHWZ. The name refers to the cultivation process, as new CEO Justin Dye puts it.
Medicine Man will keep its name, using Schwazze as a larger umbrella of cannabis services.
With the rebrand also came a few new acquisitions. It purchased two more Colorado companies, Mesa Organics and Purplebee's. According to Dye, both companies are "very profitable and have a great management team."
Medicine Man invested in Roots RX late last year, specifically to target medical marijuana clients with one of the highest-quality cannabis products around.
It bought another Colorado cannabis company around the same time, called Strawberry Fields. That one operates in 20 states and seven countries.
Schwazze intends to keep acquiring new business in Colorado over the next few months, even as the pandemic slows other business down.
You can buy shares of this stock for just $1.85 today. Analysts say it could pop to $4.40 down the road, which is 137% profit potential right now.
Action to Take: This could be the year cannabis stocks soar. As states around the country shift their stances on marijuana, penny stocks could see the most upside. Medicine Man Technologies Inc. (SHWZ) is one of those, with 137% potential. You can buy it today for just $1.85.
This Fast Money Move Could Make You $4,238
America's No.1 Pattern Trader is going live on camera to show readers how they can make hundreds, even thousands, of dollars in extra income.
You see, he's found a way to predict the future buying patterns of nearly every stock on the market. And with this trick, he's lining up major payday appointments left and right.
We're talking about cashing in on some of the biggest stocks on the market: Netflix, Apple, Facebook, even Amazon.
The best part is this options trading strategy is super easy to understand and even easier to put into action.
All it takes is three simple steps, a few clicks of your mouse, and you're on your way to what could be life-changing wealth...
Click here to see how he does it.
Follow Money Morning on Facebook and Twitter.
About the Author
Mike Stenger, Associate Editor for Money Morning at Money Map Press, graduated from the Perdue School of Business at Salisbury University. He has combined his degree in Economics with an interest in emerging technologies by finding where tech and finance overlap. Today, he studies the cybersecurity sector, AI, streaming, and the Cloud.