If you're anything like me, you've heard just about everything there is to know about 5G by now.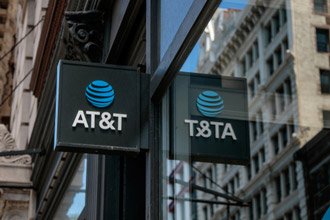 Don't get me wrong; the 5G story is huge. Probably the most significant technological innovation to come to America - and the world - in our lifetimes thus far. The breakthroughs it could bring and sectors it could revolutionize have been covered for years by my colleague, Money Morning Defense and Tech Specialist Michael Robinson.
But while 2019 was certainly an exciting year for wireless technology, after an announcement made by one of 5G's biggest players two weeks ago, I am even more excited for the future of this technology - and you should be, too.
5G in 2019
2019 saw a lot of important developments.
We had the official launch of next-generation 5G networks from AT&T Inc. (NYSE: T), Verizon Communications Inc. (NYSE: VZ), and T-Mobile US Inc. (NASDAQ: TMUS). Plus, Samsung and Motorola released their first 5G phones, the Galaxy S10 5G and the Moto Z3.
But this cannot compare to what is coming down the pipeline. What is happening now will allow 5G to finally be available to millions of people. And it's come at an almost necessary time for the world.
We are currently living in a time when 5G could not be more important.
Not only is video conferencing a necessity to see friends and family, but streaming media has also become a staple in many households as kids take school classes remotely and Netflix streams on every device with a screen. FirstNet, the wireless network being built to support America's first responders, will also have access to this blazing-fast 5G network.
Options 101: Tom Gentile has been teaching people how to trade for decades, and his FREE guide has everything you need to get started, from the basics to essential do's and don'ts for profitable trading. Click here now.
So, with this in mind, two weeks ago, I paid close attention to one of the largest telecom companies in the United States' earnings report. And I am glad I did because they announced some very important news around its 5G network development.
You see, during 2019, when 5G networks first launched, it was only available in select cities. AT&T and Verizon only launched in 10 cities each.
But now, that's so vastly changed.
AT&T announced that 90 new markets can now access its 5G network. Its 5G network first launched in December 2019 and has been steadily expanding, but this move marks the biggest expansion for the network so far - almost doubling its current coverage.
With the new additions, AT&T's 5G network now covers 120 million people in 190 markets in the United States and expects to be nationwide this summer. Some of the new cities include Chicago, Sacramento, New Orleans, Tampa, Seattle, and many more. For now, the new cities are getting access to AT&T's low-band 850Mhz network, but in the future, they could also get its mmWave network.
That is great news, as several 5G phones are slated to launch this year, such as the Motorola Edge Plus and 5G Apple iPhone joining the likes of Samsung, LG, and OnePlus.
With all these new phones going online, AT&T's network will become more important than ever.
Not only will phones be accessing this network, but it will also be used for intelligent mobility, collaborative robots, in-vehicle infotainment, and many other use cases never before possible. It is no wonder that Research & Markets pegs the 5G sector at $251 billion by 2025.
But It's Not Just About an Increasing Stock Price...
[mmpazkzone name="in-story" network="9794" site="307044" id="137008" type="4"]
AT&T could see significant appreciation in the coming months, but my favorite part about this expansion announcement doesn't have anything to do with how high it could go.
It's the income that I'm excited about.
As an income play, AT&T is an excellent, large player in the telecommunications and entertainment industry. Just like many businesses experiencing some pain as a result of the COVID-19 pandemic, someday, investors will look back at these times and see this as yet another bump in the road for this Dividend Aristocrat.
Click here to be instantly subscribed to Michael Robinson's Strategic Tech Investor and get his 5G coverage delivered directly to your inbox.
While earnings could have been better, it is important to look at earnings through the lens of the current environment. In addressing the situation, COVID-19's impact on the first quarter was $0.05 per share, according to AT&T's chair and CEO.
On the bright side, some of these losses were expected, and improvements in wireless with 163,000 new phone subscribers largely offset investments in HBO Max, its new streaming service set to launch May 27.
This new OTT streaming service will have all the HBO content, new original content, high-profile licensed content, and more for only $14.99 per month. While it may not completely replace revenue from higher-priced paid TV subscriptions, it will offset some of the loss.
In the end, you have to take advantage of these sell-offs and come in and buy this 7% dividend yield. While companies left and right are cutting their dividends, AT&T has ample cash flow and $10 billion in cash.
This should help it continue to raise its dividend like it has for over 15 years.
The New Rules for Buying Low and Selling High in Today's Market
If you want to buy low and sell high in today's market, there's only one rule you need to follow.
Today, Tom Gentile is sharing everything - including the exact formula that could magnify your profits faster than you could ever believe.