Oil prices took a historic plunge this year. At one point, they even went negative. Investors lost their minds.
But would you believe this unprecedented crisis can actually be good for some oil companies?
Crude has plunged 46%, from above $60 to near $15. That's accompanied a huge sell-off in top oil stocks like Royal Dutch Shell Plc. (NYSE: RDS.A). The company has lost about 44% since the beginning of the year.
But that does not mean it's time to ignore oil. You just have to shift your strategy a bit. Today, we're going to show you a dividend stock that actually benefits from plummeting oil prices.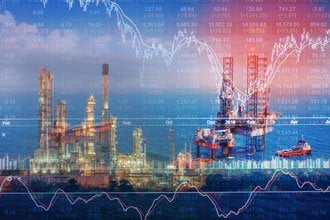 It's all thanks to a concept called "contango."
Contango is the when the spot price of a commodity is down, but the market expects a big surge in the future. If you own oil, it makes more sense to keep it in storage until prices rebound than to sell it for pennies. This is exactly what we're seeing in the oil market right now.
And we're going to show you the best dividend stock for you to start earning on this trend.
Our stock today has a massive dividend yield of 17.26%. A dividend that high would normally be a red flag. But it makes more sense when you see how this company makes money...
Contango Makes This a Top Dividend Stock
The coronavirus did its part to sink oil by reducing travel. OPEC and Russia did their part in failing to reach a supply agreement - a price war sunk oil further while Russia refused cuts for several weeks.
OPEC and Russia recently agreed on an oil supply cut in attempt to stabilize the price. The 20% cut to 10 million barrels per day is the biggest ever, according to Reuters.
But regardless of what OPEC does from here, this dividend stock is a great play to hold you over for a few months while nations are still reacting to the coronavirus outbreak. This company actually collects money while the oil producers bleed it.
Free Guide: Today's volatile market is perfect for making money with options, and you can learn from a pro with Tom Gentile's Options 101: The Easiest Options Guide You'll Ever Read. Click here to get it.
Oil futures climbed 25% to around $20 Thursday, while the spot price of WTI Crude and Brent Crude is around just $15. That's contango.
It signals that supply cuts have not been enough. And because demand is weak, oil producers have nowhere to put their oil.
But guess what? That's great news for companies that exist specifically to harbor excess oil reserves.
Right now, there's a huge run on storage for excess oil supply. Oil drillers will continue to funnel their product in the direction of tankers to hold while the price recovers over the next few months.
And our top dividend stock today is a favorite in that industry. That means it's rolling in cash right now. So the high dividend is no concern at all, but a reason to buy.
Now, here's that 17% dividend stock...
The Dividend Stock to Buy While Oil Is Down
Join the conversation. Click here to jump to comments…
About the Author
Mike Stenger, Associate Editor for Money Morning at Money Map Press, graduated from the Perdue School of Business at Salisbury University. He has combined his degree in Economics with an interest in emerging technologies by finding where tech and finance overlap. Today, he studies the cybersecurity sector, AI, streaming, and the Cloud.