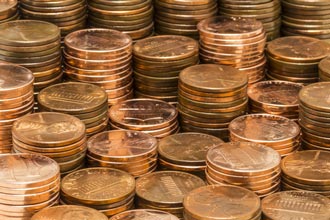 The Dow Jones finished April with its strongest month since 1987 as investors poured capital into beaten-down stocks. At Money Morning, one thing we've been focusing on is penny stocks - shares that you can buy for under $5 - that are poised to break out in the coming month.
Just two weeks ago, we outlined three penny stocks that have outperformed the market. On April 19, we laid out three different penny stocks for April. Since those recommendations, we've seen solid gains.
Shares of Orion Energy Systems Inc. (NASDAQ: OESX) have jumped from $4.08 to $4.50, a gain of 10% in two weeks.
Shares of B2Gold Corp. (NYSE: BTG) have jumped from $4.49 to $5.13, a gain of roughly 14%.
Shares of Mistras Group Inc. (NYSE: MG) rallied from $3.31 per share to $4.76, a gain of 44%.
Those are solid returns for 10 trading days. But today we're really swinging for the fences.
We're tapping into several penny stocks that are poised to break out this month.
Here are the three best penny stocks to buy in May 2020...
Best Penny Stocks to Buy, No. 3: Consumer Portfolio Services
Consumer Portfolio Services Inc. (NASDAQ: CPSS) is an independent specialty finance company that provides indirect financing to vehicle buyers who have had past credit issues. On the surface, this stock seems like a loser. After all, finance companies are cutting credit access to Americans, and concerns about debt in the automotive sector continue to swirl.
Get Your Buy List Ready: This is a once-in-a-lifetime chance to get into great companies at historically low prices, so put these stocks on your buy list now...
But it's important to remember that we're not interested in how many loans they provide to potential customers. It's the quality of the loans and the protection of the balance sheet that matters most. Like many other finance companies, the firms are assessing their risk models to ensure that the loans they do provide have low probabilities of bankruptcy. In addition, the company is a good bet for a potential beneficiary of stimulus spending across the United States as consumers move to make payments on their vehicles.
From a contrarian perspective, this stock looks like a strong, buy and hold stock when the economy improves. Shares of CPSS currently trade at roughly $3 per share. However, we've set a price target of $4.50 once the COVID-19 crisis ends. That price target would represent a gain of 50%.
Best Penny Stocks to Buy, No. 2: Viking Therapeutics
Investors are always looking for the next biotechnology breakout. Today, we're highlighting Viking Therapeutics Inc. (NASDAQ: VKTX), a Wall Street darling that has received multiple upgrades over the last 24 hours.
Shares of VKTX tumbled by more than 20% in March, but Wall Street expects a big bounce-back in the stock over the next month. The clinical stage biotech firm develops novel, orally available, first-in-class or best-in-class therapies for the treatment of metabolic and endocrine disorders. It currently has drugs in development for thyroid conditions, fatty liver disease, and diabetes. It also develops the promising clinical program VK5211, which treats patients who are recovering from non-elective hip fracture surgery.
Sentiment remains strong for Viking stock. Looking forward, we anticipate that momentum will return to this stock and the bulls will reign. The most bullish price target for the stock currently sits at $18 per share - which is very lofty for a stock trading at $5.33.
We forecast that the stock is more likely to hit about $9 per share over the next 12 months. That price target represents an upside of roughly 68% from today's current levels.
Now, here's our top penny stock for May...
The Top Penny Stock to Buy in May 2020