Despite some tentative, decidedly mixed moves to "reopen" in some parts of the country, anonymous cell phone location data shared with USA Today reveals the vast majority of Americans are still spending more than 80% of their time inside their homes. Different data shared by the states shows that COVID-19 infection and hospitalizations have kind of plateaued nationwide but are still growing in some places.
The economic picture is much worse - week after week of jaw-dropping first-time claims numbers. Around 20.5 million jobs vanished in April, putting unemployment at 14.7%. That's its highest level since 1939 and the Great Depression; the broader "U6" number is 22.8%. GDP has shrunk 4.7% on a quarterly annualized basis.
Look - I don't mean to belabor the point or scare or depress anyone; I'm looking forward just as much as anyone to the day this pandemic and recession show up in the rearview mirror.
I only mention the negatives here because they stand in such stark contrast to the markets. Stocks are starting to give back just a little of their gains as I write this, so let's get to the bottom of what's going on - quickly...[mmpazkzone name="in-story" network="9794" site="307044" id="137008" type="4"]
(Don't) Bet Your Bottom Dollar That Tomorrow There'll Be Sun
Yes, earnings have been bad, but expectations were even lower. In many cases, "not as bad as we expected" has been "good enough."
That most of these companies have completely withdrawn guidance for the rest of the year seems to have been overlooked.
Undeniably, stocks are off to the races, despite a down day here and there like we saw yesterday.
But I think most (but not all) investors have been a little too quick to assume that the economy will see a classic, fast-moving, V-shaped recovery.
And I'm not alone. I've been talking with some really sharp traders - folks just like you - in the daily Markets Live chat. I took two quick, informal polls of investors in the chat: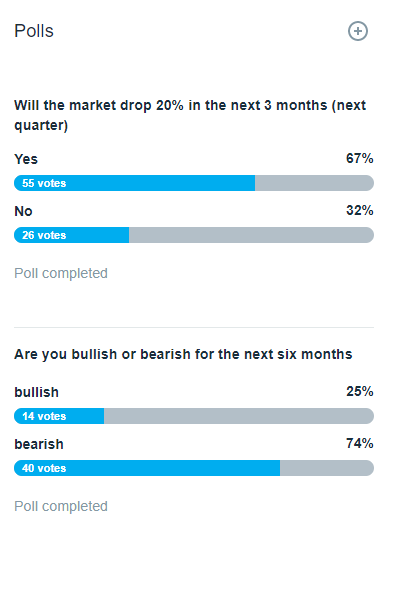 We're on the same page: This rally is basically irrational, and it's completely out of touch with economic reality. And I do believe we could easily see a 20%-plus drop this quarter. We will likely see a retest of the March lows. It will be ugly for unprepared investors.
Overly bullish investors are betting on a 100-meter sprint, as opposed to the 26.2-mile marathon that stocks are going to have to run over the next six months. Or, put a different way, the bulls have brought a knife to a gunfight.
Markets Live viewer "Steve0" put it pretty well when he said, "We should be going down just from the facts presented; FOMO (fear of missing out) is rampant."
I couldn't agree more.
Investor Outlook Is Way Too Aggressive; Here's What to Do
Markets are great big forward-looking, future-discounting machines. But it's clear that investors are probably too far ahead of themselves right now. That's always risky, but in this environment, it's even more so.
Because anything that happens to change the completely optimistic outlook here will be met with reversal in the trend; reality will clash with hopeful buying, and reality will win out.
There are "signals" to watch out for - signs that markets are about to turn over into trend reversal and head lower. They're your cue to start beefing up your defenses and deploying shorts you might have had your eye on. I'll get to those in a second.
Before that happens, buy some "insurance" hedges like the ProShares Short S&P 500 ETF (NYSEArca: SH) or the ProShares UltraShort S&P 500 ETF (NYSEArca: SDS). Those will be getting cheaper and cheaper the more puffed-up this irrational rally gets, so buy now. Be prepared to sit with them as they lose some money. But when the selling starts, positions like this could end up putting nearly 25% more back in your pocket.
Now, about your downturn signal. Big shocker: It's going to be news-driven, just like this rally.
Watch for anything - anything - that's going to fly directly in the face of all this optimism. Negative news on COVID-19, like a fresh outbreak where they've reopened, or an earnings report that's much worse than folks with already-lowered expectations are looking for. We've got thousands of opportunities for this to happen in the trading week that started May 11 - including bellwethers like Cisco Systems Inc. (NASDAQ: CSCO) and Applied Materials Inc. (NASDAQ: AMAT). Either of those two could start the avalanche.
If the rally is all about FOMO, the sell-off is all about... well, let's call it, FOGS - fear of getting slaughtered.
As I said, fundamentals are going to be critically important to watch. They're the most effective way to navigate this market - and book the most reliable profits. My Markets Live viewers and I talk about these every single trading day starting at 8:45 a.m. EDT before the market opens; we cover the broader markets and all the most important stocks, too. Go right here to take a look at past streaming sessions and sign up for alerts for the new ones. They're completely free of charge, too.
And in the meantime, don't forget to check out my colleague Tom Gentile's latest instant-cash opportunity... You see, Tom just dropped a brand-new way to see INSTANT CASH to the tune of $14,288 in his account, courtesy of Microsoft.
The catch? To start, he didn't buy or short Microsoft. He simply exploited a unique opportunity that exists in the markets right now. See it for yourself right here...
Follow Money Morning on Facebook and Twitter.
About the Author
Chris Johnson is a highly regarded equity and options analyst who has spent much of his nearly 30-year market career designing and interpreting complex models to help investment firms transform millions of data points into impressive gains for clients.
At heart Chris is a quant - like the "rocket scientists" of investing - with a specialty in applying advanced mathematics like stochastic calculus, linear algebra, differential equations, and statistics to Wall Street's data-rich environment.
He began building his proprietary models in 1998, analyzing about 2,000 records per day. Today, that database, which Chris designed and coded from scratch, analyzes a staggering 700,000 records per day. It's the secret behind his track record.
Chris holds degrees in finance, statistics, and accounting. He worked as a licensed broker for 11 years before taking on the role of Director of Quantitative Analysis at a big-name equity and options research firm for eight years. He recently served as Director of Research of a Cleveland-based investment firm responsible for hundreds of millions in AUM. He is also the Founder/CIO of ETF Advisory Research Partners since 2007, noted for its groundbreaking work in Behavioral Valuation systems. Their research is widely read by leaders in the RIA business.
Chris is ranked in the top 99.3% of financial bloggers and top 98.6% of overall experts by TipRanks, the track record registry of financial analysts dating back to January 2009.
He is a frequent commentator on financial markets for CNBC, Fox, Bloomberg TV, and CBS Radio and has been featured in Barron's, USA Today, Newsweek, and The Wall Street Journal, and numerous books.
Today, Chris is the editor of Night Trader and Penny Hawk. He also contributes to Money Morning as the Quant Analysis Specialist.