You've been watching the stock market for a while, wondering how you can get started investing. Today, we're going to show you what we think are the three best stocks for beginners to buy.
First, you should know that this is different from day trading. We're not trying to guess which way the Dow Jones Industrial Average is going at a moment's notice. Investing is about steady, secure growth over time. And that requires balance.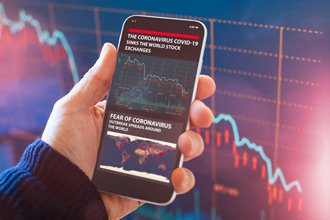 Our way of allocating investment funds at Money Morning is a great combination of growth and stability.
We like to break it down into three parts.
First, you need a good base. This means putting about half of your investment dollars in a high-quality blue-chip company. The company should have a long track record of success. You should trust it to carry you through thick and thin down the road. Stocks like Caterpillar Inc. (NYSE: CAT) or Johnson & Johnson (NYSE: JNJ) fit this description.
Next, you want to look at reliable growth stocks. These are innovators in key areas, like technology or health care. They usually have more exciting products. Typically, they can move with greater speed than your base stocks. Think of stocks like Amazon.com Inc. (NASDAQ: AMZN) or Apple Inc. (NASDAQ: AAPL). Look to invest about 40% of your investable assets here.
Save the smallest percentage for taking big swings. These are speculative investments that could be huge winners if the companies can execute their plans. Zoom Video Communications Inc. (NASDAQ: ZM) is a good example here. This stock benefits from the current remote work climate amid the coronavirus pandemic.
This is a great framework for selecting stocks to buy for value, growth, and some prudent speculation. We've selected one of our favorite stock picks from each group for you today.
Beginner Stocks, No. 1: Alliant Energy Corp.
A great base builder stock for beginners is one that operates in a solid business with reliable demand. Typically, this part of your portfolio is full of steady, "boring" stocks.
But Wisconsin-based Alliant Energy Corp. (NASDAQ: LNT) gained 25.9% in 2019. This electric utility company gained another 15.2% into its February high before the entire market collapsed.
Free Guide: Today's volatile market is perfect for making money with options, and you can learn from a pro with Tom Gentile's Options 101: The Easiest Options Guide You'll Ever Read. Click here to get it.
Utility stocks have innovated their product mixes. Since then, they no longer behave like the "widows and orphans" stocks they used to be.
This company brings in an annual revenue of over $3.5 billion. Today, with the stock down 24.7% from its high, it offers a healthy 3.36% dividend yield. Alliant's latest fact book projects $5.2 billion in rate base growth over the next four years, which translates to a 10% compound annual growth rate.
Our next stock to buy is an innovator. It offers more excitement and growth year to year. You might have heard its name...
Beginner Stocks, No. 2: Microsoft Corp.
Our best beginner stock in the second group is Microsoft Corp. (NASDAQ: MSFT).
Money Morning Defense and Tech Specialist Michael A. Robinson urged our readers to buy Microsoft in 2012. It paid off big for anyone who listened. Shares of Microsoft are up 450% since that year.
Microsoft has been a part of our lives since 1986. It drove the growth of the personal computer. Its Microsoft Office programs have been deeply entrenched in both home and business settings.
But the company has not rested on its laurels. It moved into gaming with the Xbox ($23 million in revenue in 2017). The Microsoft Azure cloud services has also become a $30 billion success.
Azure allows Microsoft to penetrate even more industries. These include healthcare, finance, retail, government agencies, and gaming. Azure revenue popped 64% in Q4 2019, and it will only continue to become a larger part of Microsoft's income.
One reason Microsoft is a great growth and income stock is that it's gained for 17 years straight. Revenue increased 13% in 2019, to $125 billion from $110,360 in 2018. The company is projected to make $138 billion annual for 2020, which would be a whopping 28% increase from 2019.
Now, this next one is a more speculative play. But if it's successful in what it's trying to achieve, it could become one of your favorite stocks.
This stock has a chance at 42% upside for the year...
A Massive Growth Stock for Beginners
This third group is the smallest. But it packs the biggest punch.
Ideally, once this stock starts to move, it moves a ton. This creates extraordinarily huge profit potential for investors.
Of course, they're a bit riskier. So we don't rely too heavily on them. But all you need is one big win...