The coronavirus has created an economic crisis around the world, and no one is exactly sure how deep it will cut or how long it will last. But it's changed the world in a way that's creating new opportunities for investors. We're calling these winners of the post-COVID-19 world "virus stocks," and we've got three of them for you today.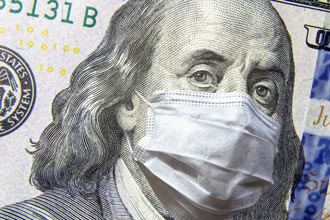 In this new reality, some industries and companies will experience permanent damage. Many travel-related businesses will fail. Others will look to private equity for rescue financing, and quite often, that financing will end up with the private equity lender owning most of the equity.
Department stores were already ill, but the economic shutdown has hastened the death of many. The same can be said of malls. Only the very best located malls with high-end tenants will survive this mess. The airline industry is changed forever as a result of the pandemic shutdown. I have a hard time seeing how the cruise lines recover from this. Senior housing is also going to be a tough sell for the next few years after the virus moved quickly through many nursing homes with alarming results.
However, some businesses are going to see an enormous improvement in their business. Already we saw Zoom Video Communications Inc. (NASDAQ: ZM) become an overnight sensation. It's the new norm for conducting business and visiting family and friends during the shutdown. The stock has more than doubled in 2020, as usage has skyrocketed. This is not going to change when the closure is over. Businesses are discovering that a Zoom call is a lot more cost-effective than spending money on business travel.
We're always on the lookout for other companies poised to thrive despite COVID-19. Today, we're looking at three additional stocks that we think will outperform once COVID passes.
Sign up for SMS so you never miss special events, exclusive offers, and weekly bonus trades.
Best Virus Stocks for the Long Term, No. 3: DocuSign
DocuSign Inc. (NASDAQ: DOCU) is one company that's going to see enormous earnings gains as a result of the shutdown.
DocuSign offers an e-signature solution that enables businesses to prepare, execute, and act on agreements digitally. More deals are being closed and signed on the DocuSign platform since the work at home trend took hold in the past few months. It is just easier than FedExing or e-mailing documents back and forth.
Just Released: Our new Premium Stock Pick not only held its ground against the COVID-19 market sell-off; it actually gained in value. And it's going to keep climbing on a major new catalyst. Get the pick for free here...
Even before the shutdown forced us all to work from home, analysts expected this company to see explosive growth over the next five years. The work from home trend will accelerate that growth and help drive the stock price higher.
Work from home is going to be with us permanently. Twitter has already told its employees that they can continue working from home. As a result of this new trend, DocuSign usage should grow even faster than the current analysts' projections.
Best Virus Stocks for the Long Term, No. 2: Activision Blizzard
Social distancing is going to be with us after the shutdown ends as well. It is going to be a while before people are excited about going to theatres, live sporting events, or other traditional forms of entertainment. Of course, if we see a second wave of infection as states open up, we could go right back into lockdown for longer than any of us were hoping to see. That's horrible news if you are tired of being stuck at home but fantastic if you are in the videogame industry.
Activision Blizzard Inc. (NASDAQ: ATVI) is a leader in video games and sells some of the most popular titles in the world, including its smash hits World of Warfare and Call of Duty. Many of Activision's games also allow for socializing digitally as players move through the online universe. Gaming has had the surprising benefits of offering a chance to talk to friends during the current shutdown across the United States and around the world. Activision will see an additional sales spike later this year, when new game consoles are introduced by both Sony Corp.'s (NYSE: SNE) PlayStation and Microsoft Corp.'s (NASDAQ: MSFT) Xbox platforms.
But our best stock to buy now could benefit even more.
And it's one you've likely never heard of...
Join the conversation. Click here to jump to comments…
About the Author
Garrett Baldwin is a globally recognized research economist, financial writer, consultant, and political risk analyst with decades of trading experience and degrees in economics, cybersecurity, and business from Johns Hopkins, Purdue, Indiana University, and Northwestern.