U.S. Federal Reserve Chair Jerome Powell was on "60 Minutes" last night. He said the road ahead would be tough, but that we're not headed for a second Great Depression.
This is a 417% boon for our best penny stock to buy today.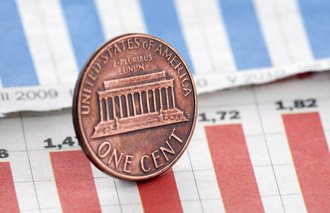 Investors sighed with relief at Powell's report. The Dow Jones Industrial Average climbed more than 3% by noon. That's more than 800 points.
But the question that's been on everyone's mind since the beginning is still, "How long before it's over?"
Moderna Inc. (NASDAQ: MRNA) also announced progress on a coronavirus vaccine to start the week. Its vaccine successfully produced antibodies in all 45 trial participants.
Now, investors have been given an answer to how bad the market crash will be. They also have a glimpse at when the market may start to recover. Moncef Slaoui, former CEO of GlaxoSmithKline Plc. (NYSE: GSK) has admitted a vaccine by January 2021 is "very aggressive" but a "credible objective."
Unstoppable: Our new Premium Stock Pick kept climbing while the rest of the market tanked. And as a leader in a new billion-dollar market, the gains are just getting started. Don't miss out – get this pick for free here…
As a result, industries that have been pummeled by the coronavirus crash are now getting some life. Along with these positive developments, stocks in this industry tend to do well in summer anyway…
We're talking about oil. Here's why you can expect oil penny stocks to get a bump over the next few months. We'll even show you one of our best penny stocks to buy with 417% potential…
Why Oil Penny Stocks?
Oil prices have taken a serious beating from the pandemic. The price of oil even went negative for the first time ever in April.
The Organization of Petroleum Exporting Countries had scrambled to reduce supply and stabilize the price in response. But they had a supply disagreement with Russia. This resulted in a price war that sank oil prices even further down.
WTI Crude lost as much as 81% of its price from January 1 to April 21.
This brought many oil stocks to penny stock price levels that were not seen previously. But this week, we have some positive catalysts in place.
Oil stocks could start climbing once again in the summer months – that's peak "driving season." This coincides with potential in travel stocks as lockdowns are lifted.
Words from Fed Chair Jerome Powell and news of a COVID-19 vaccine will push the broader market further into positive range. And as always, penny stocks stand to gain the biggest percentages from broad market moves.
One of our top penny stocks trading in the oil industry could earn you 417%…
The Best Penny Stock to Buy Now
Join the conversation. Click here to jump to comments…
About the Author
Mike Stenger, Associate Editor for Money Morning at Money Map Press, graduated from the Perdue School of Business at Salisbury University. He has combined his degree in Economics with an interest in emerging technologies by finding where tech and finance overlap. Today, he studies the cybersecurity sector, AI, streaming, and the Cloud.