You don't have to be a professional trader to grow your wealth using options. In fact, trading options can be quiet simple with the right guidance.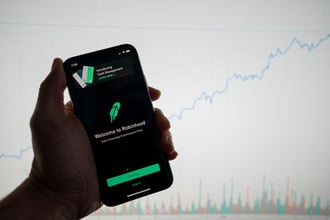 The real problem for individual investors is knowing what to trade, so it is a good idea to have a trusted mentor to guide you. That's why we're here. Our experts sift through mountains of data to find options trades that have high probabilities for success and are still easy to do.
And when you trade options on free platforms like Robinhood, you'll be on your way to big paydays without adding too much risk.
Today's options trade takes advantage of one of the weakest sectors of the market today. Financial stocks have been lagging the S&P 500 all year, even before the COVID-19 bear market. Even worse, since the March market low, financial stocks continued to underperform.
Just look at the Financial Select Sector SPDR ETF (NYSEArca: XLF), which holds such stocks as banks, insurance companies, and credit card issuers. It fell 43% from its highs when markets fell in March, 7% worse than the S&P 500. Then, on the rebound, it could only regain about half its March losses before selling off again. In contrast, the S&P 500 itself already gained back 60% of its losses and scored a fresh recovery high Monday.
If stocks stay firm for a while longer, it is very unlikely that lagging financials will suddenly start to lead. And if the market faces another big sell-off before finding its ultimate bottom - which we think is the case - chances are that the weakest stocks are going to get hurt the most.
Options 101: It's never been easier to learn how to trade options, especially with our free guide from top trading expert Tom Gentile. Click here to get it.
And our experts have uncovered the weakest stock in the sector.
It's one barely treading water right now despite the latest rally. When the latest round of optimism wanes and stocks sell down again, this one will take the brunt of the blow.
Here's how to use an options trade on Robinhood to turn that movement into a quick 300% gain...
The Best Options Trade to Make on the Coming Downside