The COVID-19 health crisis is not over. But it is calming, and so is the market. This makes it easier to spot trading opportunities in some cases.
That's the case with our best options to buy this week, in fact.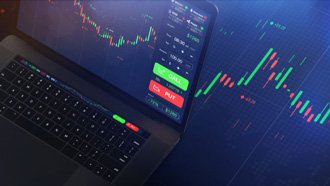 When the market fell sharply in February and March, volatility soared. On March 16, the CBOE Volatility Index (VIX) hit 82.69, a five-year high. That provided tremendous opportunity for options traders.
The VIX is at just 28.30 now. But lower volatility has its own benefits for options trading.
It just means that, for individual investors, it is time to change to options trading strategies that work in more "normal" markets. Of course, nothing is really back to normal right now. But the economy is starting to open up, so it's easier to spot trends on individual stocks.
That means we can see which companies are doing well and are projected to keep doing well.
Here's a trend that may help you grab a ton of upside potential by trading options this week…
The Best Options to Buy Are in Tech
We've said here many times that the road to wealth is paved with tech. It has never been more evident than during a locked-down economy. While the Dow Jones tanked 36% from February to March, some tech stocks were able to brush it off rather quickly.
Apple Inc. (NASDAQ: AAPL) is one of those. And we're going to show you a quick options trade on Apple that could win big.
Unstoppable: Our new Premium Stock Pick kept climbing while the rest of the market tanked. And as a leader in a new billion-dollar market, the gains are just getting started. Don't miss out – get this pick for free here…
Even when we are isolated from friends and family, we can still see them and talk every day right on our devices. Many businesses are able to function from home using all sorts of connectivity. That connectivity is often facilitated by Apple products.
You either own – or know someone who owns – an iPhone, an iPad, a MacBook, an Apple Watch, or Apple TV Plus. The company is even making inroads into telemedicine, allowing people to "visit" with their doctors from home.
It should be no surprise that Big Tech stocks held up best during the bearish decline and are leading the market higher as it recovers. Apple stock, in particular, is enjoying bullish momentum after the company announced it will open 25 of its retail stores this week. And behind the scenes, its factories in China are back online.
And don't forget, Apple is readying its next iPhone release for the fall, when 5G broadband is expected. There should be plenty of pent-up demand by then.
5G is the next generation of wireless communication. It promises to boost download speeds by 10 times or more compared to existing 4G LTE networks. Even better, 5G will reduce congestion and improve signal strength and clarity. It also will cause massive shifts in how we use our smartphones.
Put simply, Apple is just one of those stocks with the resources, expertise, and history of bouncing back from big storms like the coronavirus panic.
Apple stock pulled back last week, finding support at the $300 level. This is a good time to buy the dip, and we'll do something similar by buying a call option. Specifically, we like the Apple May 29 $325 call.
Apple stock closed at $313.14 Tuesday, so the option is not too far out of the money, given the stock's high price. However, the expiration date is close, meaning that the stock has to move quickly.
As of Tuesday's close, the call option was at $1.50, so if the stock can make it to $330, it would be a 5.4% gain. However, the option price would jump to $5 for a 233% gain.
This is a quick trade for investors who understand that the breakeven point for this trade is Apple stock closing at $326.50 ($325 strike plus $1.50 options cost) by expiration. Anything above that is pure profit.
Action to Take: Apple Inc. (NASDAQ: AAPL) brushed the dust off from the pandemic quickly. And its price is soaring as the company plans to reopen retail stores and factories. For a quick, speculative play this week, check out the Apple May 29 $325 call options.
This Fast Money Move Could Make You $4,238
America's No.1 Pattern Trader is going live on camera to show readers how they can make hundreds, even thousands, of dollars in extra income.
You see, he's found a way to predict the future buying patterns of nearly every stock on the market. And with this trick, he's lining up major payday appointments left and right.
We're talking about cashing in on some of the biggest stocks on the market: Netflix, Apple, Facebook, even Amazon.
The best part is this options trading strategy is super easy to understand and even easier to put into action.
All it takes is three simple steps and a few clicks of your mouse, and you're on your way to what could be life-changing wealth…
Click here to see how he does it.
Follow Money Morning on Facebook and Twitter.