We're bracing for 11,977% growth potential in the 5G industry. And we know the best 5G stocks to buy if you want to grab a piece.
That's right, the 5G technology sector is worth around $5.53 billion today, and it's expected to grow to $667.90 billion by 2026, according to Allied Market Research.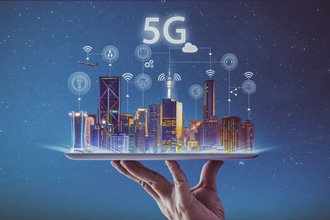 Our top 5G stock today is a dividend stock that will give you consistent income before the network rolls out. And it has phenomenal upside potential for when it does.
But this 5G stock is also part of an opportunity that, depending on how much you invest, could land you a $125,000 payday.
You see, the 5G industry is going to affect every area of your life. Forget what you know about driving, eating, sleeping, medicine, communication, and entertainment. All of that is going to change.
This is a network with speeds up to 100 times faster than what you're used to. It's going to normalize self-driving cars. And surgeons will be able to perform heart transplants from miles away.
Because of these speeds, the growing Internet of Things (IoT) in your house will run seamlessly. Every house will eventually have a smart fridge, smart mirror, smart shower, and smart bed. Technology will become a symphony to the rhythm of everyday life.
That's why the 5G industry is poised to get a 122% compound annual growth rate. Compare that to the average S&P 500 CAGR of 7.20%.
This is a monumental change. And there's still time to find some of the big winners in this market.
In a moment, we'll show you how you could make huge windfalls investing in 5G. But first... did you know this familiar stock was a major play in 5G investing?
Best 5G Stocks, No. 2: Apple Inc.
You can't leave out the world's best-selling phone maker in a discussion about 5G networks. This company is going to get a huge bump from 5G phone sales.
MacRumors has said that Apple Inc. (NASDAQ: AAPL) would lead the 5G smartphone market in 2020. Those phones are set to launch later in the year.
But that's just the beginning of Apple's 5G relevance.
Just Released: Our new Premium Stock Pick not only held its ground against the COVID-19 market sell-off, but it appears poised to gain in value. And it could keep climbing on a major new catalyst. Get the pick for free here...
Apple has always been finding new ways to expand its ecosystem. Today, you have an opportunity to connect your Apple Watch to your iPhone. Your Macbook to your Apple TV. Your iPad to your HomePod. And more.
What makes you think Apple would stop there?
Surprise: it won't. The current state of Apple's "ecosystem" only sets the foundation for what this company plans to do.
One of its greatest undertakings will be the healthcare industry. In fact, Apple CEO Tim Cook has said that healthcare will be the company's "greatest contribution to mankind." And 5G is going to be a big part of that.
Artificial intelligence (AI) will play a key role in healthcare services going forward. 5G and AI analytics go hand in hand.
Right now, an Apple Watch can act as a step counter and measure your heart rate. But AI analysis will create a ton of new, more specific data for actual medical professionals to track in real time. 5G enables all that data to travel between those devices without any lag.
You know those updates from your doctor to come in for a yearly checkup? Imagine getting an alert from your doctor's office when your blood pressure is dangerously high. Or having an app that monitors your mother's pacemaker from afar.
With 5G, Apple can facilitate more and better connectivity between doctors, nurses, patients and loved ones.
You can buy shares for $315 right now. Analysts give it a 12-month high target of $370. But this stock could explode over the next five years as 5G is further developed.
But read further if you're looking for "one of the best 5G pure plays on the market..."
The Best 5G Stock to Buy Right Now
Join the conversation. Click here to jump to comments…
About the Author
Mike Stenger, Associate Editor for Money Morning at Money Map Press, graduated from the Perdue School of Business at Salisbury University. He has combined his degree in Economics with an interest in emerging technologies by finding where tech and finance overlap. Today, he studies the cybersecurity sector, AI, streaming, and the Cloud.