Now that the economy is reopening, stocks have been off to the races. The Dow is up 4% in just the last week. Some days it opened weakly on bad news but closed higher. Other times, it just started strong and stayed that way.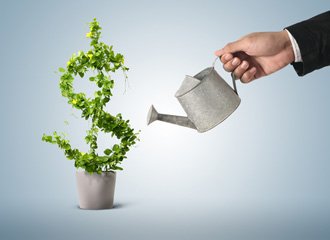 Traders are optimistic about the recovery, and that's creating opportunities left and right. To help you turn those opportunities into cash, we're sharing the best options trade on Robinhood right now.
That means this is an options trade simple enough to execute on a free platform like Robinhood, and it's cheap enough that it won't break the bank for most traders.
But there's plenty of upside here too. In fact, one of our recent Robinhood options trades just popped for a 240% gain.
Here's the thesis behind today's trade...
How to Make Money on the Latest Stock Rally
The main reason for the current rally is the prospect of the American economy opening back up for business sooner rather than later. While the coronavirus has not gone away, the experts know a lot more about it. Indeed, sheltering in place has certainly kept the healthcare system from being overrun.
But people want to get back to work. And they want to shop and go to the beach.
Money Morning Quantitative Specialist Chris Johnson said that people just cannot wait to get back out there. That's why he thinks one particular stock is poised for some monster-sized gains as all that pent-up demand gets unleashed.
This Is Your Last Chance: Our readers have reported gains of $1,000 in a day, $4,300 in three days, and $100,000 in a year, all using this formula. But access closes Sunday, May 31. Click here to learn more before it's too late.
Even better, Chris says this company is resistant to future restrictions or lockdown efforts if there's a second outbreak. Unlike brick and mortar retailers and restaurants, this company is going to see higher demand this summer no matter how strict social distancing rules get.
Chris has also taken note of general market action and would not be surprised if stocks end this holiday-shortened week up by 7% or more. That would be about 3,162 on the S&P 500. And it would represent an 80% recoupment of the steep losses it suffered in February and March.
Combine a strong market - at least in the short term - and the stock of a company ready to sell exactly what the public wants to buy as they emerge from lockdown, and you get the recipe for a winning trade.
Here's the best options to buy today...
The Best Options Trade on Robinhood Right Now
[mmpazkzone name="in-story" network="9794" site="307044" id="137008" type="4"]
Not only do people want to get into the great outdoors after weeks of being cooped up inside, but outdoor venues, from eateries to hiking trails, are actually some of the safest places to be. The virus does not fare well in the sunshine, and especially when people can observe social distancing with ease.
And that's why Chris likes Callaway Golf Co. (NYSE: ELY).
Callaway is one of the top providers of golf equipment and accessories. That includes clubs, golf balls, and apparel. As more golf courses open, demand for Callaway products can only improve. That's especially true as Americans have money to spend thanks to weeks of sitting at home and their government stimulus checks.
With golf being one of the safest activities you can do right now, more Americans will be heading to the links this summer, and they'll be looking to update their clubs and apparel to do it.
On the charts, Callaway stock already punched through the $14.75 level, which was a significant level from a year ago as a cheap place to buy. Of course, the volatility of the recent bear market makes such support and resistance levels a bit suspect, but there is no denying that breaking through it is an important technical development. Even better, this week's rally also scored a breakout above the trading range the stock has been in for the past four weeks.
ELY closed above $16 per share Wednesday, but Chris thinks it can easily scoot up to, if not through, its 200-day moving average, which is currently near $17.49. That would be a cool 9.3% gain. But we can do even better.
We can juice the returns using options instead of simply buying the stock.
For example, the ELY Aug. 21 call option with a strike price of $17 could be a good choice. It closed Wednesday at $1.45, or $145 per options contract controlling 100 shares.
For comparison, buying 100 shares of stock outright would cost $1,749, so your upfront risk is a lot lower.
The point of all this is that we have a theme - getting back outside - and a stock poised to take advantage of it. Options can get us to a nice profit goal quicker and for less risk.
Once Chris' upside targets for the market and the stock are met, we'll have to see what happens from there. There are likely many surprises heading our way, and some of them won't be good for the stock market as it finds its final bottom.
This Is Your Last Chance
Access to this incredible "stock flipping" formula - which has resulted in profits of $4,300, $18,277, and even $100,000 - will close on Sunday, May 31.
This is your last chance to see how you could start with a small stake and make a fortune.
Click here before it's too late.