Morgan Stanley (NYSE: MS) projects the space industry will grow 185% by 2040, from $350 billion to $1 trillion. That's less than 20 years from now.
The SpaceX Falcon 9 rocket launched astronauts to space for the first time since 2011 on May 30. They went travelling from NASA's Kennedy Space Center in Florida to the International Space Station orbiting earth.
That's one small step for humankind. But we think it could also be a profit opportunity for you.
Here's how to invest in space, including which space stocks will give you the best bang for your buck...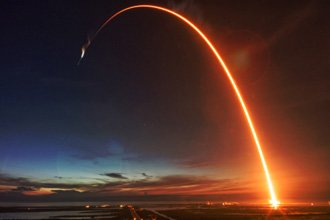 Some look at these SpaceX launches and think it's all fanfare. Who could blame them? Elon Musk's other futuristic company, Tesla Inc. (NASDAQ: TSLA), still has to prove its 150% climb over the last few months is backed by more than hype.
CEOs like Elon - Jeff Bezos and Richard Branson, for example - are eccentrics that thrive on investor emotion. They will always have a base of futurists behind their brands. Bezos is behind a space venture called Blue Origin. Branson is behind Virgin Galactic Holdings Inc. (NASDAQ: SPCE).
Many investors find these space companies intriguing, despite many unknowns. SpaceX is especially interesting, for all its highly publicized rocket launches.
Unfortunately, it's not public. Neither is Blue Origin. Your only public option out of these is Virgin Galactic. But these are not your only choices for space stocks.
Space has a serious future as an industry. SpaceX's early success gives us a glimpse into that future. And we have a backdoor play that could work out nicely for you in the years to come...
Why Space Investing Will Be a Thing
Elon Musk has big ideas. Some of them are almost too sci-fi to believe. For instance, his underground tunnel system. Or a brain implant that would eliminate the need for humans to use words in "five or ten years."
Some of those ideas work, however. After much trial and error, the company has launched 86 successful missions with its Falcon 9 rocket. The last one was only the first to carry a crew. And, as in many previous missions, they caught the booster on a platform in the middle of the ocean.
The company has also partnered with NASA and several others through its "rideshare" program to generate revenue. Rides start at $1 million.
America's Soaring Data Usage Could Make You a Fortune - Click Here to Find Out How...
But of course, this is just the beginning for SpaceX and the space industry.
One of the most exciting things SpaceX plans to change is travel as we know it. The plan is to send ordinary passengers into space so they can travel across the world in an hour.
This is all still theoretical - but very probable. SpaceX isn't even the only one planning civilian space trips.
Virgin Galactic is doing something very similar. In fact, it developed the world's first passenger-carrying spaceship built by a private corporation. Virgin shares are available at $16 for 60% upside potential this year. But this stock is also much more volatile than the one we have for you today.
Besides, SpaceX is the real shining star. If only it were public. If you wanted to invest in SpaceX, we have the next best thing....
The Best Space Stock to Buy Now
[mmpazkzone name="in-story" network="9794" site="307044" id="137008" type="4"]
You don't have to invest directly in the space industry to make money. You can invest in the companies that make it possible.
Lockheed Martin Corp. (NYSE: LMT) is well known for building tactical aircraft and parts. The company is contracted by the U.S. Department of Defense and NASA. But it's a viable candidate for supplying the space industry when it expands.
The company has its headquarters in Bethesda, Md. It designs and builds planes and other advanced technologies. One of its missions is to build solutions for deep-space exploration.
Lockheed Martin is a contender for major contracts with the U.S. Space Force. That's a newly instituted space warfare branch of the U.S. Armed Forces. It's also partnered with companies like Boeing Co. (NYSE: BA) and Honeywell International Inc. (NYSE: HON) on defense and aerospace projects.
This is a fairly stable dividend stock that can carry you through tough times. The stock dropped 36% from the coronavirus crash. But its recovery back to the $400 level shows that wasn't backed by more than the broad market mood.
The dividend yield is currently 2.46%. And because the defense sector hardly ever goes out of demand, Lockheed Martin has steadily increased its revenue over the years. In the last five years, revenue has gone up 26% in total, at an average of about 7% per year.
Analysts give Lockheed Martin an average price target of $500. That's 25% for the year, which is really great upside for such a big dividend payer. It has the potential to go significantly higher when space innovation ramps up too.
Action to Take: You can't invest in SpaceX yet. But you can invest in space. Lockheed Martin Corp. (NYSE: LMT) is a great backdoor play on the space industry's expansion, because it supplies state-of-the-art aircraft technologies. But it also won't rely on space exploration to make you money. Defense is always in demand. And this stock delivers a nice 2% dividend for your long-term investment. You can buy shares now for $400.
The FCC's Recent $10 Billion Initiative Is Going to a Single Technology
The White House has put a new Internet technology on the fast track.
But what the public hasn't caught onto yet is that this $10 billion initiative has just opened up a new opportunity to invest - in the Internet itself.
And folks who strike while the iron's hot stand to lock in an unprecedented windfall.
Follow Money Morning on Facebook and Twitter.
About the Author
Mike Stenger, Associate Editor for Money Morning at Money Map Press, graduated from the Perdue School of Business at Salisbury University. He has combined his degree in Economics with an interest in emerging technologies by finding where tech and finance overlap. Today, he studies the cybersecurity sector, AI, streaming, and the Cloud.