5G is coming, and it's coming fast.
It's almost impossible to open any financial website, newspaper, or magazine without coming across yet another story about 5G. It's being called the fourth industrial revolution and is expected to change our lives in a significant fashion. We will be able to use lightning-fast data to transform the way we do business and the way we live out daily lives.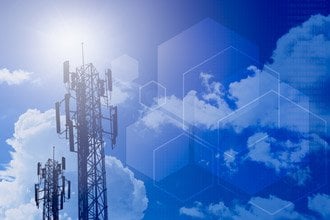 Verizon Communications Inc. (NYSE: VZ) CEO Hans Vestberg said recently "everything is going to be transformed by 5G."
"The pace of technological change in decades past has been fast. The only thing we know for sure is that, in the future, it's going to be even faster."
That sort of excitement has everyone trying to figure out which company will benefit the most. Who will be the big 5G app companies? Which carriers will roll out 5G first and gain an early adopter advantage over competitors?
Whose products will be used to build the networks?
These are tough questions to answer right now. But there is a backdoor 5G play you can make right now.
America's Soaring Data Usage Could Make You a Fortune - Click Here to Find Out How...
Just like every other cellular advance over the past three decades, 5G is going to need cell towers. Even better, 5G is going to require heavier equipment mounted on those towers, which will require more rent.
And the best way to get a slice of this is through cell tower REITs. These companies are specifically structured to pass income directly to their shareholders, which gives you reliable income thanks to 5G.
Owning the infrastructure that supports 5G is a much is like owning a toll booth. As the technology explodes in popularity, you'll keep collecting income.
Here are to the best REITs you can buy in the cell tower space right now...
This REIT Has $400 Million More in Buybacks Coming
SBA Communications Corp. (NASDAQ: SBAC) owns wireless communications infrastructure including towers, buildings, rooftops, distributed antenna systems (DAS) and small cells in the United States, South America, and South Africa.
The company has been growing at an incredible pace, with earnings increasing by more than 50% annually for the past five years. The company recently started paying a dividend and yields 0.6%, but that payout is expected to grow rapidly, especially as the 5G rollout picks up.
SBA Communications has also been very aggressive about buying back stock over the last several years. In the first quarter of 2020, the REIT bought back $200 million worth of stock. They still have more than $400 million left to repurchase under the current buyback plan.
Don't forget, stock buybacks are another way of paying shareholders just for owning the stock, so you can look at this as another form of income.
But our top cell tower REIT offers a yield over 7%. And it's going to be one of the big winners of 5G...
The Best Cell Tower REIT to Buy
[mmpazkzone name="in-story" network="9794" site="307044" id="137008" type="4"]
Landmark Infrastructure Partners LP (NASDAQ: LMRK) is going to be one of 5G's biggest landlords. Landmark owns more than 2,025 properties that they lease to telecommunication companies, outdoor advertising firms, and renewable energy companies.
Sixty percent of the properties are leased to major telecom companies for cell towers and other telecommunication projects. Their tenants include AT&T Inc. (NYSE: T), Verizon, and T-Mobile US Inc. (NASDAQ: TMUS).
Landmark has rolled out a new smart pole for 5G called Landmark Vertex. This new pole helps cell phone companies deploy 5G. It is a stealth wireless infrastructure smart pole designed for macro, mini macro, and small cell deployment. It is also being used by municipalities, commercial enterprises, transportation authorities to offer widespread 5G service. The pole can handle both 4G and 5G service and includes Internet of Things capabilities as well as security lights and cameras.
Landmark is focusing its future growth plans on Vertex for obvious reasons. Hundreds of billions of dollars will be spent in the United States alone to roll out 5G. Vertex helps ensure that a lot of those dollars find their way into our pockets as Landmark shareholders.
Landmark is currently structured as a partnership, but management is planning to convert to a REIT structure soon. That will change to way institutions value the company and should lead to a short-term pop in the stock price.
Shareholders will also benefit from another important trend that is changing the world right now. Landmark also owns land that is leased to solar and wind energy projects. That will be a more significant part of their portfolio because renewable energy continues to expand across the United States.
Landmark shares currently yield more than 7% do you can collect a lot of cash while waiting for the 5G revolution to drive your stock price higher.
5G is coming. The rollout has already begun. Nothing can stop this incredible new technology form changing the world. Owning the infrastructure that makes 5G possible is going to be wildly profitable for many years to come.
5G Was Following in the Footsteps of 4G Until the FCC Stepped In
By now, you've heard the 5G story a million times over. You've seen the billboards, you've seen the commercials, and you've seen the hype campaigns.
But there's a key reason why there hasn't been a nationwide rollout yet.
It was following in the footsteps of the 10 years it took 4G to roll out... but the FCC just stepped in with a $10 billion initiative to supercharge 5G.
Here's how to take your slice.
Follow Money Morning on Facebook and Twitter.
About the Author
Garrett Baldwin is a globally recognized research economist, financial writer, consultant, and political risk analyst with decades of trading experience and degrees in economics, cybersecurity, and business from Johns Hopkins, Purdue, Indiana University, and Northwestern.