The market has been in an absolute whirlwind for three months. Circuit breakers have been hit for the first time in history. The Dow has tanked more than 1,000 points in one day, only to rocket back up the next. Top stocks like Apple and Boeing have crashed to prices they haven't seen in years.
This volatility is creating a wealth-building opportunity I've only seen three times before.
You see, when it comes to making money in the market, the long-term buy-and-hold method can't begin to compare to the sheer profit speed of trading options.
But the quickest option-trading strategy of all is selling puts. It hands you an instant cash payout the second you place the trade - and gives you the chance to own the stock at a deep discount, building generational wealth that can never be taken away from you.
This strategy is the best of both worlds. And as a result, it requires different steps when it comes to placing your trades.
The biggest difference between selling puts and buying straight options is margin.
See, when you're buying long calls, puts, or even straight stocks, you typically need a cash account. This means that you put up 100% of the money for the trade. If you want to buy 10 option contracts for $100 each, then you need to pay $1,000 up front. If you want to purchase 100 shares of Apple for $330 a share, you'll need a whopping $33,000.
But when you're selling puts, you'll likely need a margin account. And that's exactly what I want to talk to you about today, so you know exactly how trading on margin can make you money...[mmpazkzone name="in-story" network="9794" site="307044" id="137008" type="4"]
How to Use Margin to Make Money
Margin is basically a loan given to you by your broker. It allows you to enter trades that could potentially cost more money than you initially put in them, ultimately increasing your buying power.
Now, if you're an experienced trader and have a ton of capital on hand, you may not need to trade on margin. Instead, you could sell cash-covered puts. This means that you have sufficient cash to cover the purchase of shares at the set strike price should you be assigned the stock.
Most traders, however, will need to sell naked puts - and that's where margin comes into play.
Let's say you want to sell 100 put contracts on XYZ stock with a $150 strike price. By expiration, XYZ drops below $150, and you're assigned the stock - meaning you need to front $150,000 for 1,000 shares.
Now, that's a ton of money. An inaccessible amount for most traders. But with a margin account, you don't need to have that much cash on hand. You can borrow a portion of that cost from your broker.
You can borrow up to 50% of the required capital to purchase the number of shares you want. Say you have $75,000 in your account for the shares of XYZ - 50% of $150,000 is another $75K, which is what you'll borrow from your broker as margin. And there, you have enough to purchase the shares.
A margin account increases your buying power, or the amount of money you have available to buy securities. In a margin account, it's the total cash held in the brokerage account as well as the maximum margin amount that's available to use.
In this case... you put up 50% of the purchase amount of stock, which means your broker can allow up to another $75,000 for you to use - which immensely increases your profit potential.
Ever heard the phrase, "You need money to make money"? Well, if you're trading on margin, then that isn't exactly true. Your broker will let you borrow the money that you need to make the big bucks.
Now, in order to set up a margin account, you need to have a certain amount of cash. This is called your "initial margin," or collateral. This assures your broker that you have enough money to maintain your account.
Calculating margin requirements can be complicated. Generally speaking, margin calculations are 20% of the strike price, minus the credit received, times 100, per contract.
Say you want to sell a SPDR Gold Trust (NYSEArca: GLD) $150 put for a credit of $1.50. Let's calculate the margin requirement...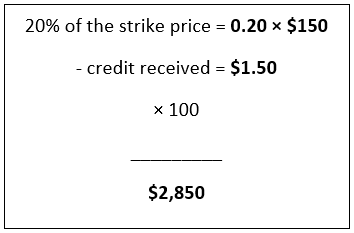 This is based on regulations set by the Financial Industry Regulatory Authority (FINRA), but your broker has the ability to tighten restrictions, raising your initial margin requirement.
In this case, the average margin is $2,850 per contract sold. If you want to sell 10 contracts, then you'll need to have at least $28,500 in your account to show your broker that you can pay some of the money should you be assigned the stock.
But remember - margin requirements vary. For exact margining, you'll need to check with your specific broker.
Another component of buying on margin is called "maintenance margin." This is the minimum account balance that must be maintained. If you don't maintain this balance and you fall below it, you will receive what's called a "margin call." This means that your broker will "call" you to require more cash to bring your account back to, or above, the maintenance amount.
If you do not have the cash and are unable to bring in the amount of money needed, your broker can sell the securities in your account to meet this minimum required amount.
Like any type of trading, trading on margin has its risks. You should always assess your own risk tolerance before placing a trade.
But when it comes to selling puts, trading on margin is essentially a tool to help you make more money. And it has its rewards as well...
Essentially, it doubles your buying power, which gives you the opportunity to buy twice the number of shares - awarding you the chance to make twice the amount of money you would if you were to trade without margin.
And when you're selling puts, you're making instant cash while the market whipsaws back and forth - all while unlocking the opportunity to own the market's top stocks at a deep discount, building the kind of generational wealth you've only dreamed of.
And in the meantime, don't forget to check out my latest presentation for a potential instant cash opportunity...
You see, I've isolated 100 blue-chip stocks, handpicked because of their unique set of characteristics.
And today, I'm revealing how five of these stocks are set up to deliver massive instant cash payouts. Click here for more details...
Follow Money Morning on Facebook and Twitter.
About the Author
Tom Gentile, options trading specialist for Money Map Press, is widely known as America's No. 1 Pattern Trader thanks to his nearly 30 years of experience spotting lucrative patterns in options trading. Tom has taught over 300,000 traders his option trading secrets in a variety of settings, including seminars and workshops. He's also a bestselling author of eight books and training courses.